---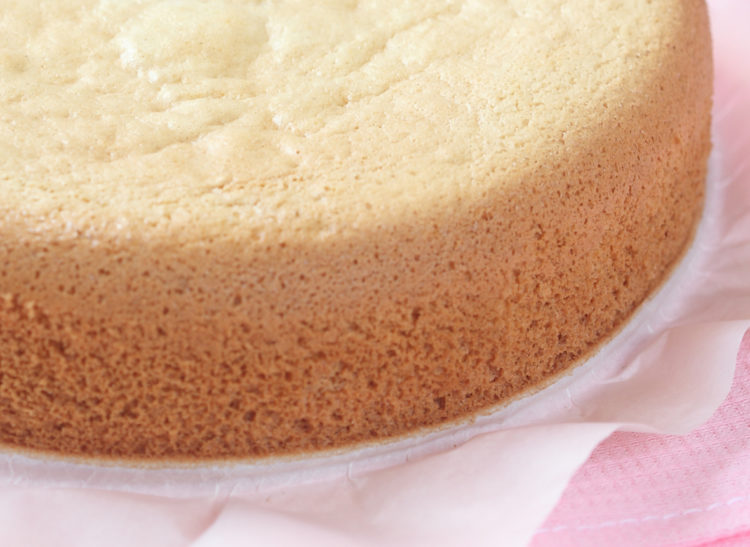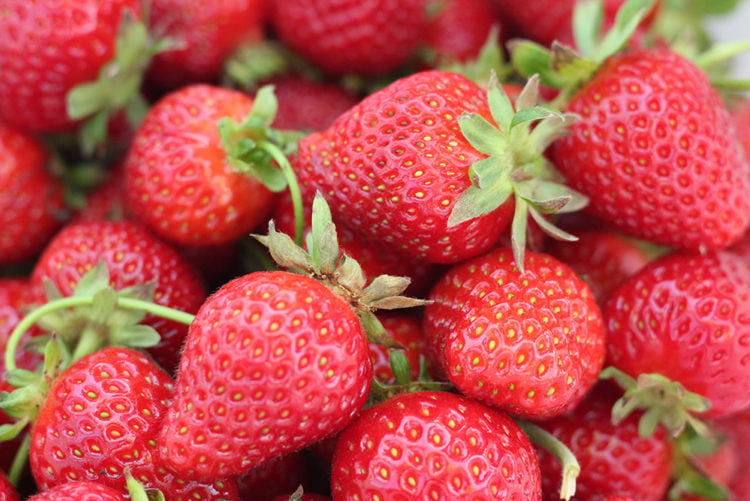 What's in the mix?
Free range eggs, flour and natural vanilla flavouring creates our award-winning light and fluffy Victoria Sponge. The buttercream is made from English butter and natural vanilla flavouring which is complemented perfectly with quality strawberry jam.
Sumptuous Buttercream
Our buttercream is wonderfully thick and creamy. It is naturally flavoured with vanilla and matches perfectly with the strawberry jam.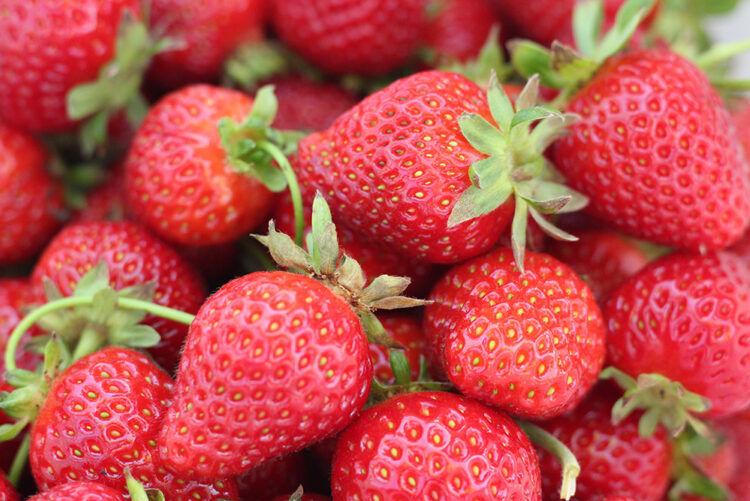 Strawberry Jam filling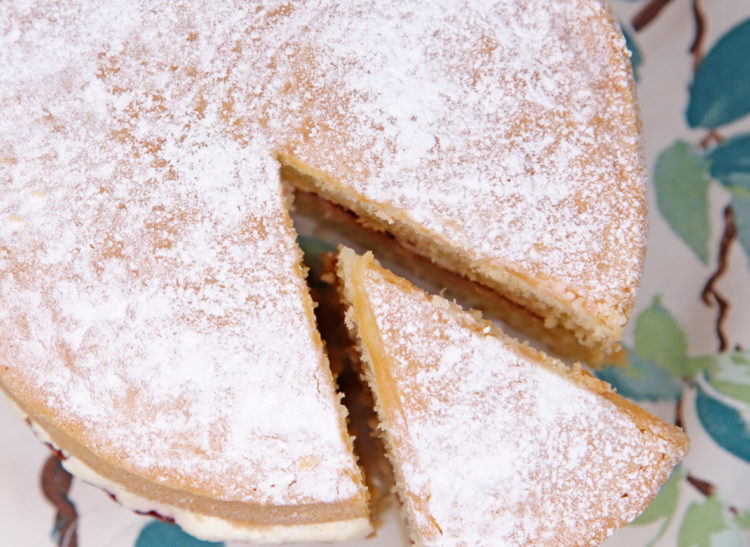 Topped with icing sugar
---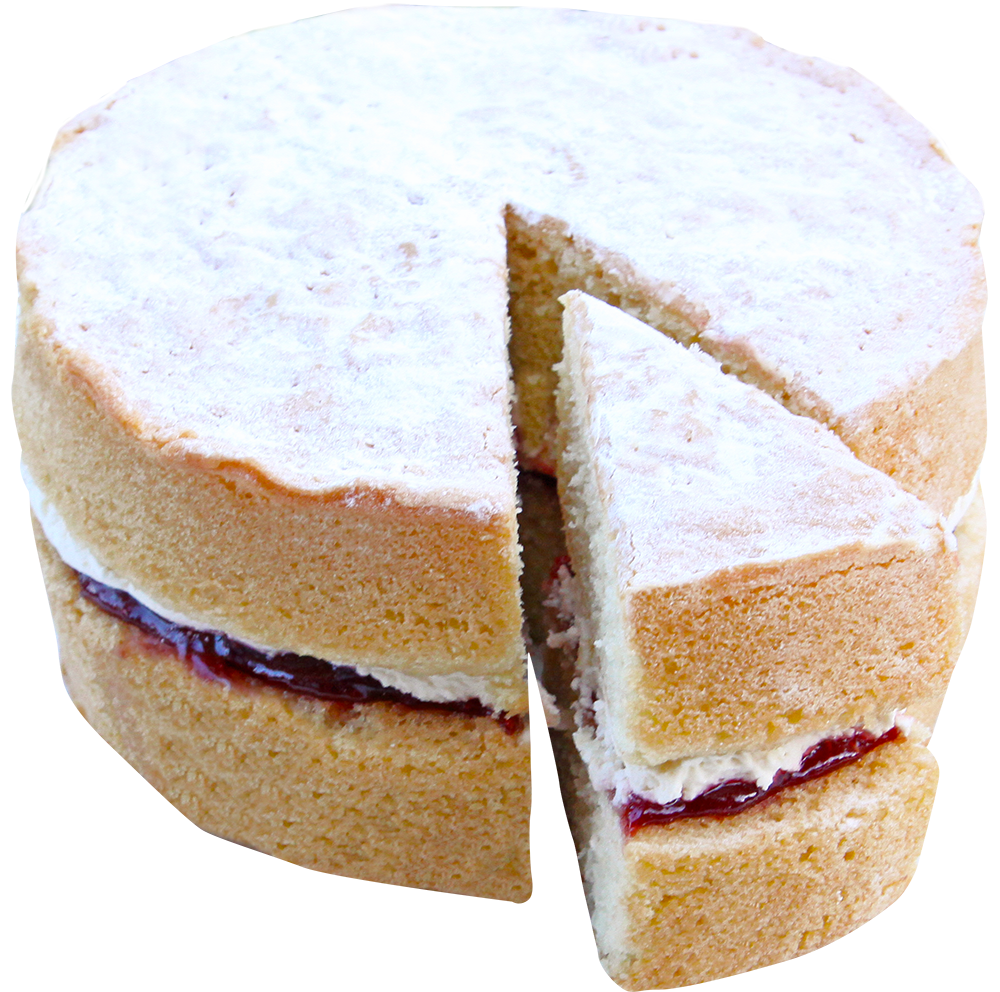 How do I look?
Our award-winning Victoria Sponge Cake has a light and fluffy vanilla sponge which is sandwiched together with strawberry jam and a generous layer of vanilla buttercream. It is finished on top with a delicate dusting of icing sugar.
STORAGE - Please store me in an air-tight container in a cosy spot - I don't like being kept in the fridge. Can be frozen for up to 6 months.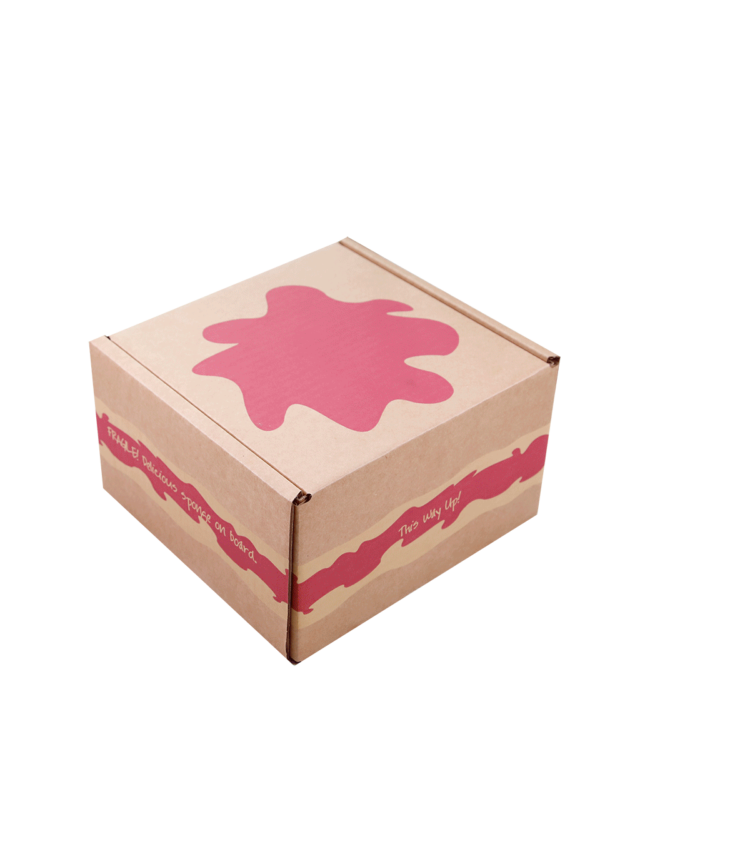 How do I arrive?
Our sponge cakes are packaged in secure and robust packaging. The inner box is wrapped around the cake to securely hold it in place so the sides and top do not get damaged in transit. The box also includes a handy cutting guide! It is then put in a strong cardboard outer box for extra protection so it will arrive to you safely.
| Product | Serves | Pack Weight | Cake Diameter | Cake Depth | Shelf Life from day of dispatch |
| --- | --- | --- | --- | --- | --- |
| Victoria for 8 | 8 | 1kg | 17.00cm | 8.00cm | 10 days |
| Victoria for 16 | 16 | 1.7kg | 24.00cm | 8.00cm | 10 days |
Reviews
Cheryl C - 24/05/2022

Victoria for 16

It doesn't deserve one star. It didn't show up until after the event! Pretty awful. My sister suggested your company for a wedding cake for cutting for my daughter's wedding. We had other desserts but since a Victoria Sponge is the quintessential English dessert, we thought that would be nice to cut with my dad's ceremonial sword at her wedding. Well, if the cake had shown up it might have worked! Had a nice Union Jack paper wrap too, which might have been nice for all the Americans who also attended (her husband is American). But, we ordered it to be delivered on the Friday (to be sure it arrived in time). And, despite getting a couple of emails that it was on it's way - it didn't arrive. (My sister tried to call someone but was unable to get anyone on the telephone so sent a message - which, rather like this one I expect - will not receive a response.) And on the Saturday, we again got a couple of emails that the courier had it and it was on it's way. But no cake showed up. On Monday afternoon, the cake showed up at my sister's house. Three days after it was supposed to arrive and two days after the actual wedding. (We ended up buying three small Victoria sponges from a local bakery on Saturday morning - though that required someone running out to find them on a busy morning!). Those cakes were actually waaaay better than the one which showed up from this company on the Monday anyway, even if they weren't such a great presentation.

Charlotte S - 23/05/2022

Victoria for 8

The cake was very generously sized and served 5 with half a cake left over (the leftovers didn't hang around for long though!). The filling was delicious - fresh jam and butter cream with a hint of vanilla. The taste and texture of the sponge were spot on too. I will definitely be ordering again in the future!

Laura S - 23/05/2022

Victoria for 8

I sent this to my son at University as a 'middle of exams' treat. Him and his housemates loved it. Very delicious they said

Sandeep S - 20/05/2022

Victoria for 16

I pnly order cakes from Sponge, the taste never fails and always the tasiest cake i have had

Amy J - 17/05/2022

Victoria for 8

Amazing cake, good portion and well packaged for delivery

Christina R - 12/05/2022

Victoria for 8

We have tried a few different cakes before, but found the denser the cake the dryer it tends to be, the Victoria Sponge tends to be more fluffy and moist than others, so stick mostly to buying that. Would like to try others, if they where all available in minis we would do so, but noticed now that they do all the flavours. It hasn't put us off buying, the cakes are enjoyed if eaten straight after purchase.

Jennifer L - 12/05/2022

Victoria for 8

Very tasty Victoria sponge, great value for money & delivered on time

Kellie J - 10/05/2022

Victoria for 16

Absolutely delicious Victoria sponge cake.. could do with a little more jam if I am completely honest but it didn't stop the whole cake being devoured in seconds 😂 can't wait to try some other flavours.

joanne w - 03/05/2022

Victoria for 8

Lovely treat

Emma B - 03/05/2022

Victoria for 8

Tasted delicious, one of the best cakes I have ever tasted, highly recommended.

Jan P - 03/05/2022

Victoria for 8

See above re recent quality.

Jane M - 03/05/2022

Victoria for 8

Really delicious cake

Elizabeth R - 26/04/2022

Victoria for 8

It always arrives fresh and in perfect condition . The only problem l would have is l can't seem to make it last long enough it's just too yummy

Kay D - 25/04/2022

Victoria for 8

My go-to cake makers for any birthday/occasions, ordered a few cakes and all I can say is that they are absolutely beautiful and delicious!!

Courtney T - 18/04/2022

Victoria for 16

We had a Victoria sponge cake - It was absolutely delicious. Soft, fluffy sponge and the jam was incredible. Kept for a very long time too. Will definitely be ordering again!

Malcolm D - 17/04/2022

Victoria for 8

Wow what a delight it was it was for my mum's 90th birthday she loves Victoria sponge cake that's her favourite, and she loved this one every one commented how lovely the cake was, this cake was realy top class .

Norma M - 10/04/2022

Victoria for 8

The cake is lovely but expensive for what you get plus additional postage

Richard W - 08/04/2022

Victoria for 8

Excellent cake made with quality ingredients. Have the Victoria Sponge Cake with a cuppa!

ROSALIND B - 05/04/2022

Victoria for 16

Only cake being eaten so far, a very, very good quality product and very moreish. If only you were based in France.

Paula M - 04/04/2022

Victoria for 8

Tasted good
Have you tried?
Victoria Sponge Cake
Sugar, Self Raising Flour (Wheat), Egg, Vegetable Fat: Palm; Vegetable Oil: Rapeseed; Water; Salt; Natural Flavouring., Vegetable Oils: Palm, Rapeseed; Water; Salt; Emulsifier: Polyglycerol Esters Of Fatty Acids; Flavouring; Colour: Annatto, Curcumin., Butter (Milk), Strawberry Jam (Glucose Syrup, Strawberry Puree, Gelling Agent: Pectin, Acidity Regulators: Citric Acid, Sodium Citrates, Colour: Anthocyanin.), Vanilla Extract.
ALLERGENS IN BOLD. Made in a bakery which handles gluten, eggs, nuts, milk, soya & sulphites.
All of our cakes are baked in the same kitchen and although we do all we can to minimise the risk of cross-contamination we cannot 100% guarantee this.
Contains Gluten

Contains Milk

Contains Eggs

Suitable for Vegetarians