Victoria Photo Cake
Our new Victoria Sponge Photo Cake is the perfect centrepiece for a birthday or special occasion! You can get creative and upload your own photo and add personalised text, or choose from one of our fun pre-designed toppers! We have lots of designs to choose from - how about a princess themed topper for your child's birthday party, or sending a thinking of you cake topper to your loved one. Whatever the occasion we've got something for everyone!
---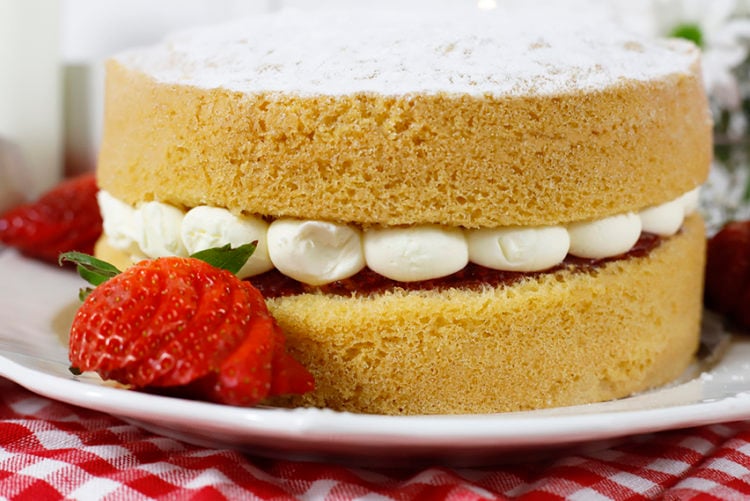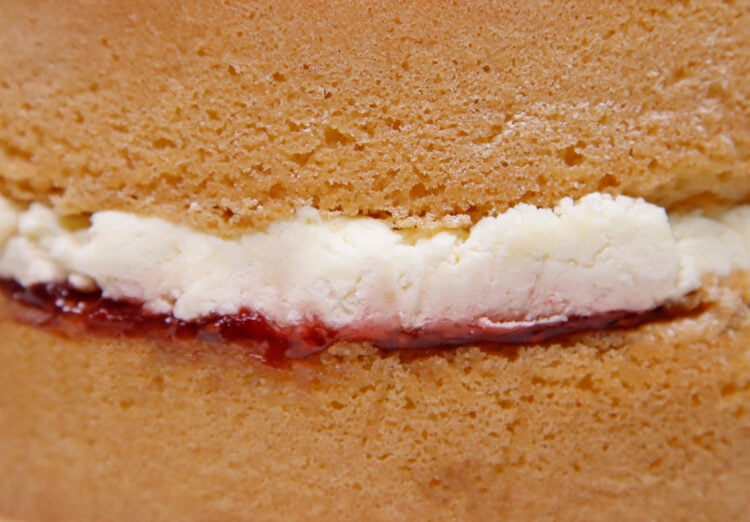 What's in our Victoria Sponge Mix?
Free range eggs, flour, and natural vanilla flavouring creates our award-winning light and fluffy Victoria Sponge. The buttercream is made from English butter and natural vanilla flavouring which is complemented perfectly with quality strawberry jam.
---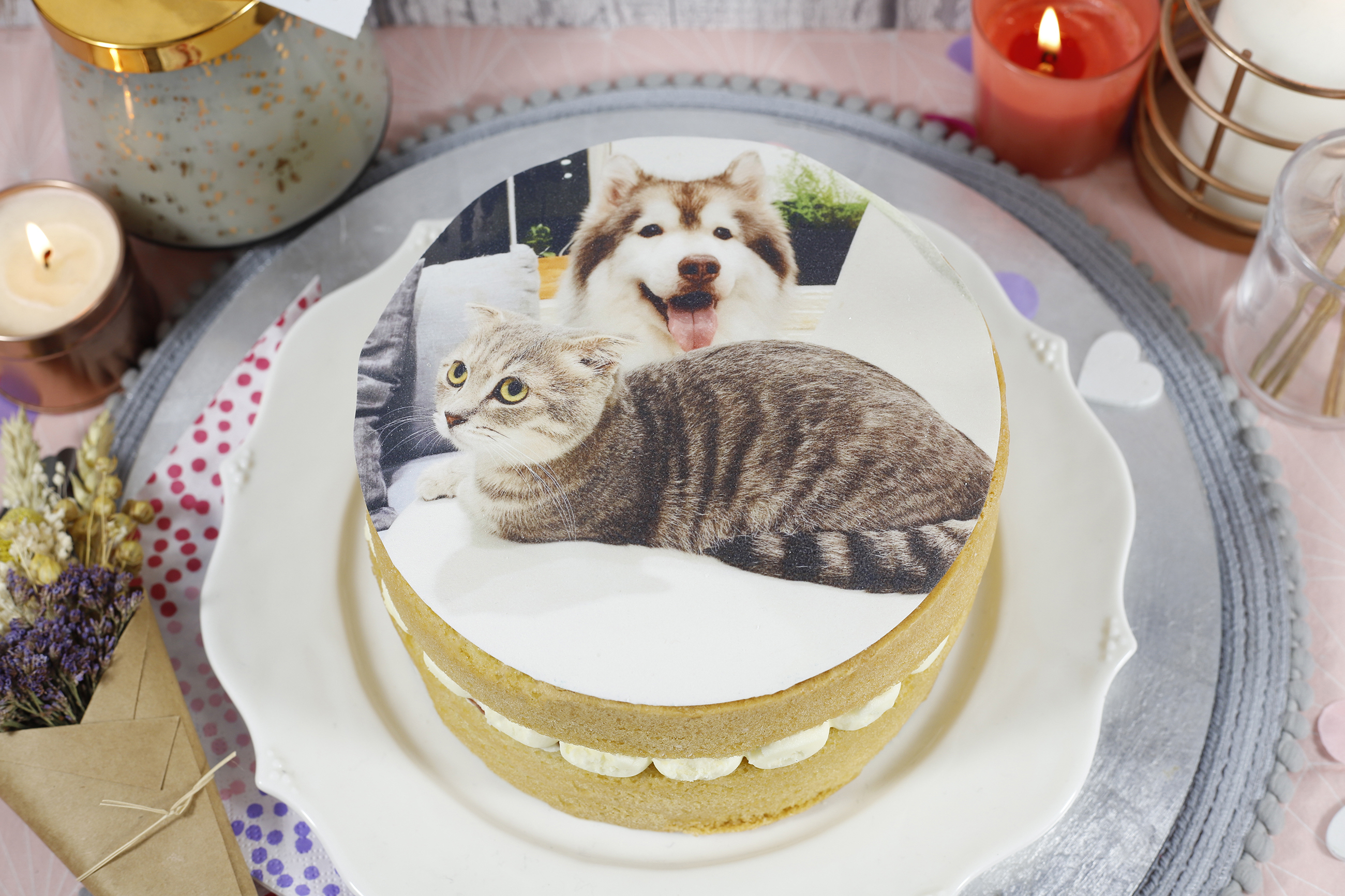 How are your photo cakes made?
Choose between a Victoria sponge Cake for 8 or a Victoria Sponge Cake for 16 on the drop down above and then you can choose whether to upload and create your own photo topper or pick from one of our fun designs.
The toppers are printed using edible ink on to an icing disc which will then be cut out and carefully placed and secured on top of your Victoria Sponge Cake. Your cake will then be securely packaged to arrive at your chosen delivery address.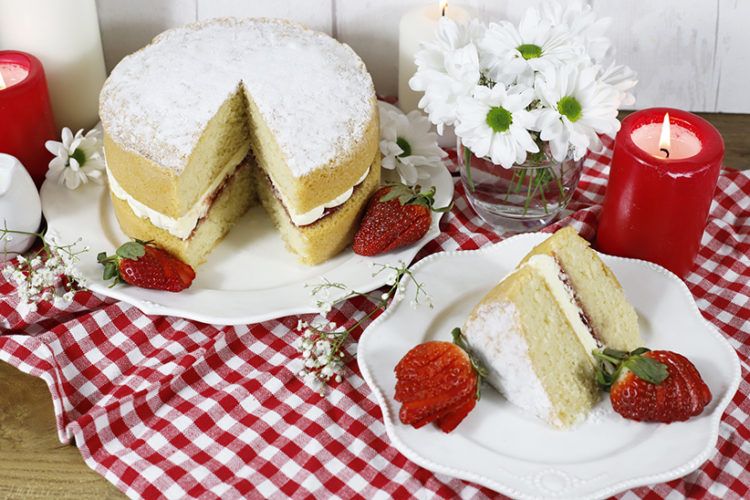 What flavours are available?
We have two yummy Sponge Cake flavours available to choose from - our Victoria Sponge Photo Cake or our Chocolate Photo Cake. Both are available in two sizes: for 8 or for 16 (with very generous portions!). Perfect for small or big birthday gatherings.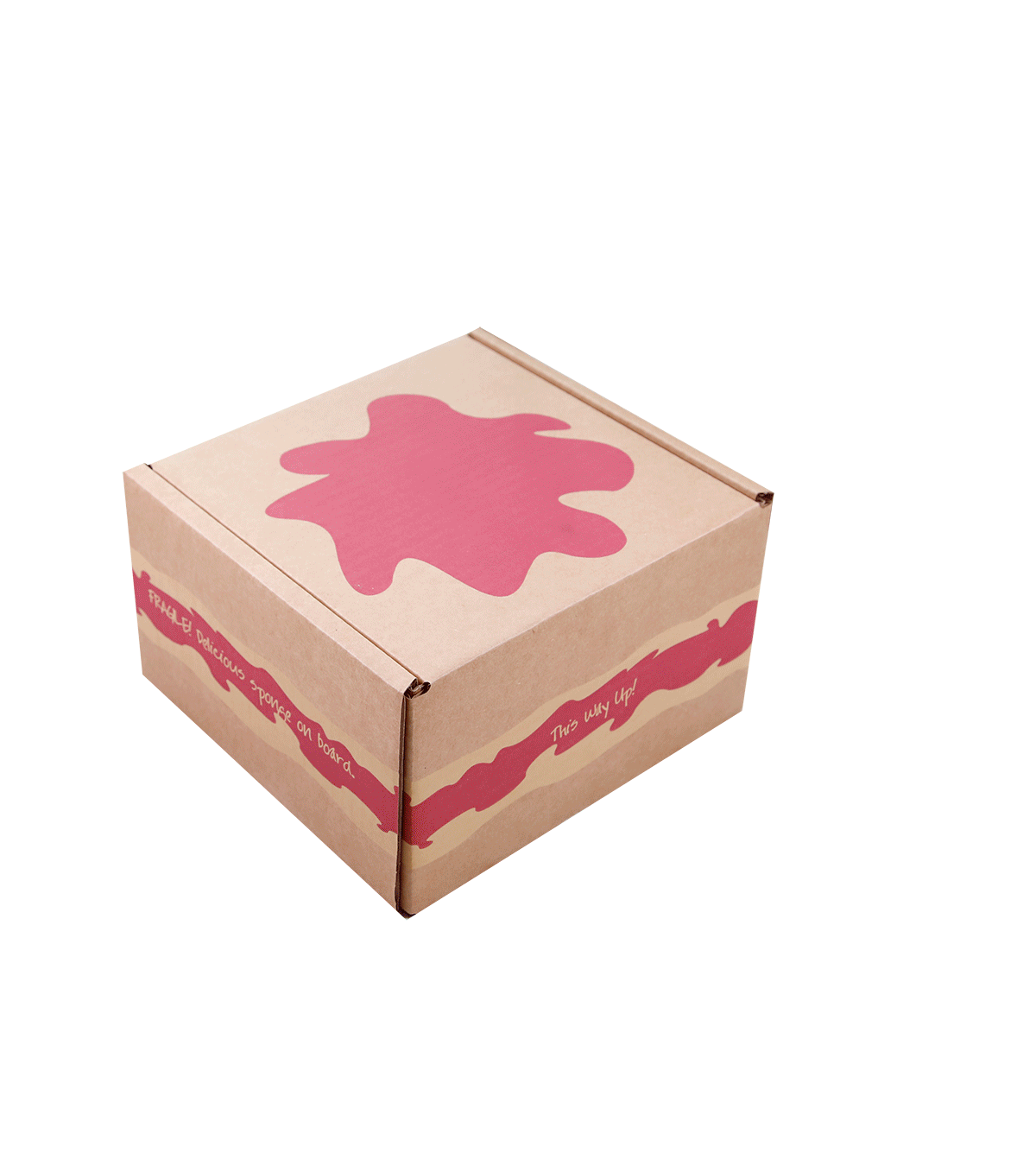 When can I have a photo cake delivered?
If you are looking for a specific date to have your photo cake delivered you can check to see if it is available by clicking here.
We take extra care and attention to detail while applying your cake toppers, so they take a bit more time to prepare. As we only have a small team of expert bakers we need to allow an extra day to process photo cake orders. This also means that there may be limited availability when demand is high.
You can place an order for your photo cake in advance for a special occasion using the calendar in our checkout!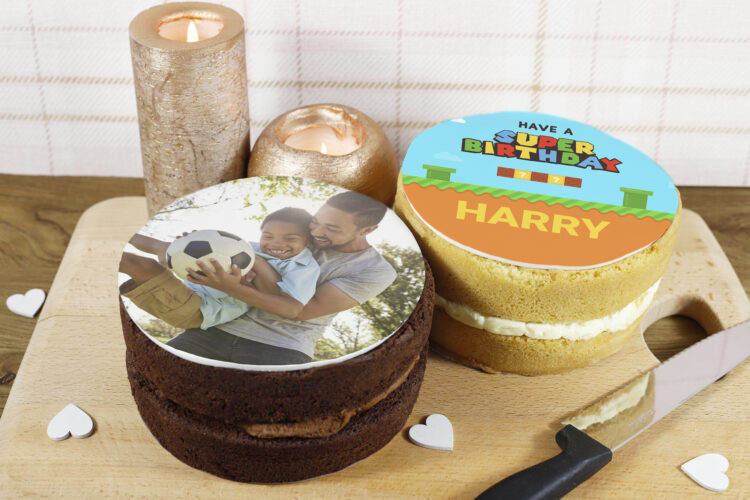 What can I put on my topper?
You can get as creative as you like! Start with a blank canvas and upload your own photo or design, then add some text if you like, to create your very own masterpiece. Not sure what you want, or not feeling very creative? Then we have a large selection of pre-designed cake toppers from birthday toppers, anniversary toppers or even new home toppers! We are sure you will find one you love :)
| Product | Serves | Pack Weight | Cake Diameter | Cake Depth | Shelf Life from day of dispatch |
| --- | --- | --- | --- | --- | --- |
| Photo Cake (Victoria for 8) | 8 | 1kg | 17.00cm | 8.00cm | 10 days |
| Photo Cake (Victoria for 16) | 16 | 1.7kg | 24.00cm | 8.00cm | 10 days |
Reviews
Joseph D - 08/08/2022

Photo Cake (Victoria for 8)

Cake tasted lovely, arrived when it said it would and looked exactly as I'd hoped!

Poppy E - 09/07/2022

Photo Cake (Victoria for 8)

I order a lot from Sponge. Super easy and apparently very delicious cakes! Very reasonable pricing and great delivery. 10/10

Amy C - 06/07/2022

Photo Cake (Victoria for 8)

We loved our photo cake !!! Came out lovely ! And was really delicious!!! Highly recommend!!!!

Marie Danielle D - 11/06/2022

Photo Cake (Victoria for 8)

cake is lovely. the print of the photo was immaculate. i just hope i could choose what cake i want for the personalized cake.

Susan R - 05/06/2022

Photo Cake (Victoria for 8)

Would definitely order cakes from you again. Worth every penny. Much enjoyed.

Claire M - 05/06/2022

Photo Cake (Victoria for 8)

Delicious product and will reorder as quality is always guaranteed with Sponge.

Kate B - 31/05/2022

Photo Cake (Victoria for 8)

I ordered the photo Victoria sponge cake for my daughter's birthday. It arrived beautifully packaged and was enjoyed by all the family.

Anna M - 19/05/2022

Photo Cake (Victoria for 16)

I have been buying my cake from Sponge for years, they are always fantastic (victoria sponge is my personal fave). This was the first time I had bouoght a photo cake. WOW! I was so impressed! The image we uploaded looked amazing on the cake and I had a VERY happy 4 year old on her Birthday! Will 100% use this option again, it took all the stress out of getting the perfect Birthday cake!

Jacqueline H - 19/04/2022

Photo Cake (Victoria for 16)

The cake we ordered was a photo cake, really well made and exactly as it was shown to be online. A really lovely addition to my parents ruby wedding anniversary party they were very happy.

Kevin L - 06/04/2022

Photo Cake (Victoria for 16)

My wife loved her photo cake, emblazoned with the 46 of Valentino Rossi and plenty of room for birthday wishes. Everyone who's had a slice has also now become a fan of Sponge! This was a large cake and it was proper, plenty for everyone and looked great. Ordering and delivery a breeze, as usual, from Sponge, super impressed with how easy peasy the photo tool is on their site. Ace!

Shirley W - 01/04/2022

Photo Cake (Victoria for 8)

Excellent quality cake . Superb product. A lot of thoughts and attention to detail have been made with the product and packageing to ensure the product arrives in prestine condition

Claire W - 22/03/2022

Photo Cake (Victoria for 16)

Cakes are always delicious, so fresh and delivered right on time. I always get all of my special cakes from Sponge, just great all round, thanks!!

Sue H - 20/03/2022

Photo Cake (Victoria for 16)

Very good quality cake, great flavour, just like homemade, it's my go to for any occasion now.

Chris H - 20/03/2022

Photo Cake (Victoria for 16)

Whilst the cake was delicious, with a picture exactly as required I can't help feeling it would look tidier if fully iced around the sides.

Laura T - 20/03/2022

Photo Cake (Victoria for 8)

Amazing cake, not just the presentation of it but the taste too. My go-to cake ordering service as I know it will always be good

Claire M - 06/03/2022

Photo Cake (Victoria for 8)

Very happy ten year old!! My sister is placing an order next month they were so impressed

Les T - 01/03/2022

Photo Cake (Victoria for 8)

A great cake

Deborah O - 19/02/2022

Photo Cake (Victoria for 8)

Photo reproduced well and the writing was exactly as ordered. Recipients delighted.

Maria S - 14/02/2022

Photo Cake (Victoria for 8)

For 5 stars I would have liked the sides of the cake iced with buttercream or something similar - just a small suggestion.

Lauren L - 07/02/2022

Photo Cake (Victoria for 16)

The best Victoria sponge ever !! in fact every cake I order from here is beyond delicious!!! You are amazing. I love your company. I won't order from anywhere else ! 5*****
Have you tried?
Victoria Photo Cake
Cake: Sugar, Self Raising Flour (Wheat), Egg, Vegetable Fat: Palm; Vegetable Oil: Rapeseed; Water; Salt; Natural Flavouring., Vegetable Oils: Palm, Rapeseed; Water; Salt; Emulsifier: Polyglycerol Esters Of Fatty Acids; Flavouring; Colour: Annatto, Curcumin., Butter (Milk), Strawberry Jam (Glucose Syrup, Strawberry Puree, Gelling Agent: Pectin, Acidity Regulators: Citric Acid, Sodium Citrates, Colour: Anthocyanin.), Vanilla Extract.
Topper: Sugar, starches (E1422, E1412), maltodextrin, glycerol (E422), water, stabilizer (E414, E415,E460i), dextrose, emulsifiers (E435, E491, E471), food colour (E171), citric acid (E330), artificial flavours, preservative (E202)
Ink: Water, humectant (E422), propylene glycol (E490), preservative (E202), food colors (E122-carmoisine, E133, E102-tartrazine, E124, E124-ponceau), acidity regulator(E330).
ALLERGENS IN BOLD. Made in a bakery which handles gluten, eggs, nuts, milk, soya & sulphites.
All of our cakes are baked in the same kitchen and although we do all we can to minimise the risk of cross-contamination we cannot 100% guarantee this.
Contains Gluten

Contains Milk

Contains Eggs

Contains Soya