---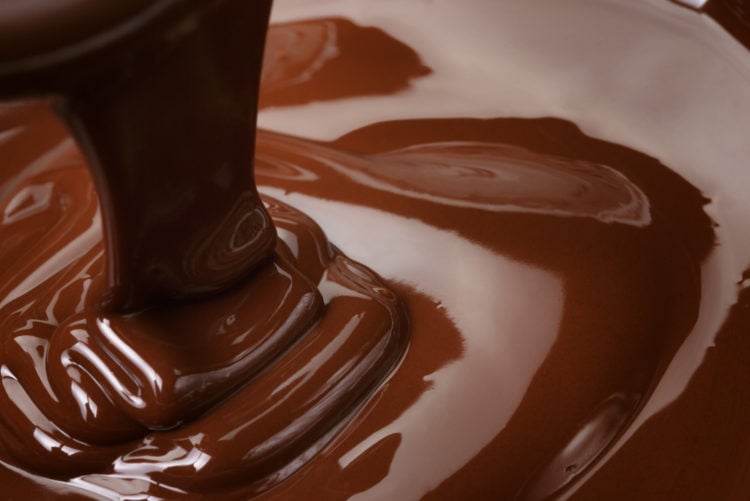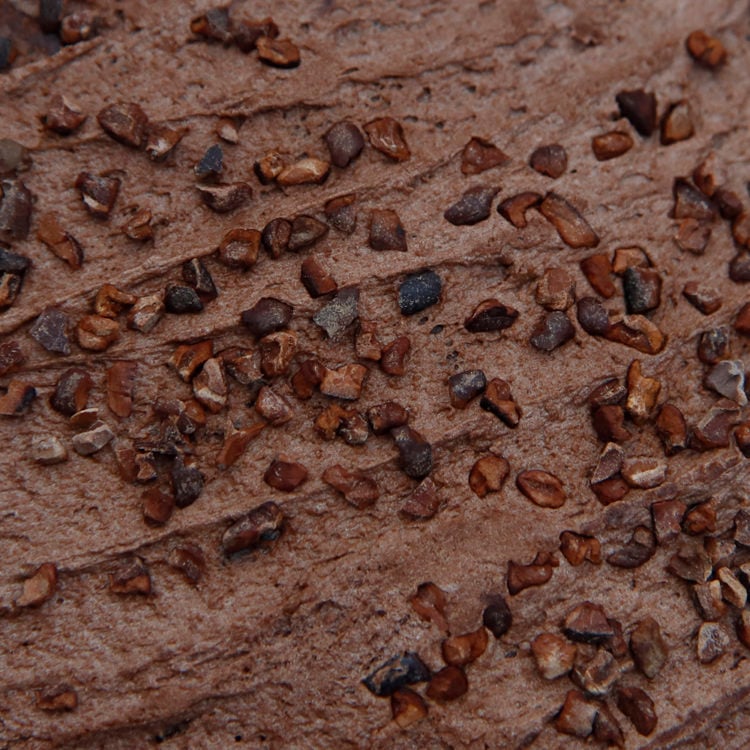 What's in the mix?
Soya milk, chocolate and vegan butter create our delicious and indulgent vegan chocolate sponge. Our secret ingredient is coffee which really brings out the chocolate flavour! Nibbed cocoa pieces are sprinkled on top give some added crunch.
Vegan Buttercream
Our vegan buttercream is wonderfully smooth, thick and creamy. Made from delicious chocolate, vegan butter and sugar. Yum!
---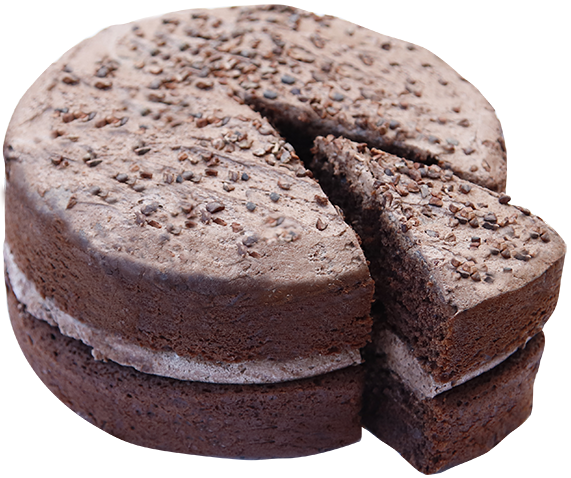 How do I look?
Indulge in our totally decadent Vegan Chocolate Sponge Cake, generously sandwiched together and topped with chocolate vegan buttercream and sprinkled with nibbed cocoa pieces on top for added texture. It's rich, moist and delicious.
STORAGE - Please store me in an air-tight container in a cosy spot - I don't like being kept in the fridge. Can be frozen for up to 6 months.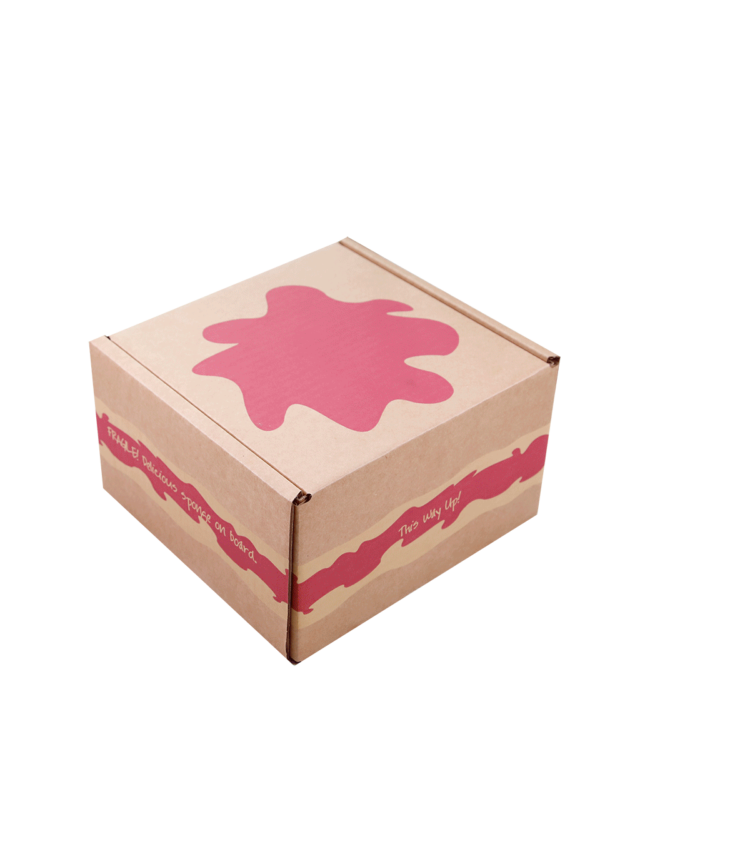 How do I arrive?
Our sponge cakes are packaged in secure and robust packaging. The inner box is wrapped around the cake to securely hold it in place so the sides and top do not get damaged in transit. The box also includes a handy cutting guide! It is then put in a strong cardboard outer box for extra protection so it will arrive to you safely.
| Product | Serves | Pack Weight | Cake Diameter | Cake Depth | Shelf Life from day of dispatch |
| --- | --- | --- | --- | --- | --- |
| Vegan Chocolate for 8 | 8 | 1kg | 17.00cm | 8.00cm | 7 days |
| Vegan Chocolate for 16 | 16 | 1.8kg | 24.00cm | 8.00cm | 7 days |
Reviews
Susan L - 23/05/2022

Vegan Chocolate for 8

Absolutely fantastic cake, a very chocolatey, very moist and deep cake. Really tasty and

Sally M - 21/05/2022

Vegan Chocolate for 8

Everyone including non vegan guests really enjoyed it. I cut 7 good size slices and still had quite a good piece left, definitely serves 8 - 10 people.

Margaret M - 17/05/2022

Vegan Chocolate for 8

Apparently it was delicious even after after waiting until three days after delivery - daughter was away for her hen weekend!

Emma F - 15/05/2022

Vegan Chocolate for 8

Beautiful cake, tasted completely home made, delicious, bigger than I thought, highly recommend

Ruth S - 08/05/2022

Vegan Chocolate for 8

Fantastic vegan cake, probably the best I've ever bought. Lovely deep flavour, moistness and texture. Let down by delivery a day late - missed the birthday.

Jo L - 02/05/2022

Vegan Chocolate for 8

A great vegan cake- it didn't last long!

Robert D - 01/05/2022

Vegan Chocolate for 16

Everyone loved the cake and some even took some home after the party. It was moist, full of flavour but not so heavy you couldn't enjoy eating it. I was very pleasantly surprised that it was vegan and not a single non-vegan attendee could tell it was either! Would highly recommend and will be trying some other flavours in the future.

Jayne K - 27/04/2022

Vegan Chocolate for 8

Prompt delivery, perfectly packaged, delicious (non dry!!) chocolate cake

Jane H - 05/04/2022

Vegan Chocolate for 16

The cake I ordered was beautifully presented and tasted delightful. The buttercream was of the perfect proportion to the sponge, not too sweet and tasted amazing. The sponge was also delicious - a perfect level of chocolate flavour. We all had a generous slice and because it was not too sweet, it was easy to eat the whole slice. I would definitely recommend this company for a good value, delicious cake for any occasion (do you need an occasion to eat cake?!) who reliably deliver their well-preserved cakes on time and in perfect condition.

Kim S - 30/03/2022

Vegan Chocolate for 8

I appreciate being able to send something more special to my daughter while she is away at university.

Annabel D - 23/03/2022

Vegan Chocolate for 16

Vegan Chocolate cake was delicious! Couldn't tell it was vegan! The most delicious chocolate cake I've ever had!!

Pamela M - 14/03/2022

Vegan Chocolate for 8

This was really tasty. Lovely and moist but not too rich.

Mackenzie H - 07/03/2022

Vegan Chocolate for 8

First time using Sponge so I was a bit sceptical, but the cake arrived in one piece and it went down a treat for my girlfriends birthday!

Pauline H - 01/03/2022

Vegan Chocolate for 8

Tasted like a none free from cake, you just wouldn't have known. Family loved it

Gurminder K - 21/02/2022

Vegan Chocolate for 8

Loved it

Linda L - 11/02/2022

Vegan Chocolate for 8

I have ordered this cake before as the recipriants are vegans,they tell me the cake is amazing

Michaela D - 08/02/2022

Vegan Chocolate for 16

Really moist and more ish cake. You did not feel like you were missing out on anything. Absolutely delicious

Liz B - 08/02/2022

Vegan Chocolate for 16

Always nervous about getting vegan products but this cake was excellent. The non vegans didn't notice any difference!

J M R - 05/02/2022

Vegan Chocolate for 8

This was very nice, but the Apple Crumble cake stole its thunder!

Bex P - 16/01/2022

Vegan Chocolate for 8

Loved the cakes they were extremely delicious.
Have you tried?
Vegan Chocolate Cake
Sugar, soya milk (water, soya beans, acidity regulators (dipotassium phosphate, monopotassium phosphate), calcium (calcium carbonate), flavourings, sea salt, stabiliser (gellan gum), vitamins (riboflavin (B2), B12, D2)), self raising flour (wheat flour, raising agents (sodium bicarbonate, mono calcium phosphate), calcium carbonate, iron, niacin, thiamine)), margarine (palm oil, rapeseed oil, water, salt, natural flavouring), cocoa powder, golden syrup, faba bean flour, lemon juice from concentrate (preservative: potassium metabisulphite), baking powder, cocoa nibs, raising agent (wheat) diphosphates, sodium bicarbonate)), coffee granules, xanthan gum.
ALLERGENS IN BOLD. Made in a bakery which handles gluten, eggs, nuts, milk, soya & sulphites.
All of our cakes are baked in the same kitchen and although we do all we can to minimise the risk of cross-contamination we cannot 100% guarantee this.
Contains Gluten

Contains Sulphites

Contains Soya

Suitable for Vegetarians

Dairy Free

Suitable for Vegans