---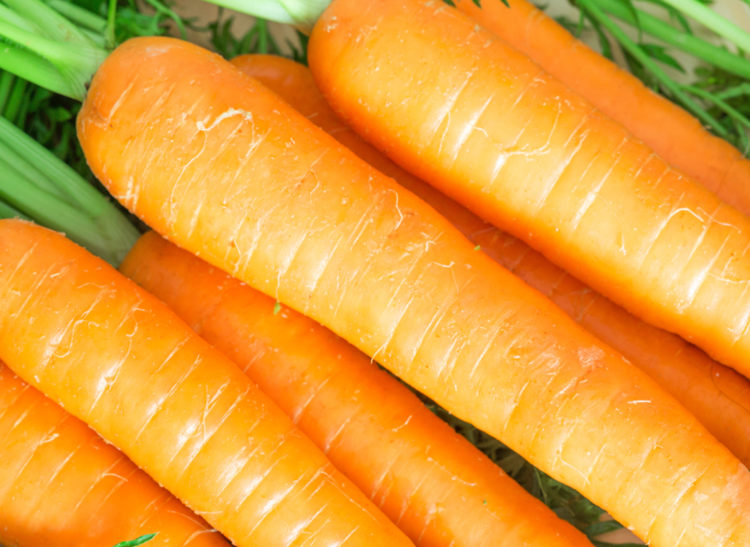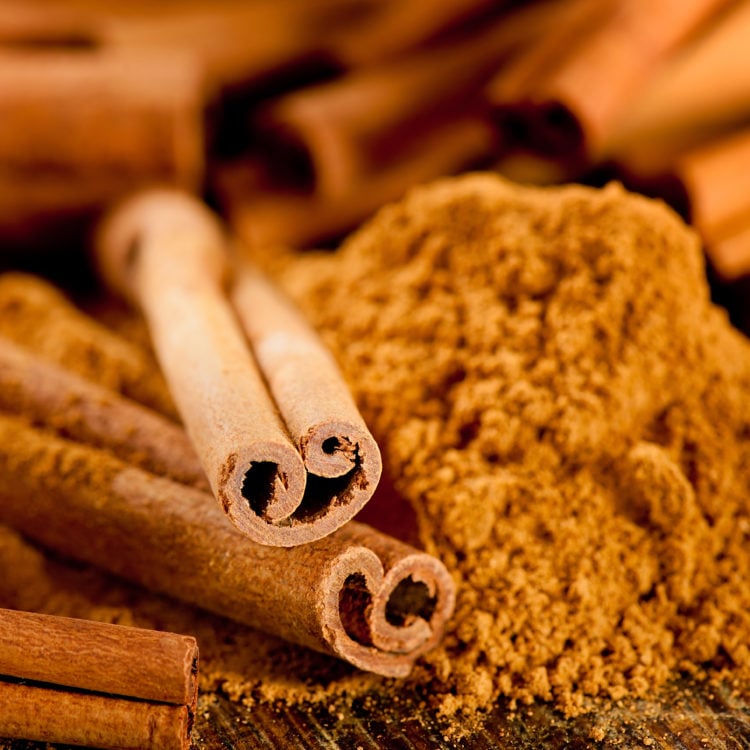 What's in the mix?
Grated carrot, cinnamon, walnuts, plump sultanas, free range eggs and a hint of nutmeg make up this rich and juicy sponge. Naturally flavoured vanilla buttercream with crunch walnut pieces on top.
Sumptuous Buttercream
English butter is swirled with natural vanilla flavouring to create a beautifully thick and creamy vanilla buttercream.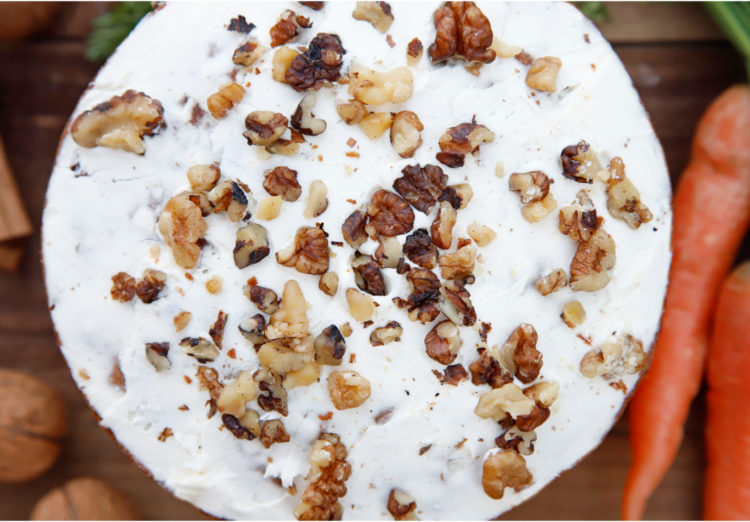 Toppings....
On the top of our scrummy carrot cake you will find more delicious creamy white vanilla buttercream and a splattering of crushed walnut pieces. Carrots and walnuts are a match made in heaven!
---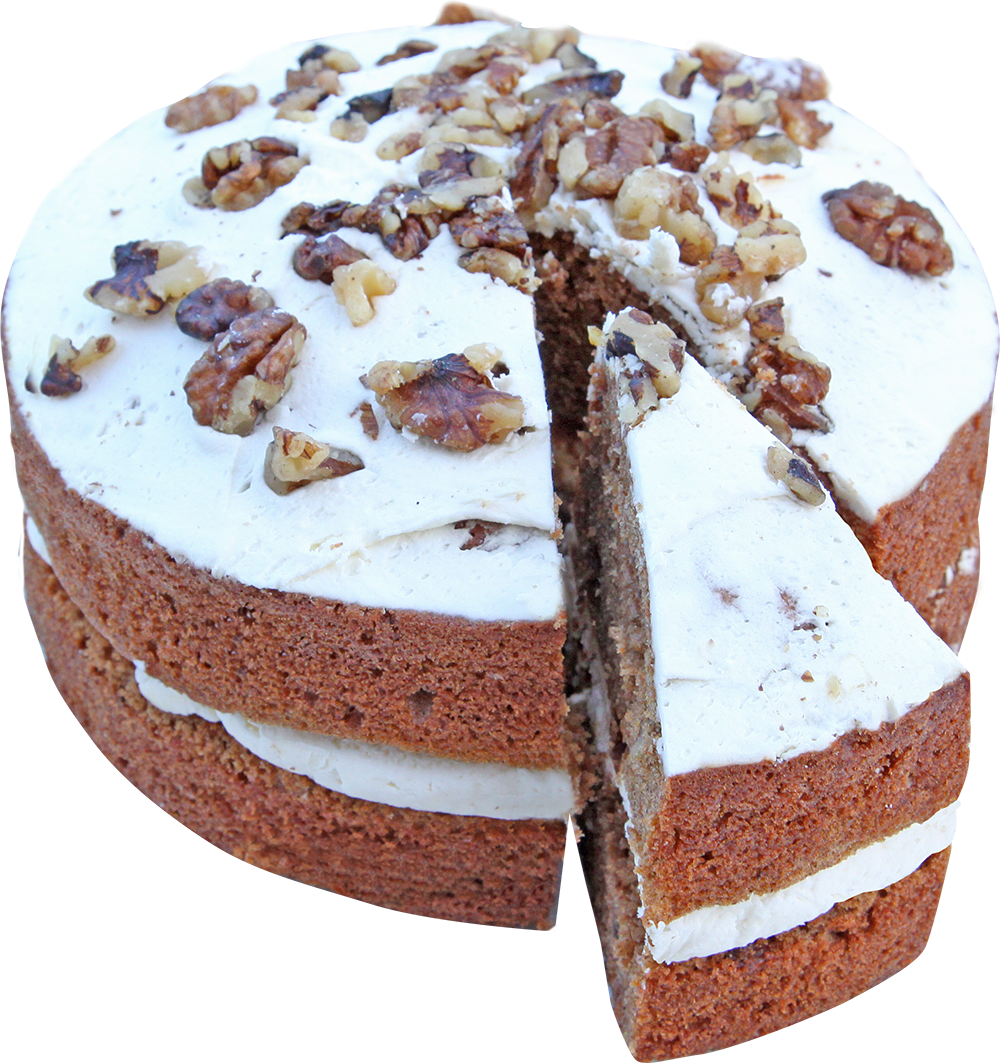 How do I look?
Our Carrot Cake is rich and indulgent with cinnamon, nutmeg, walnuts, plump sultanas and freshly grated carrots running through it. The sponge is matched perfectly with a generous layer of vanilla buttercream and crunchy walnuts on top.
STORAGE - Please store me in an air-tight container in a cosy spot - I don't like being kept in the fridge. Can be frozen for up to 6 months.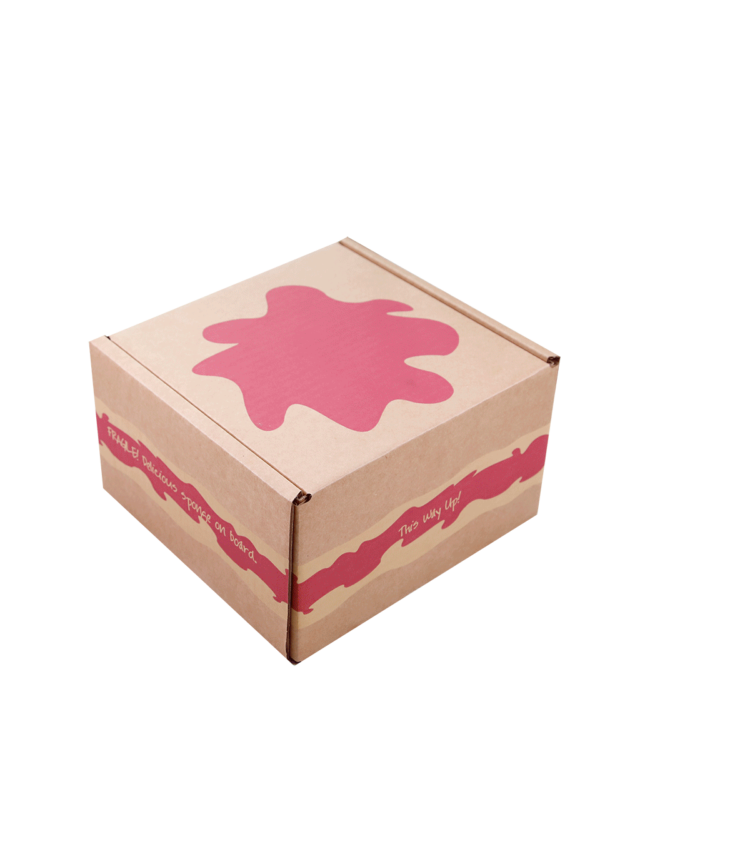 How do I arrive?
Our sponge cakes are packaged in secure and robust packaging. The inner box is wrapped around the cake to securely hold it in place so the sides and top do not get damaged in transit. The box also includes a handy cutting guide! It is then put in a strong cardboard outer box for extra protection so it will arrive to you safely.
| Product | Serves | Pack Weight | Cake Diameter | Cake Depth | Ambient Shelf Life |
| --- | --- | --- | --- | --- | --- |
| Carrot Baby Sponge | | 0.1kg | 0.00cm | 0.00cm | 7 days |
| Carrot Wedge | | 0kg | 0.00cm | 0.00cm | 7 days |
| Carrot for 8 | 8 | 1kg | 17.00cm | 8.00cm | 7 days |
| Carrot for 16 | 16 | 2kg | 24.00cm | 8.00cm | 7 days |
Reviews
Jane T - 23/01/2022

Carrot for 8

We had the Carrot Cake, it was amazing and seemed to improve in time

Samantha S - 11/01/2022

Carrot for 8

Bought the carrot cake for my husband's birthday and it's delicious. Pleasantly surprised that there are walnuts baked into the cake itself as well as decorating the top. Would definitely buy again.

Philippa H - 11/01/2022

Carrot for 8

Absolutely perfect cake! Honestly the best cake we've enjoyed in a long while. Super moist, packed with juicy raisins and the frosting was gorgeous. Really excellent value.

Lily M - 27/12/2021

Carrot for 8

My family enjoyed eating the carrot cake that I bought from you at Christmas. The cake had wonderful aroma and tasted heavenly. It was so delicious that everyone wanted extra slices!

Veronica M - 24/12/2021

Carrot for 8

Delicious!

robert w - 14/12/2021

Carrot for 8

very tasty will buy again

Sue W - 10/12/2021

Carrot for 8

I ordered this for a friend who had broken her arm. I ordered it on a Friday morning and she got it the next day, Saturday. She was absolutely delighted to receive it and remarked how well packaged it was. I think you may well have picked up another customer!

Lisa S - 08/12/2021

Carrot for 16

Delicious

Candace B - 07/12/2021

Carrot for 8

Best carrot cake I've had! Will definitely order again.

Amanda N - 06/12/2021

Carrot for 16

Really moist tasty cake. Quality ingredients and everyone said how much they enjoyed it!

Rosemarie E - 23/11/2021

Carrot for 8

My family said, "Hands down the best carrot cake we've ever tasted!" My 3 year old grandson asked, the next morning, if he could have carrot cake for breakfast! The answer was, "No!

Carol R - 23/11/2021

Carrot for 8

Brilliant fab idea this is the second time I've place an order

Joanne R - 22/11/2021

Carrot for 16

Excellent carrot cake, very tasty. Arrived on time and in perfect condition

Suzanne A - 22/11/2021

Carrot for 8

Extremely well received, friend thought it was such a fun idea and loved sharing it. It was very much enjoyed.

Penelope W - 22/11/2021

Carrot for 8

The best cake the recipients had ever tasted. Delivered on the day requested

Stephen B - 21/11/2021

Carrot for 8

High quality cake that tastes delicious. Previously ordered , never been disappointed

Mandi B - 19/11/2021

Carrot for 16

Loved it. Just the right balance of flavours & cream to sponge.

Shirley T - 05/11/2021

Carrot for 8

There was only a very thin layer of cream on the top of the cake. Also I ordered a heart shaped balloon along with the cake which was so weak, that it burst before it even started looking like a heart. Very disappointed.

david S - 15/10/2021

Carrot for 8

Will order when need a cake i am here for the cake

Debbie P - 12/10/2021

Carrot for 16

It was very well made, lovely presentation everybody loved it, the texture was just right and the flavours were amazing.
Have you tried?
Carrot Cake
Sugar, self raising flour (wheat flour, raising agents (sodium bicarbonate, mono calcium phosphate), calcium carbonate, iron, niacin, thiamin), free range eggs, carrot, rapeseed oil, butter (milk), walnuts, sultanas, cinnamon, natural vanilla flavouring, raising agent (wheat) diphosphates, sodium bicarbonate), nutmeg.
ALLERGENS IN BOLD. Made in a bakery which handles gluten, eggs, nuts, milk, soya & sulphites.
All of our cakes are baked in the same kitchen and although we do all we can to minimise the risk of cross-contamination we cannot 100% guarantee this.
Contains Gluten

Contains Milk

Contains Eggs

Contains Nuts

Suitable for Vegetarians