---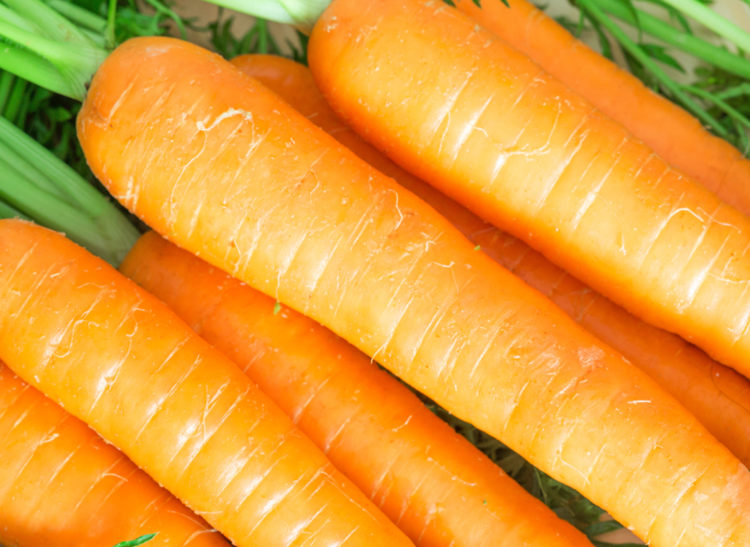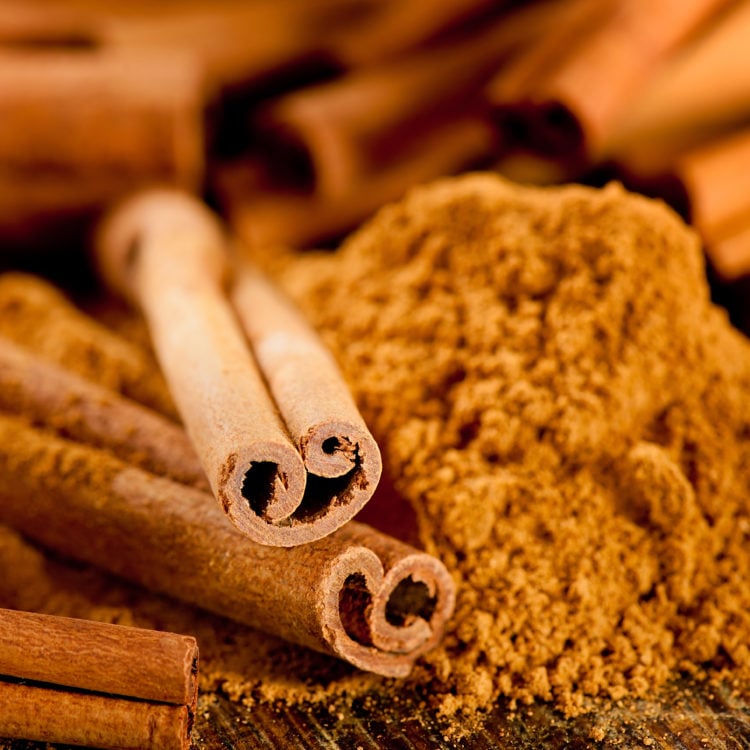 What's in the mix?
Grated carrot, cinnamon, walnuts, plump sultanas, free range eggs and a hint of nutmeg make up this rich and juicy sponge. Naturally flavoured vanilla buttercream with crunch walnut pieces on top.
Sumptuous Buttercream
English butter is swirled with natural vanilla flavouring to create a beautifully thick and creamy vanilla buttercream.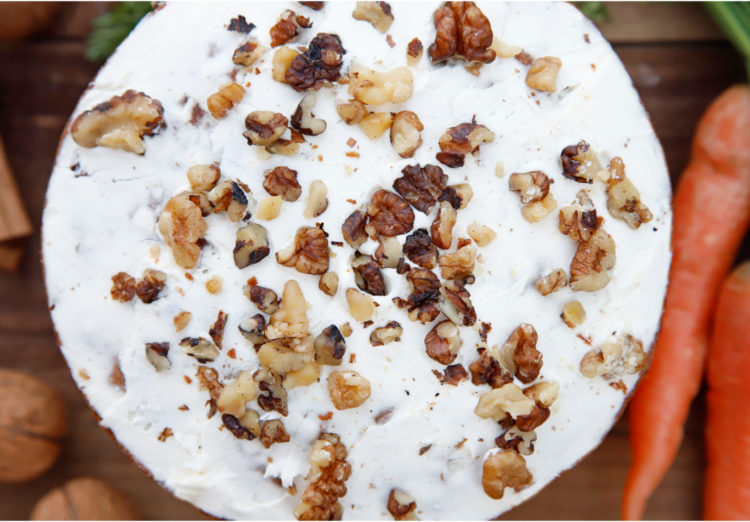 Toppings....
On the top of our scrummy carrot cake you will find more delicious creamy white vanilla buttercream and a splattering of crushed walnut pieces. Carrots and walnuts are a match made in heaven!
---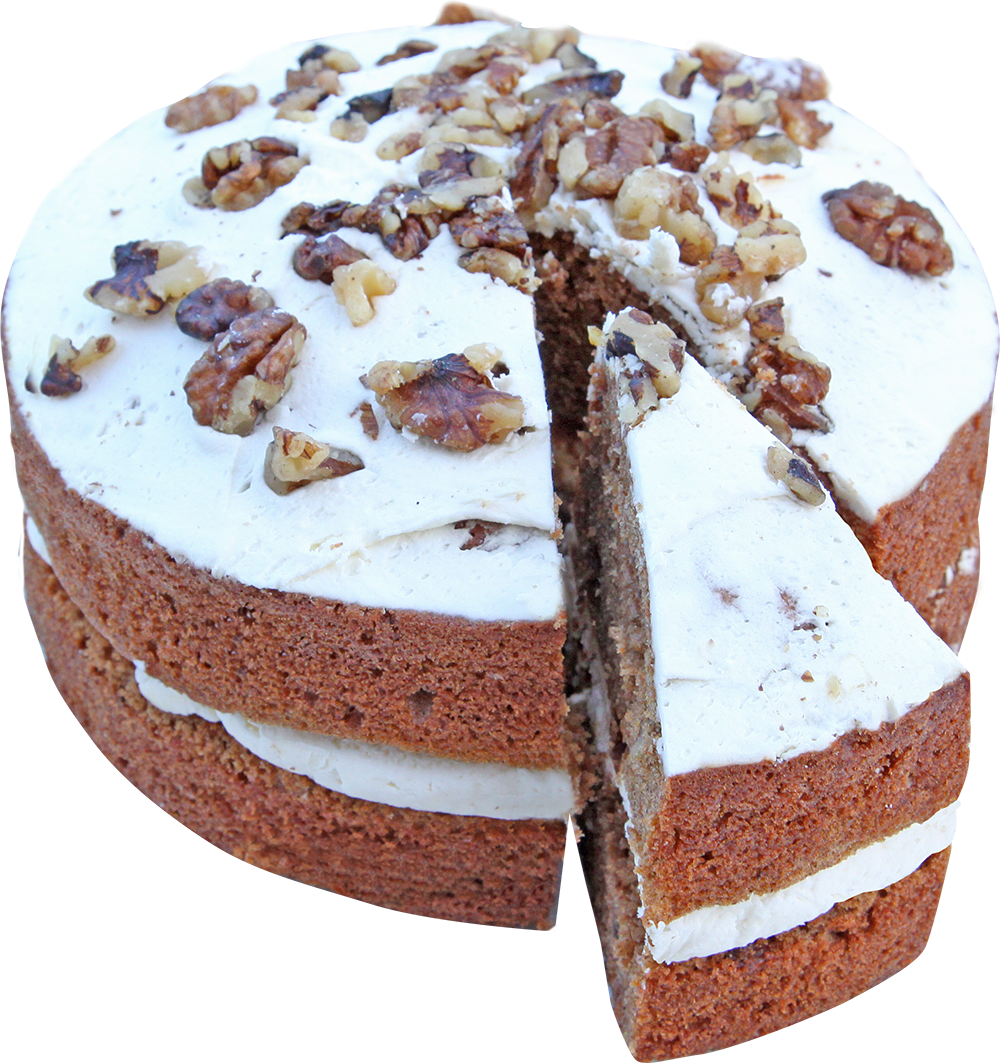 How do I look?
Our Carrot Cake is rich and indulgent with cinnamon, nutmeg, walnuts, plump sultanas and freshly grated carrots running through it. The sponge is matched perfectly with a generous layer of vanilla buttercream and crunchy walnuts on top.
STORAGE - Please store me in an air-tight container in a cosy spot - I don't like being kept in the fridge. Can be frozen for up to 6 months.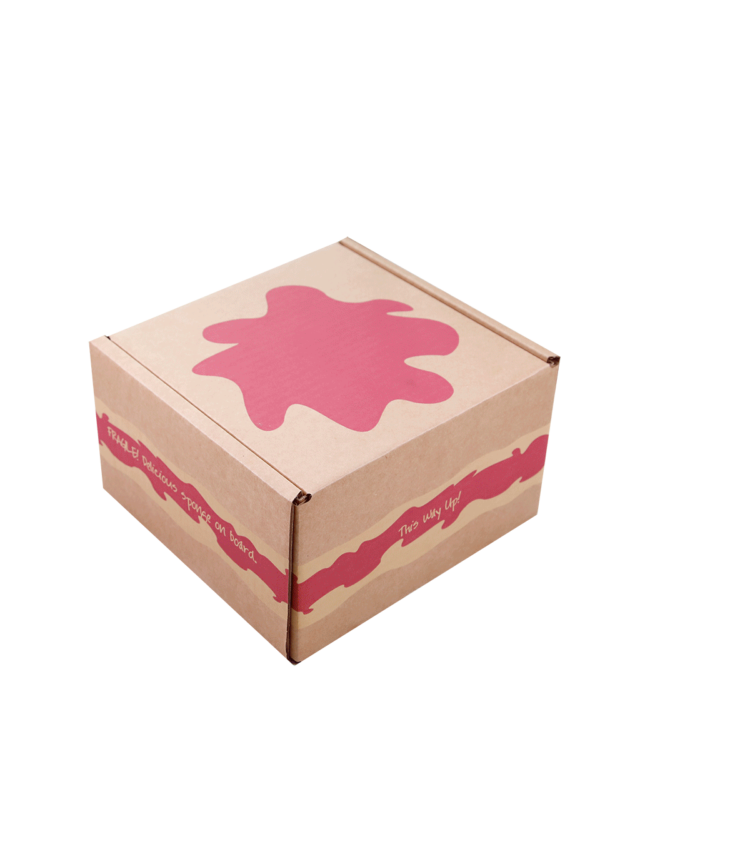 How do I arrive?
Our sponge cakes are packaged in secure and robust packaging. The inner box is wrapped around the cake to securely hold it in place so the sides and top do not get damaged in transit. The box also includes a handy cutting guide! It is then put in a strong cardboard outer box for extra protection so it will arrive to you safely.
| Product | Serves | Pack Weight | Cake Diameter | Cake Depth | Shelf Life from day of dispatch |
| --- | --- | --- | --- | --- | --- |
| Carrot for 8 | 8 | 1kg | 17.00cm | 8.00cm | 7 days |
| Carrot for 16 | 16 | 2kg | 24.00cm | 8.00cm | 7 days |
Reviews
Julie G - 04/07/2022

Carrot for 16

Was really tasty and fresh.

Kara S - 04/07/2022

Carrot for 16

Packed full of walnuts, excellent quality and flavour…..positive comments from all who had some

Jacqueline M - 18/06/2022

Carrot for 16

One of the most nicest carrot cakes we have had , A+++

Mel B - 13/06/2022

Carrot for 8

Our favourite cake hence why it was our wedding cake

Evelyn T - 12/06/2022

Carrot for 8

I would prefer the carrot cake to have a less sweet topping and centre. Perfect in every other way!

Debbie K - 25/05/2022

Carrot for 8

Really lovely carrot cake - moist, fruity & nutty!

Kelly N - 04/05/2022

Carrot for 8

I ordered a Carrot Cake to be delivered my son, who is at Uni, for his birthday. Ordering was very easy and I loved that you could add candles and decorations. It arrived very well presented and packaged and delivered exactly when supposed to, tracking was spot on. My son said the cake tasted lovely and it was a great surprise. Will be ordering again for sure.

ellie p - 04/05/2022

Carrot for 16

The best beautiful sponge carrot cake . And so fresh

Judith N - 25/04/2022

Carrot for 8

Carrot cake is gorgeous.

Patricia D - 25/04/2022

Carrot for 8

We all really enjoyed the carrot cake. We had 8 generous portions. The cake was light, moist and bursting with flavour.

Hannah M - 24/04/2022

Carrot for 8

Arrived on time, well packaged and tasted phenomenal… served way more than 8! fantastic

Caroline B - 24/04/2022

Carrot for 8

Lovely cake, well packaged abd presented, light and fresh tasting, thankyou

Lorraine S - 20/04/2022

Carrot for 16

Would definitely recommend always easy to order on time and a beautiful gift

Melanie W - 18/04/2022

Carrot for 8

I haven't tried this yet as it is in my freezer,but it looks very appetising.

Linda M - 18/04/2022

Carrot for 8

Tasty but a bit dry.

Jason D - 18/04/2022

Carrot for 8

I love sponge Wonderful as a gift or for a weekend treat!

David M - 18/04/2022

Carrot for 8

Said enough!!

Pauline S - 18/04/2022

Carrot for 8

Lush xxx

Amanda A - 18/04/2022

Carrot for 8

Please can someone at the company refund me for the Cake I haven't received thank you

Amy S - 18/04/2022

Carrot for 16

Delicious, I rarely use this word because it's shudder inducing, but this cake is moist AF.
Have you tried?
Carrot Cake
Sugar, self raising flour (wheat flour, raising agents (sodium bicarbonate, mono calcium phosphate), calcium carbonate, iron, niacin, thiamin), free range eggs, carrot, rapeseed oil, butter (milk), walnuts, sultanas, cinnamon, natural vanilla flavouring, raising agent (wheat) diphosphates, sodium bicarbonate), nutmeg.
ALLERGENS IN BOLD. Made in a bakery which handles gluten, eggs, nuts, milk, soya & sulphites.
All of our cakes are baked in the same kitchen and although we do all we can to minimise the risk of cross-contamination we cannot 100% guarantee this.
Contains Gluten

Contains Milk

Contains Eggs

Contains Nuts

Suitable for Vegetarians