---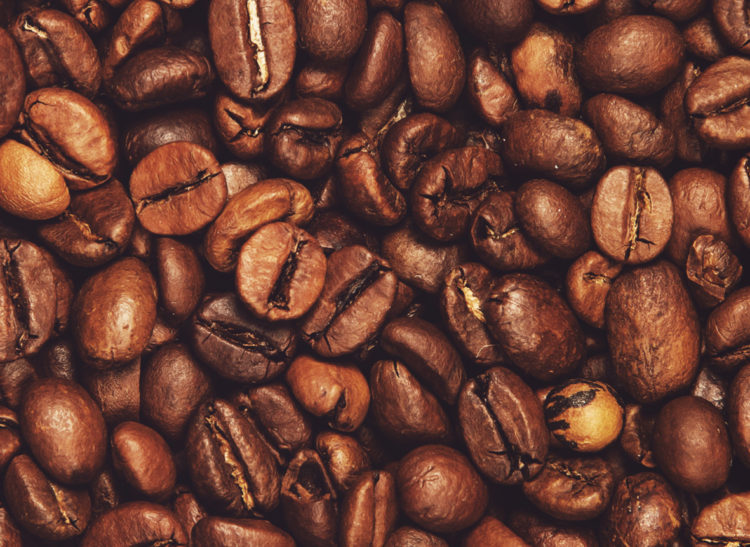 What's in the mix?
The sponge is made with quality coffee and free range eggs creating a velvety and light coffee flavoured cake. Coffee is also whipped in to the buttercream and delicious chocolate coffee beans sit on top. A coffee lovers dream...
Sumptuous Buttercream
Quality coffee is blended together with British butter to create a thick and delicious buttercream that's not too strong and not too weak - it's just right!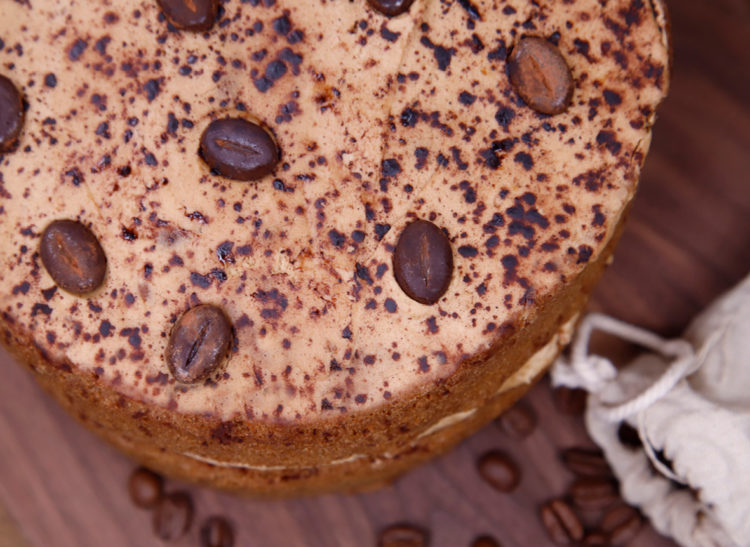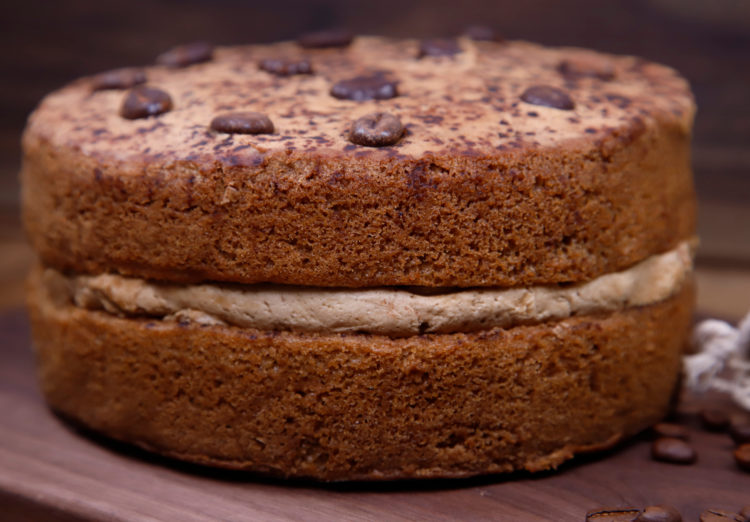 Toppings
Chocolate coffee beans sit on top of more creamy coffee buttercream giving the cake a welcome bit of crunch and a smooth chocolate hit!
---
How do I look?
Our Coffee Cake has coffee infused in to the sponge and is held together with a sumptuously thick layer of coffee butter icing. It has a sprinkling of delicious chocolate coffee beans on top for added crunch.
STORAGE - Please store me in an air-tight container in a cosy spot - I don't like being kept in the fridge. Can be frozen for up to 6 months.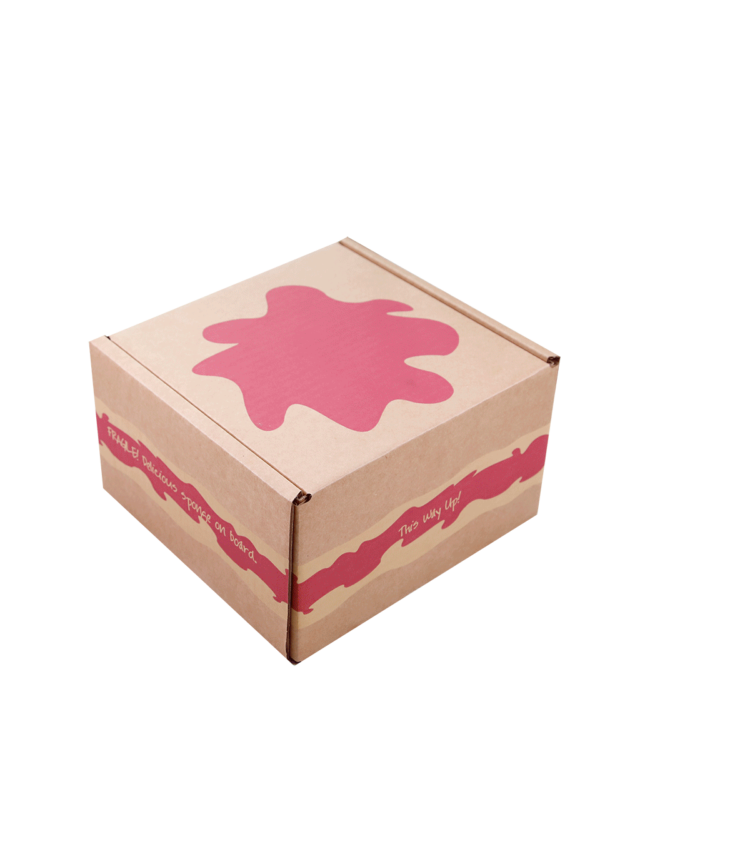 How do I arrive?
Our sponge cakes are packaged in secure and robust packaging. The inner box is wrapped around the cake to securely hold it in place so the sides and top do not get damaged in transit. The box also includes a handy cutting guide! It is then put in a strong cardboard outer box for extra protection so it will arrive to you safely.
| Product | Serves | Pack Weight | Cake Diameter | Cake Depth | Shelf Life from day of dispatch |
| --- | --- | --- | --- | --- | --- |
| Coffee for 8 | 8 | 1kg | 17.00cm | 8.00cm | 10 days |
| Coffee for 16 | 16 | 1.75kg | 24.00cm | 8.00cm | 10 days |
Reviews
HARRIET C - 17/04/2022

Coffee for 8

Ok - possibly the best coffee cake I have ever had. The sponge is moist and light with the perfect ratio of sponge to buttercream. The coffee taste is great - not too bitter nor too sweet. The chocolate coffee beans on top finish this cake so well.

Grainne Z - 15/04/2022

Coffee for 16

It was loved by all who chose it , I loved it Coffee flavour spot on and not overly sweet great cake will definitely buy it again xx

Talitha A - 08/04/2022

Coffee for 8

Really nice cake, tasted lovely, nice size and well presented….. really nice for an occasion.

ROSALIND B - 05/04/2022

Coffee for 8

Well presented not eaten yet.

Joanne M - 30/03/2022

Coffee for 8

Always use Sponge for cake delivery. I love the fact there are gluten free options too which I often order and nobody can tell the difference! Really delicious, good value and great selection. My absolute 'go to' whenever I need a cake, or cake card.

Mark C - 29/03/2022

Coffee for 8

We are repeat customers and can confirm that the cakes delivered have been consistently excellent. The only reason they got 4 stars and not 5 is the additional Saturday delivery costs. That will not stop us from buying more in the future

carol s - 29/03/2022

Coffee for 8

yes would recomend to any coffee cake lover . like me

Sylvia B - 28/03/2022

Coffee for 8

I really liked it but it was carrot cake not coffee cake.

Carol K - 27/03/2022

Coffee for 8

Fresh and flavoursome. Well packaged and full of coffee filling. Great instructions on keeping the cake fresh

Judith S - 20/03/2022

Coffee for 16

Beautiful cake!

Marion E - 12/03/2022

Coffee for 8

As I have explained above the Coffee Cake I ordered for my friends Birthday was a lovely surprise..she enjoyed it so much! Thankyou Sponge

Katie S - 08/03/2022

Coffee for 8

An intensely coffee-flavoured cake that was lovely and moist and not too sweet or icing-heavy. Delicious!

John M - 05/03/2022

Coffee for 8

i bought this delicious coffee cake for my father who is a very picky eater, he loved it. I have ordered two with in two weeks, and i can see myself ordering cake every other week, also looking forward to trying other types of cakes. It is great that you can order such good quality online and not worry about anything. Definitely 5 stars.

Suzanne B - 02/03/2022

Coffee for 16

Wonderful coffee cake with good flavour and very moist. Large enough for 16 really good size portions. Arrived on time and customer services very helpful. Would very much recommend.

Ann O - 01/03/2022

Coffee for 16

Good flavour, lovely sponge

Tina E - 18/02/2022

Coffee for 8

Amazing - didn't last long shared with the office.

Penelope E - 15/02/2022

Coffee for 8

Really recommend this product as it's delicious!

Andrea W - 15/02/2022

Coffee for 8

Haven't had a cake I wouldn't eat again but the coffee is sublime!! 5*

Tessa S - 15/02/2022

Coffee for 8

Sponge cake was moist and soft. Easy to cut into slices. Great coffee taste. Generous size. Stayed fresh for several days.

Kiran A - 15/02/2022

Coffee for 8

Love coffee so this cake was perfect and the chocolate beans were a great touch
Have you tried?
Coffee Cake
Sugar, self raising flour (wheat flour, raising agents (sodium bicarbonate, mono calcium phosphate), calcium carbonate, iron, niacin, thiamin), margarine (palm oil, rapeseed oil, salt, emulsifier E475, flavouring, sunflower oil, colours (curcumin, annatto), free range eggs, butter (milk), coffee bean (sugar, cocoa mass, cocoa butter, emulsifier (gum arabic, soya lecithin), coffee, milk fat, natural vanilla flavour, cocoa powder), soluble coffee.
ALLERGENS IN BOLD. Made in a bakery which handles gluten, eggs, nuts, milk, soya & sulphites.
All of our cakes are baked in the same kitchen and although we do all we can to minimise the risk of cross-contamination we cannot 100% guarantee this.
Contains Gluten

Contains Milk

Contains Eggs

Contains Soya

Suitable for Vegetarians