---
Rainbow Cake
Our colourful rainbow cake is made up of four layers of light and fluffy vanilla sponge with three layers of deliciously sweet vanilla buttercream sandwiched between. Vanilla buttercream also covers the entire cake and it is then coated very generously in a cloud of white chocolate flakes. The perfect rainbow birthday cake for any age, or a great cake to cheer up a loved one. Due to the number of layers, buttercream and coating it is very generous and will easily feed more than 8 people! Comes with a rainbow topper for decoration.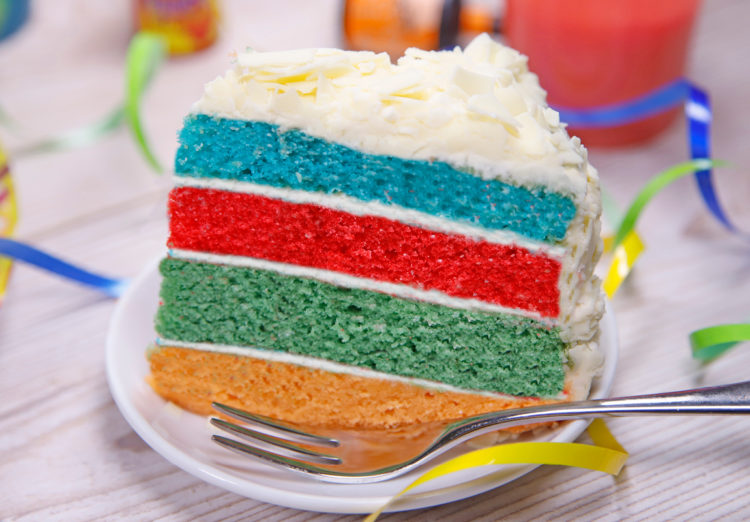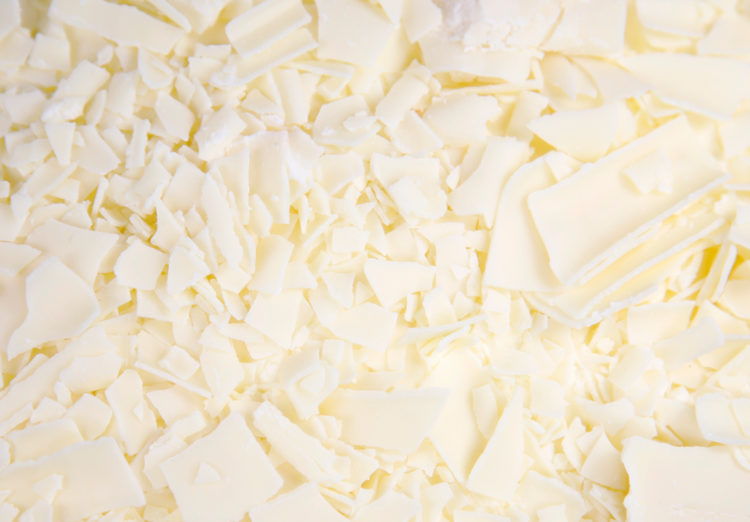 What's in the mix?
Made from free range eggs and natural vanilla flavouring to create light and fluffy sponge layers. Natural vanilla is infused into the buttercream and it is then covered in white chocolate shavings. A deliciously sweet cake.
Surprise Centre
Our Rainbow Cake is sure to bring a smile to everyones face as you cut inside to reveal four vibrant layers of colourful sponge cake!
---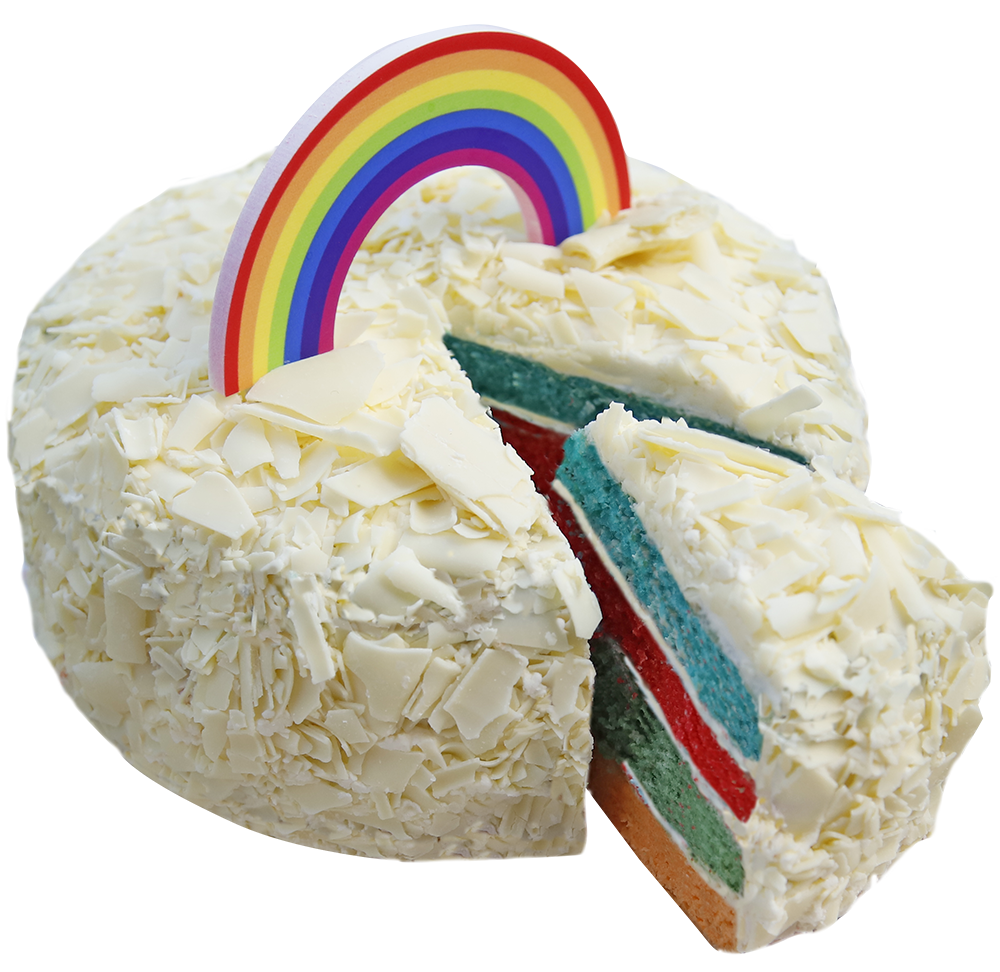 How do I look?
Our Rainbow Cake is perfect for birthdays, christenings, baby showers or even just to cheer someone up! Filled with four vibrant layers of fluffy vanilla sponge and held together with deliciously sweet vanilla buttercream. It is then coated in more vanilla buttercream and covered with a cloud of white chocolate shavings. Comes with a pretty rainbow topper to decorate (not edible). STORAGE - Please store me in an air-tight container in a cosy spot - I don't like being kept in the fridge. Can be frozen for up to 6 months.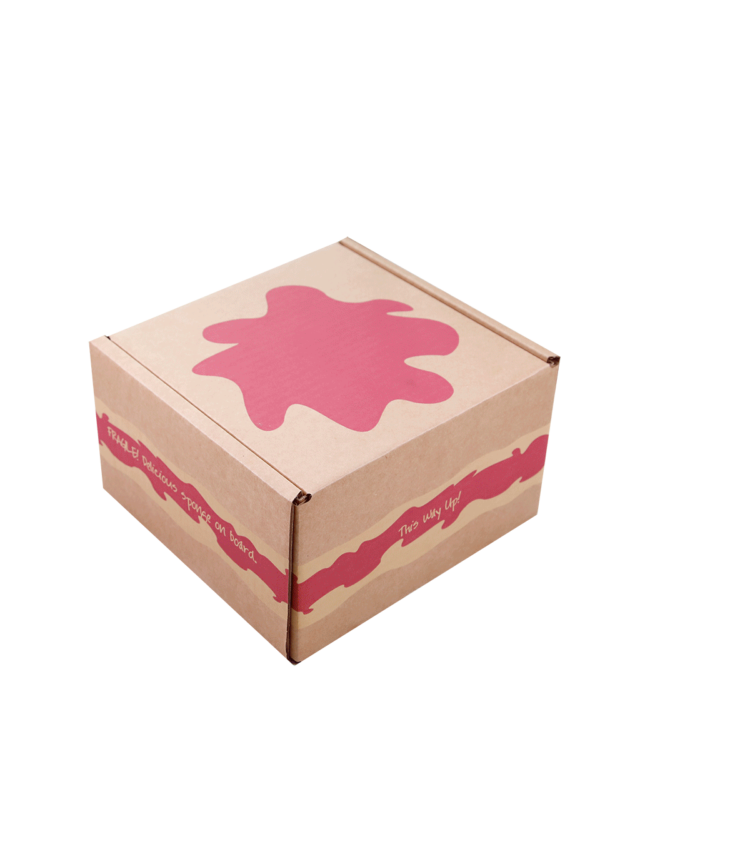 How do I arrive?
Our sponge cakes are packaged in secure and robust packaging. The inner box is wrapped around the cake to securely hold it in place so the sides and top do not get damaged in transit. The box also includes a handy cutting guide! It is then put in a strong cardboard outer box for extra protection so it will arrive to you safely.
| Product | Serves | Pack Weight | Cake Diameter | Cake Depth | Shelf Life from day of dispatch |
| --- | --- | --- | --- | --- | --- |
| Rainbow Cake | 8 | 1kg | 17.00cm | 8.00cm | 10 days |
Reviews
Rose M - 14/05/2022

Rainbow Cake

The rainbow cake looked fabulous my recipient said, and tasted even better

Leanne W - 30/03/2022

Rainbow Cake

The perfect balance of sweetness. Even my son - who isn't a huge fan of sponge cakes, did the side turn, eyebrow raise of acknowledgement at just how scrummy it was! Fresh, fast and always spot on. 🙂

Kate M - 30/03/2022

Rainbow Cake

Delicious cake. Looks simple on the outside but a wonderful rainbow surprise inside!

LYNWEN J - 28/03/2022

Rainbow Cake

fun cake, perfect for the theme i had. cannot fault it. tasted fab!

Bettina S - 26/03/2022

Rainbow Cake

Delicious as always, I'll definitely be buying again!

Nadia P - 18/03/2022

Rainbow Cake

Beautiful cake

amrita l - 15/03/2022

Rainbow Cake

Amazing so soft tasty delicious daughter loved it

Kelly N - 09/03/2022

Rainbow Cake

This was a lovely cake, well made, great taste.

Siobhan L - 08/03/2022

Rainbow Cake

A fabulous happy, fun cake that tastes as good as it looks. Amazing!

Sandra B - 06/03/2022

Rainbow Cake

My daughter is studying in SE England and I wanted to make her first birthday away from home special. After some research, your Rainbow Cake seemed perfect. Ordering was easy and the cake was delivered on the day I planned. She was completely surprised and said the cake was great. It was moist and there was plenty of cake for more than 8 to enjoy.

Tim E - 05/03/2022

Rainbow Cake

Went down really well and with the added bonus of multicoloured layers was a lovely surprise for the recipient.

Frankie N - 23/02/2022

Rainbow Cake

Beautiful cake! Tasted lovely and looked perfect.

Balkar D - 21/02/2022

Rainbow Cake

Very tasty the whole family loved it

Gillian S - 16/02/2022

Rainbow Cake

Delicious sponge cake, very attractive, ideal for children, would certainly buy it again.

Gina L - 15/02/2022

Rainbow Cake

This cake makes you happy and as you bite into the vibrant coloured cake it melts in your mouth absolutely delicious 😋

Andrea M - 15/02/2022

Rainbow Cake

Delicious and beautiful 🤩

Grainne Z - 13/02/2022

Rainbow Cake

Looked great and tasted amazing cant wait to try other cakes.

Sue G - 07/02/2022

Rainbow Cake

Loved the rainbow cake. It was a big hit with my teen son. Looked brilliant and tasted great. Everyone really enjoyed it.

carl o - 05/02/2022

Rainbow Cake

For me, the Rainbow cake it the best. Moist and delicious, and smothered in buttercream....these taste home made, even the buttercream tastes homemade. Inside, the sponge colours are vibrant and really have a wow factor when you cut and serve it. Honestly sublime.

Genia N - 04/02/2022

Rainbow Cake

Bought this for my little ones birthday to take to nursery and share with her friends. Everyone loved it! Looked fab and tasted great. Been bying for 3 years and never been disappointed!
Have you tried?
Rainbow Cake
Sugar, margarine (palm oil, rapeseed oil, salt, emulsifier E475, flavouring, sunflower oil, colours (curcumin, annatto), eggs, self raising flour (wheat flour, raising agents (sodium bicarbonate, mono calcium phosphate), calcium carbonate, iron, niacin, thiamin), butter (milk), white chocolate (sugar, cocoa butter, milk powder, emulsifier (soya lecithin), vanilla flavour), red, green, orange and blue colouring (E422 glycerol, E1520 Propylene glycol, E551, silicone dioxide, food colour E124, E129, E102, E133, E155, E171, E110) natural vanilla flavouring.
ALLERGENS IN BOLD. Made in a bakery which handles gluten, eggs, nuts, milk, soya & sulphites.
All of our cakes are baked in the same kitchen and although we do all we can to minimise the risk of cross-contamination we cannot 100% guarantee this.
Contains Gluten

Contains Milk

Contains Eggs

Contains Soya

Suitable for Vegetarians