Summer Party Cake Guide
Celebrate the summer with a delicious cake!
Summer is here! It's always exciting when summer arrives, the sun shining down on us puts us in a much more positive mindset and we want to go out more and do things with our friends and family. Summer parties are a great way to catch up with your loved ones, enjoy the fine weather and eat some great food. Everyone loves to eat at a party, so having options to please everyone is ideal. And having some tasty treats to finish off the meal is even better!
We've put together some of our favourite cakes and goodies ideal for a summer party: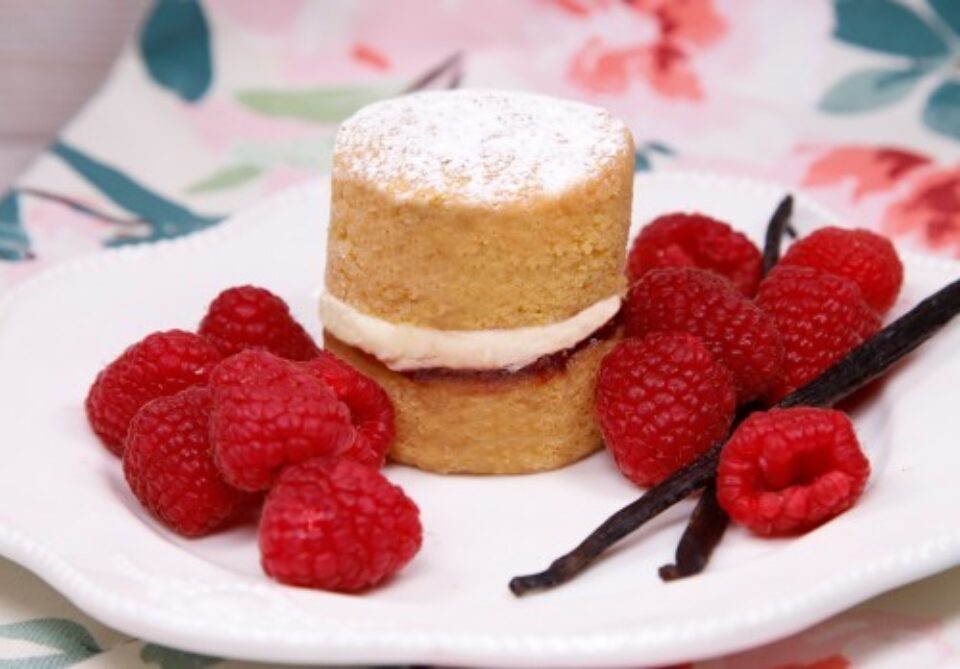 These cute baby versions of our whole sponge cakes are the perfect size to have with a drink in the garden, and they are ideal to give out to friends and family. We have over 15 flavours to choose from including gluten free and some limited edition flavours too. Available in packs of 4, 8, 16, 40, 80 or 120. Our packs of 4 and 8 are gift wrapped for gifting, and our larger packs of 16, 40, 80 and 120 are for parties and arrive unwrapped in boxes.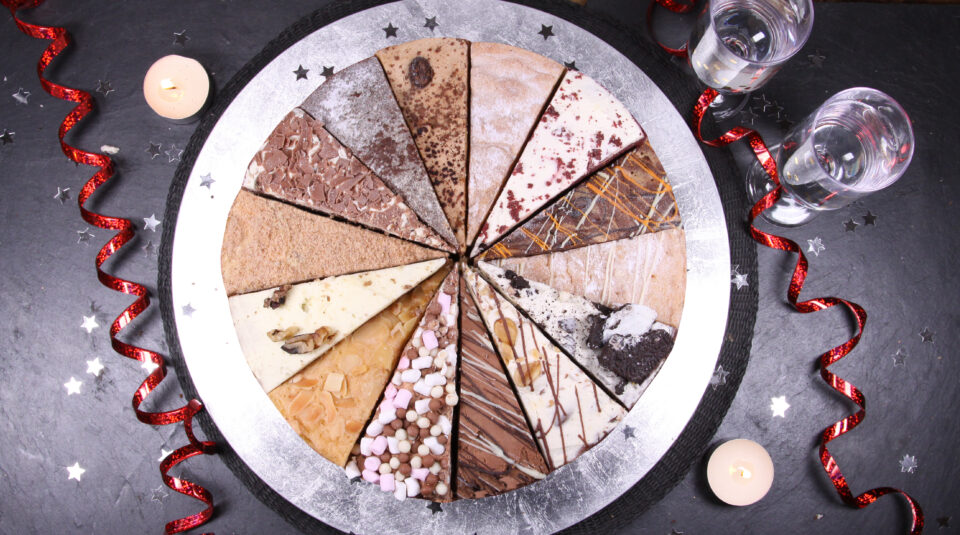 Sharing Sponge Cakes are the ultimate party cakes! You don't have to worry about someone not liking the cake flavour, because there's plenty to choose from. Here are the sharing cakes options we have available:
Super Sharing Cake – Our Super Sharing Cake has fourteen different flavoured wedges and makes a stunning centrepiece for a party or event. Try all our most popular cake flavours in one go! Carrot, Bakewell, Chocolate, Victoria, Lemon, Coffee, Cookies & Cream, Red Velvet, Sticky Toffee, Rocky Road, Millionaires, Apple Crumble, Chocolate Orange and Chocolate & Caramel.
Traditional Four Sharing Cake – Our Traditional Four Sharing Cake contains four wedges each of our traditional flavours - Victoria, Chocolate, Coffee and Lemon Cakes. Perfect for a gathering where everyone has a different favourite flavour!
Quirky Four Sharing Cake – Our Quirky 4 Sharing Sponge contains four wedges each of our delicious Apple Crumble, Bakewell, Chocolate & Orange and Carrot Cakes. Perfect for those that like something a bit different from the norm and can't decide which flavour to go for!
Gluten Free Four Sharing Cake – Our Gluten Free Four Sharing Sponge contains four wedges each of our popular Victoria, Chocolate, Carrot and Apple Crumble Gluten Free Cakes. Perfect when you can't decide which flavour to pick or want to try them all!
If you know there is a crowd-pleasing flavour that everyone will love, why not buy one of our whole cakes for your summer party? Our cakes are available as cakes for 8 or cakes for 16, so there will be plenty to go around! Here are some of our top picks for summer cake flavours:
Lemon Drizzle Cake – A lemon drizzle cake with a sweet citrus sponge made with lemon oil & bound together with lashings of lemon buttercream. The sponge is infused with natural lemon oil and made with free range eggs to create a light and fluffy citrus cake. Natural lemon oil is also used in the buttercream and white chocolate is drizzled on top.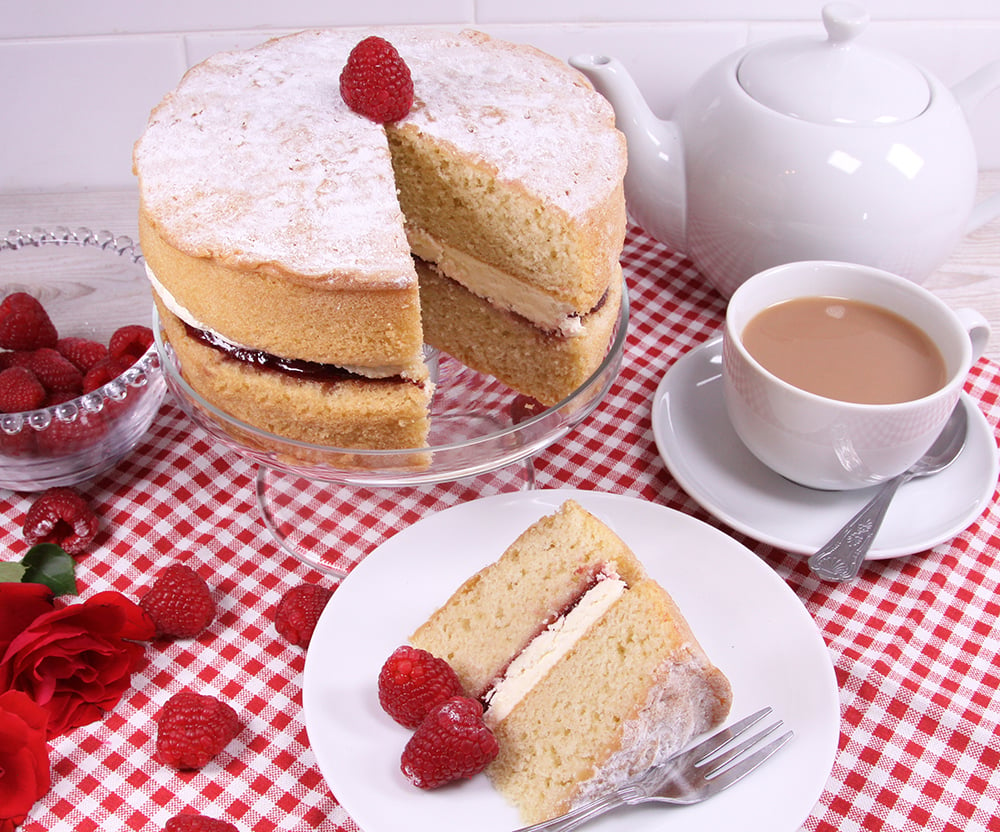 Victoria Sponge Cake – A Victoria sponge cake with a light fluffy vanilla sponge, raspberry jam and vanilla buttercream. Free range eggs, flour and natural vanilla flavouring creates our award-winning light and fluffy Victoria Sponge. The buttercream is made from English butter and natural vanilla flavouring which is complemented perfectly with quality raspberry jam.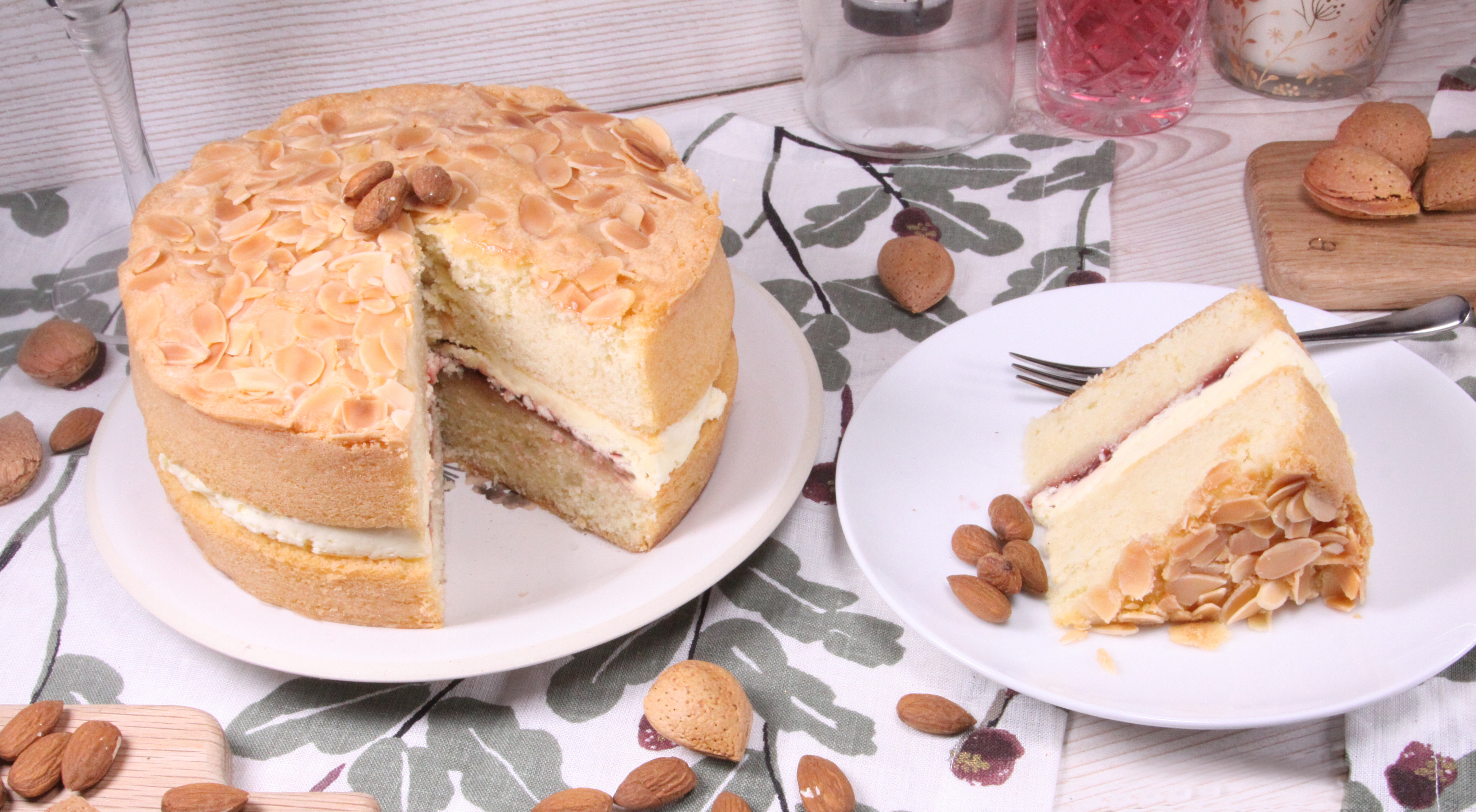 Bakewell Cake – A bakewell cake made with natural almond with crushed raspberry jam & toasted flaked almonds. Natural almond oil and free range eggs make this yummy and light sponge cake. A smattering of raspberry jam in the middle and an almond oil infused buttercream. Crunchy flaked almonds sit on top.baa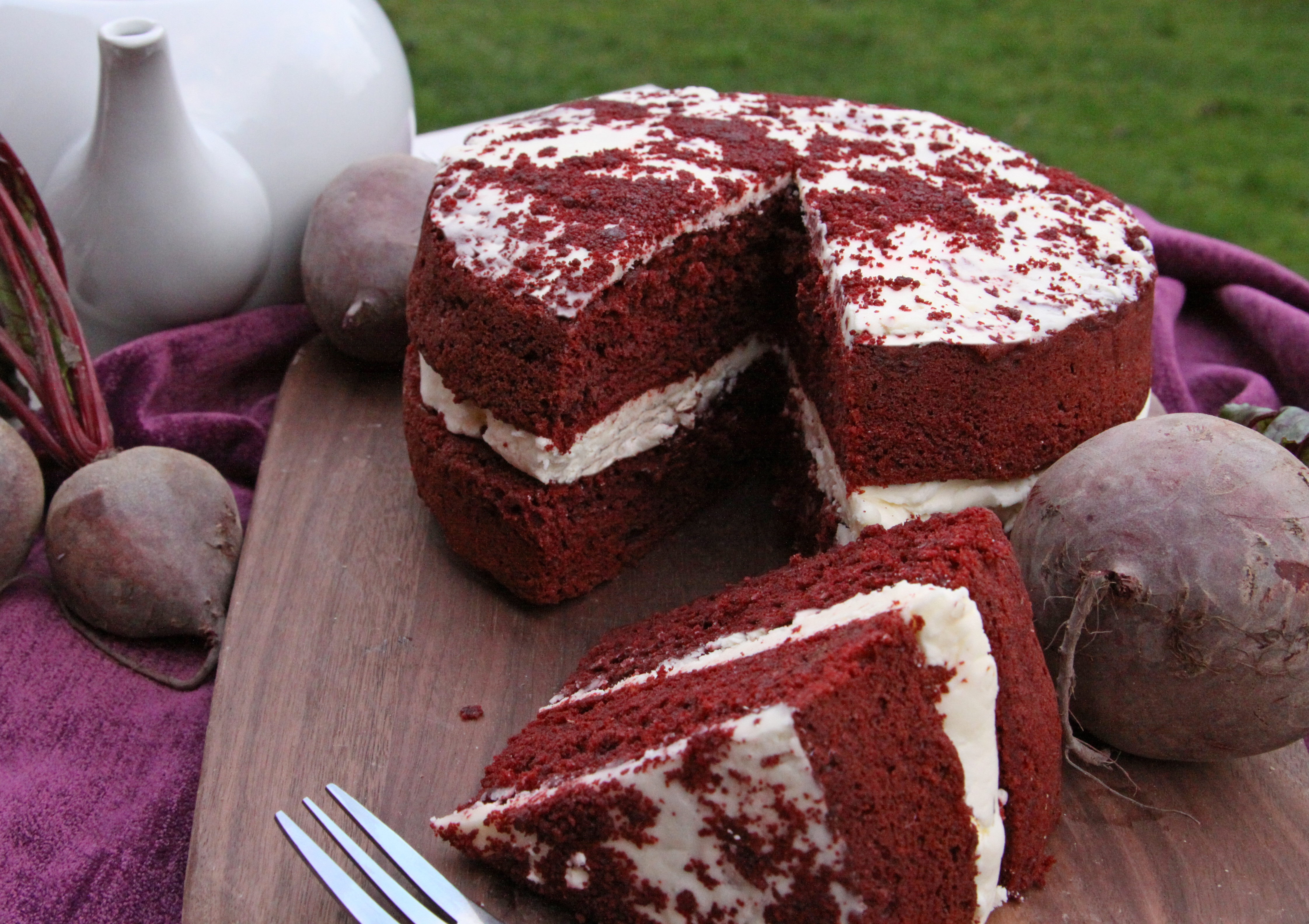 Red Velvet Cake – A red-velvet cake with deep-red sponge with chocolate notes and a vanilla butter icing. Free range eggs, cocoa and beetroot powder and natural yoghurt create a striking deep red sponge. British butter and natural vanilla flavouring create a velvety buttercream. It is finished with a pretty red crumb on the top.
Many of our wonderful cake flavours are available as gluten free cakes, and we also have dairy free cakes, and vegan cakes too! So, there's something for everyone to enjoy at your summer gathering!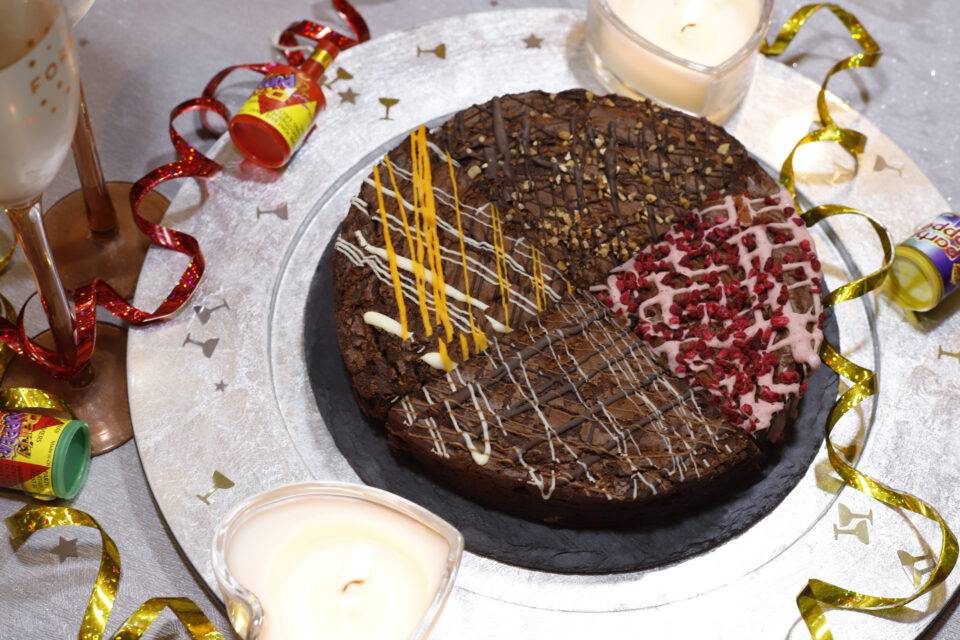 If you don't want a big cake, but still fancy a sweet treat, why not order one of our tasty brownies instead? Our brownies are delicious as they come, or served with ice-cream, or cream, and can even be warmed up! Perfect for a summer party!
We have some delicious brownie flavours to choose from, and we even have a sharing brownie which is perfect if you don't know what flavour to choose or just want to try them all! We have standard brownie flavours, gluten free brownie flavours, and even some vegan brownie flavours!