---
Zucchini and Lime Cake
Our new Spring/Summer Special is here! Our three layered Zucchini and Lime Cake is bursting with flavour - the zingy lime combined with the salty, crunchy pistachios and the subtle flavour and texture of courgette is a match made in heaven. This summery cake is perfect for BBQ's, picnics and garden parties!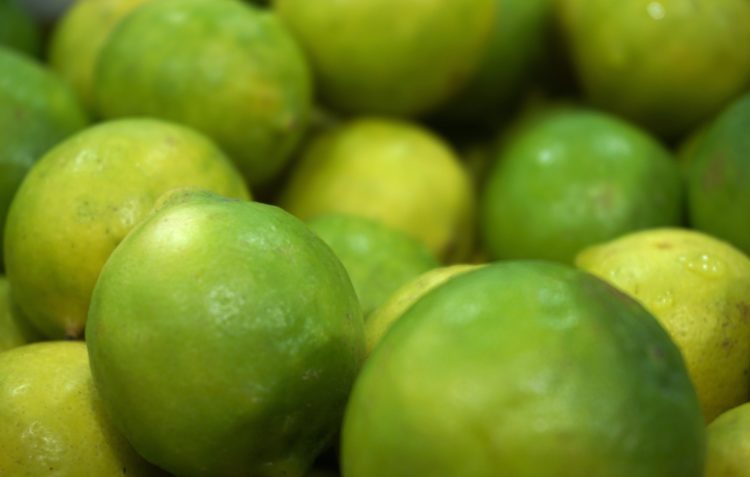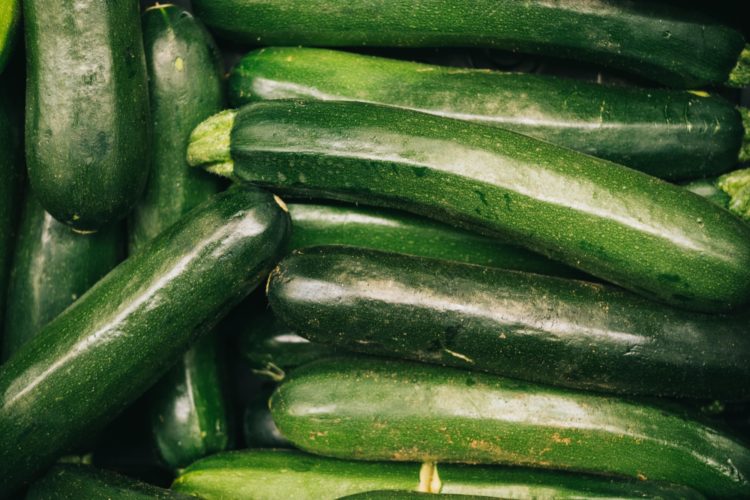 What's in the mix?
The three layers of sponge are made with fresh courgettes and lime flavouring to create a wonderfully light and airy sponge. The buttercream is flavoured with lime and crunchy, salty chopped pistachios sit on top.
Zingy Buttercream
Three layers of zesty lime flavoured buttercream made with real butter break up the layers of sponge and decorate the top.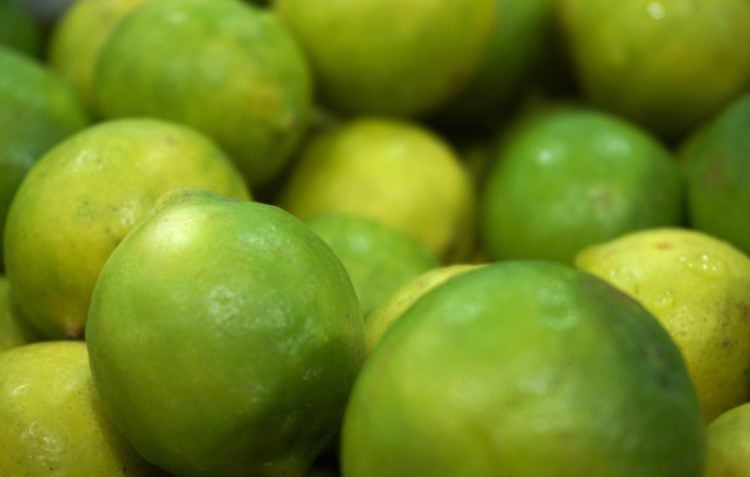 Limes
Lime in the sponge and the buttercream gives this cake a zesty freshness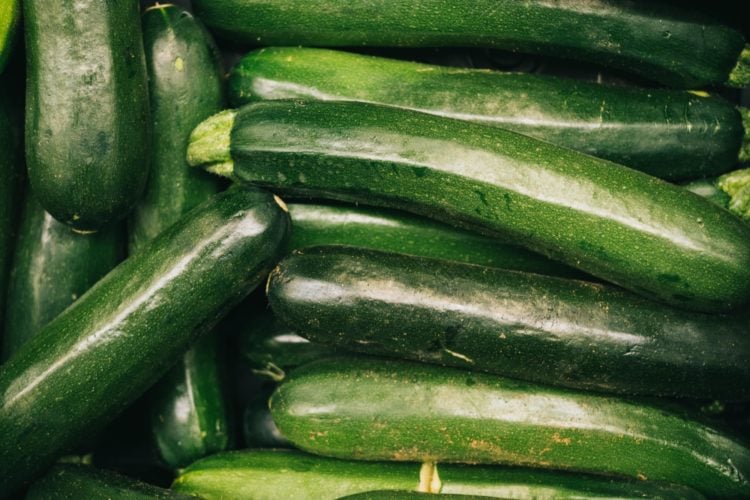 Courgettes
Fresh courgettes baked into the sponge give a wonderful taste and texture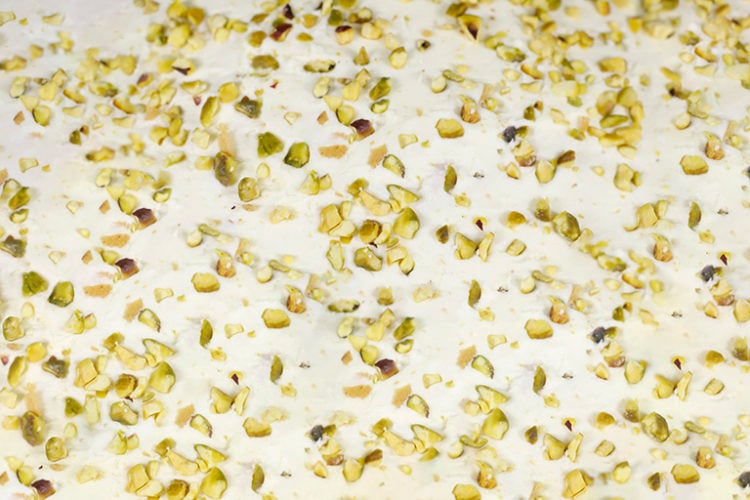 Pistachios
Crunchy and salty crushed pistachios decorate the top - yum!
---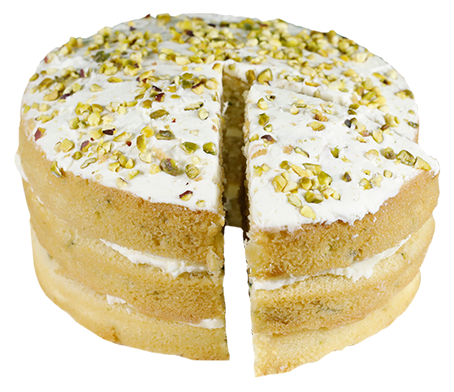 How do I look?
Our Zucchini and Lime Cake has three layers of courgette and lime sponge, with a lime buttercream and salty, crunchy pistachios on top. Perfect for summer BBQs, picnics and garden parties!
STORAGE - Please store me in an air-tight container in a cosy spot - I don't like being kept in the fridge. Can be frozen for up to 6 months.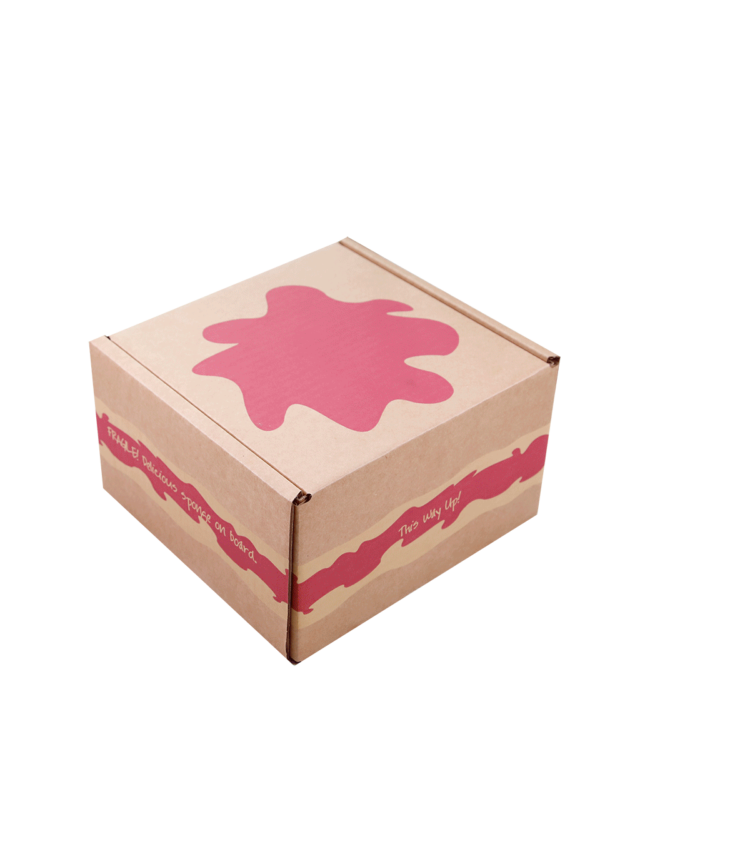 How do I arrive?
Our sponge cakes are packaged in secure and robust packaging. The inner box is wrapped around the cake to securely hold it in place so the sides and top do not get damaged in transit. The box also includes a handy cutting guide! It is then put in a strong cardboard outer box for extra protection so it will arrive to you safely.
| Product | Serves | Pack Weight | Cake Diameter | Cake Depth | Shelf Life from day of dispatch |
| --- | --- | --- | --- | --- | --- |
| Zucchini and Lime for 8 | 8 | 1kg | 17.00cm | 8.00cm | 7 days |
| Zucchini and Lime for 16 | 16 | 1.7kg | 24.00cm | 8.00cm | 7 days |
Reviews
Mary H - 16/05/2022

Zucchini and Lime for 8

They loved it.

Sian R - 10/05/2022

Zucchini and Lime for 8

Would have been even better with a stronger like taste, a little too subtle

Mr C M - 09/05/2022

Zucchini and Lime for 8

I brought the gluten free as my self and young Granddaughter are Celiac it's our 5 GF sponge from you and is my personal favorite one very clever to have three Layers as two wouldn't work as it is just the right amount of filling to sponge to keep soft and delicious ! I think you should definitely do more limited/seasonal ones because I would definitely be interested in trying them ! My whole family enjoyed it and most importantly we could all sit and enjoy this diffently delicious treat as a family ! Thank you so much sponge family ! Ps any chance next time on a Eaton mess cake please 😉🍓🍰

Donna M - 01/05/2022

Zucchini and Lime for 8

Maybe my new favourite cake. Loved it.

Elaine G - 01/05/2022

Zucchini and Lime for 8

Delicious!

Anita H - 26/04/2022

Zucchini and Lime for 8

Loved the flavour of this cake. Could really taste the lime. A very moist cake & a little denser than the more usual flavours, but am guessing that's because of the courgette. Told my husband that it was a pistachio & lime cake until he had eaten it & commented how nice it was. It was only then I mentioned the courgette bit 😀 A really nice change from the norm. Would definitely have again.

Sandra G - 26/04/2022

Zucchini and Lime for 8

Kept lovely and fresh for a few days but because it was so delicious it did not have time to go stale
Have you tried?
Zucchini and Lime Cake
Sugar, Self Raising Flour (Wheat), egg, Courgette, Vegetable Oils: Palm, Rapeseed; Water; Salt; Emulsifier: Polyglycerol Esters Of Fatty Acids; Flavouring; Colour: Annatto, Curcumin., Vegetable Fat: Palm; Vegetable Oil: Rapeseed; Water; Salt; Natural Flavouring., Butter (Milk), Butter (Milk), Pistachio Nuts, Lime Essence (Natural Flavouring monopropylene Glycol, Ethanol, Water)
ALLERGENS IN BOLD. Made in a bakery which handles gluten, eggs, nuts, milk, soya & sulphites.
All of our cakes are baked in the same kitchen and although we do all we can to minimise the risk of cross-contamination we cannot 100% guarantee this.
Contains Gluten

Contains Milk

Contains Eggs

Contains Nuts

Suitable for Vegetarians