Halloween Gifts 2021
Halloween treats delivered straight to the door!
Soon we will all be saying 'Happy Halloween!", getting dressed up, trick or treating, or having a spooky Halloween party with our loved ones. Halloween is less than two weeks away, but there's plenty of time to order special treats for your little ghouls and goblins.
We have put together a collection of special Halloween goodies which we think all Halloween enthusiasts will love. All of our Halloween goodies can be delivered across the UK, so whether you're having a party with family and friends, or want to send a little treat to your special monsters and witches, there's something for everyone. Here are our Halloween specials:
Halloween Treats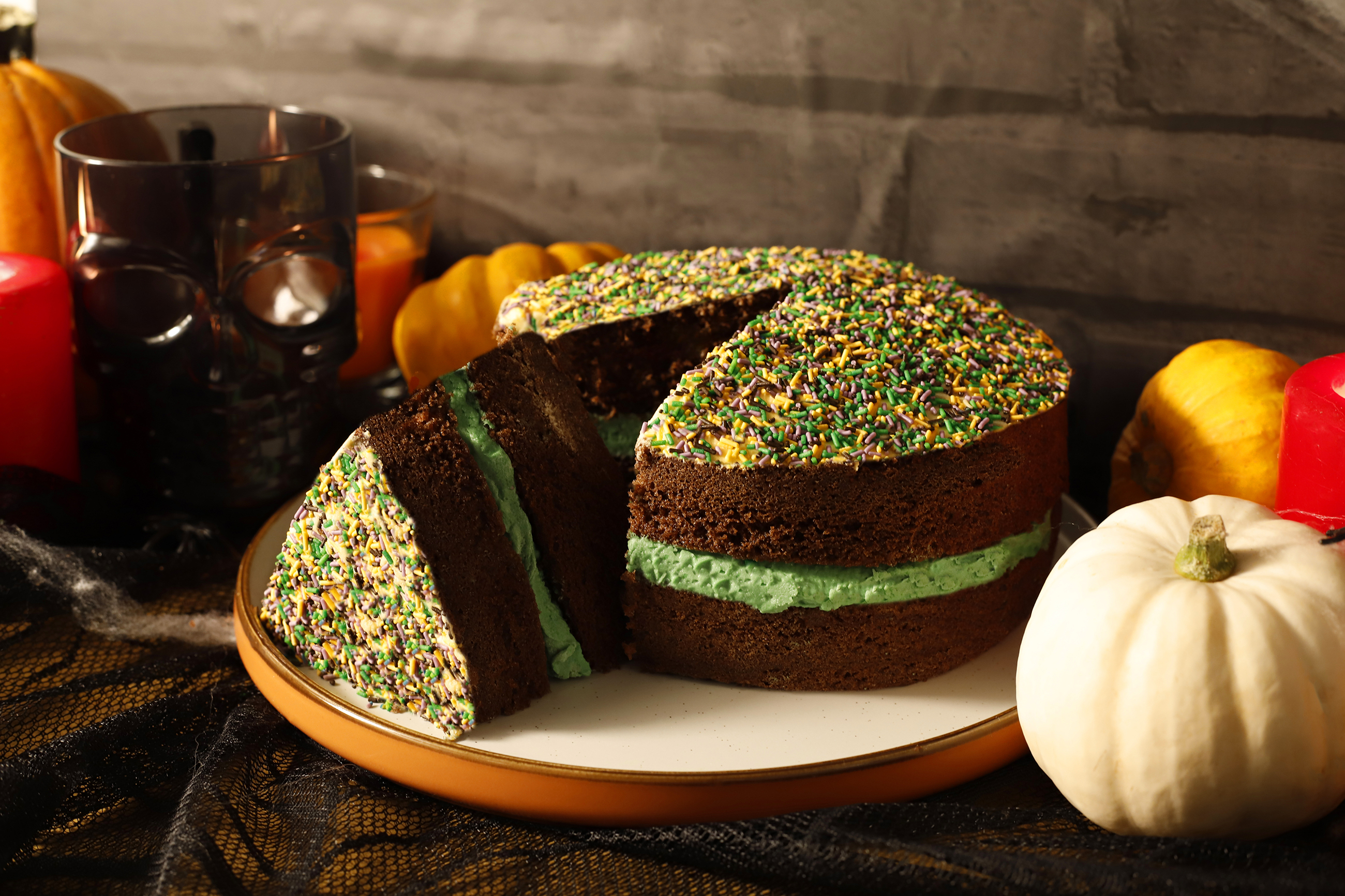 Halloween Cake - Get into the spirit of Halloween with our spooktastic sponge! Sink your teeth into our devilish chocolate sponge which is sandwiched together with our ghoulish green coloured buttercream. Topped with orange coloured buttercream and covered in multicoloured Halloween sprinkles. Perfect for Halloween parties and birthdays and makes a great centre piece for your little monsters to enjoy!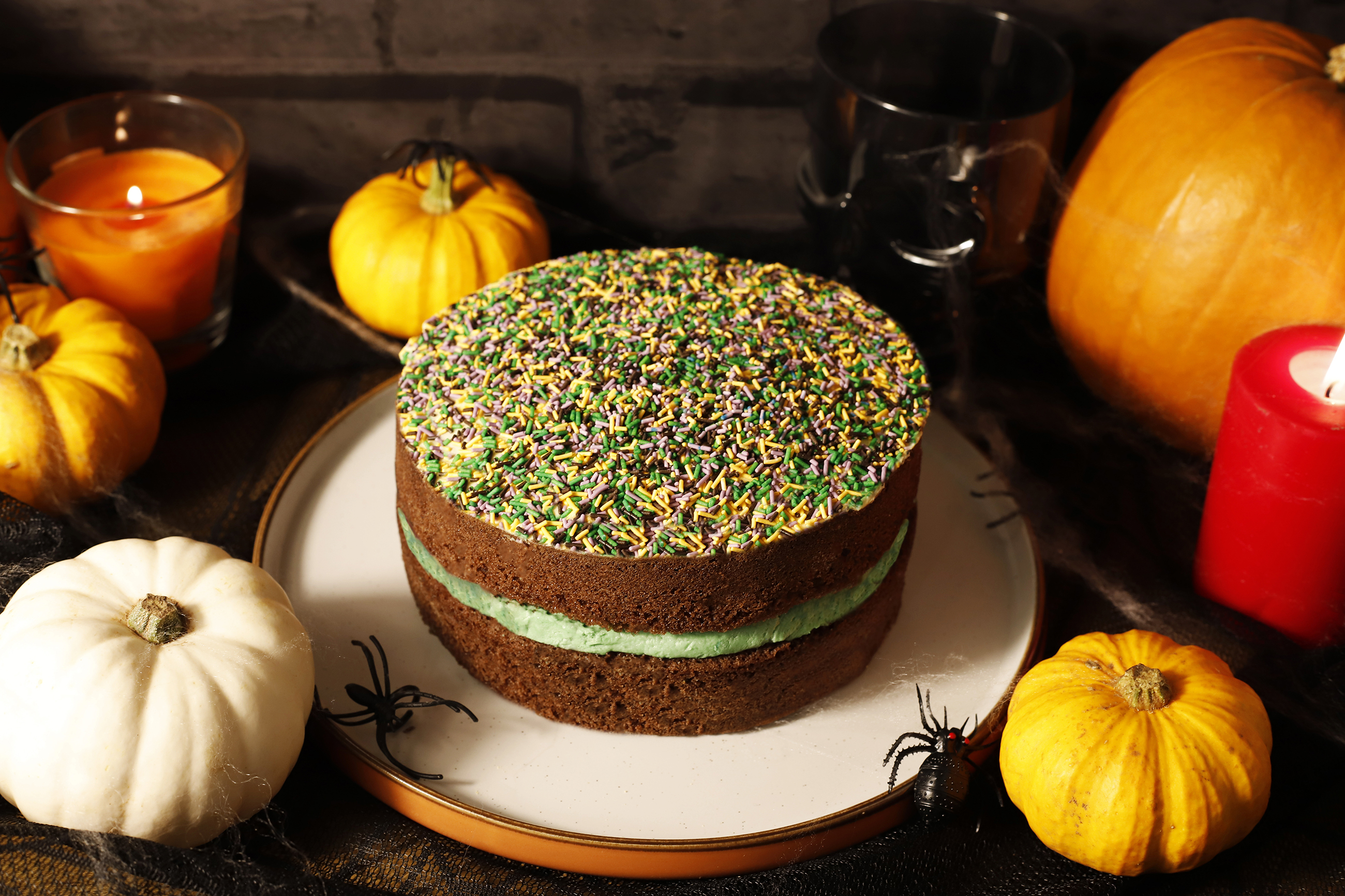 Gluten Free Halloween Cake – We only have a limited number available for our Gluten Free Halloween Cake – so we recommend to order as early as possible to avoid disappointment. To create our devilish chocolate sponge we have used delicious and rich chocolate, gluten free flour, free range eggs and a dash of worms and mud. Our ghoulish green buttercream is made with cobwebs, frog legs and a dash of vanilla. It is topped with some orange vanilla buttercream and sprinkled with multicoloured Halloween sprinkles.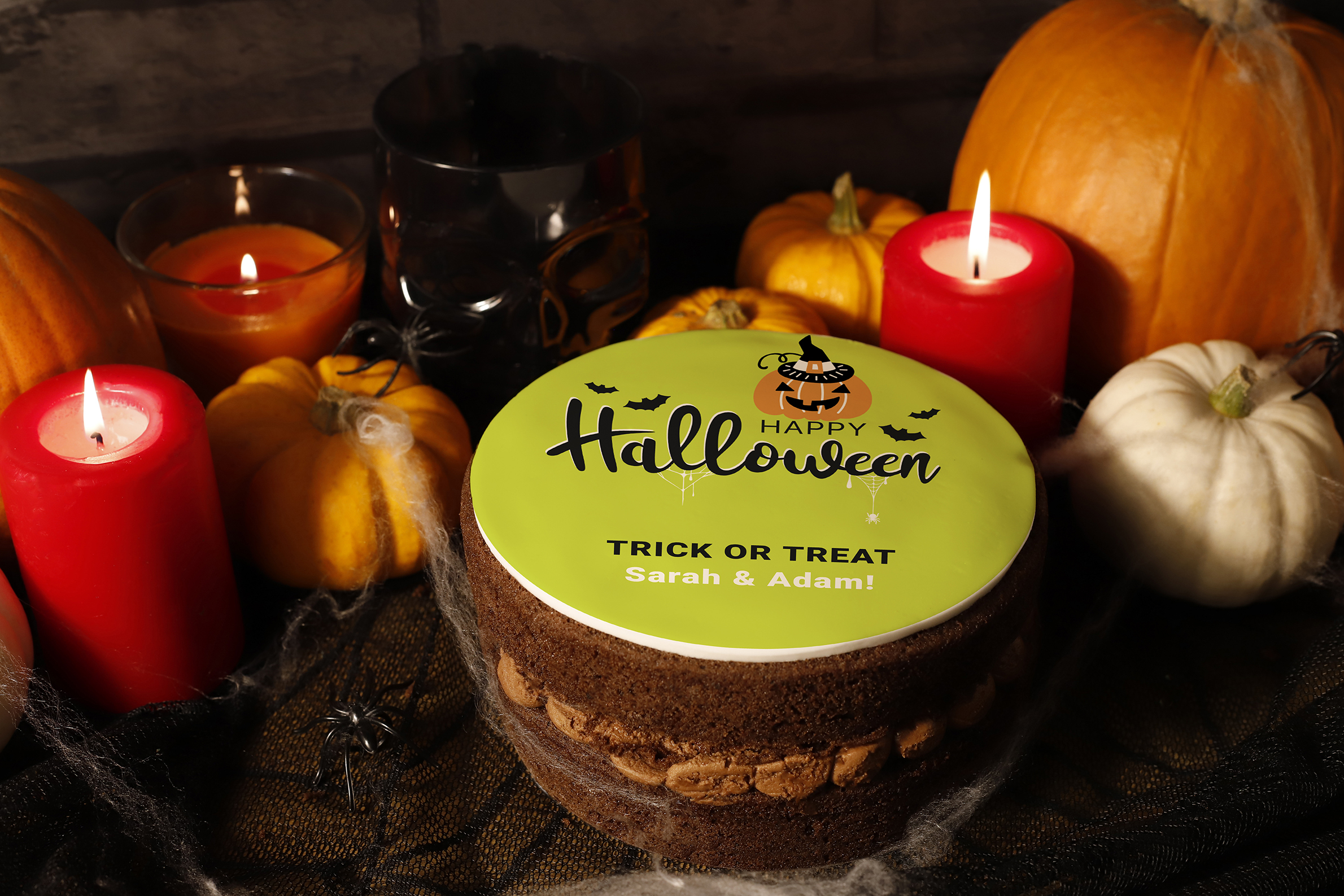 Halloween Photo Cakes – You can create your own creepy cake creation by uploading a scary photo or choose from one of our spooky pre-designed cake toppers to top a Chocolate or Victoria Sponge cake. The perfect gift or centerpiece for your Halloween shindigs!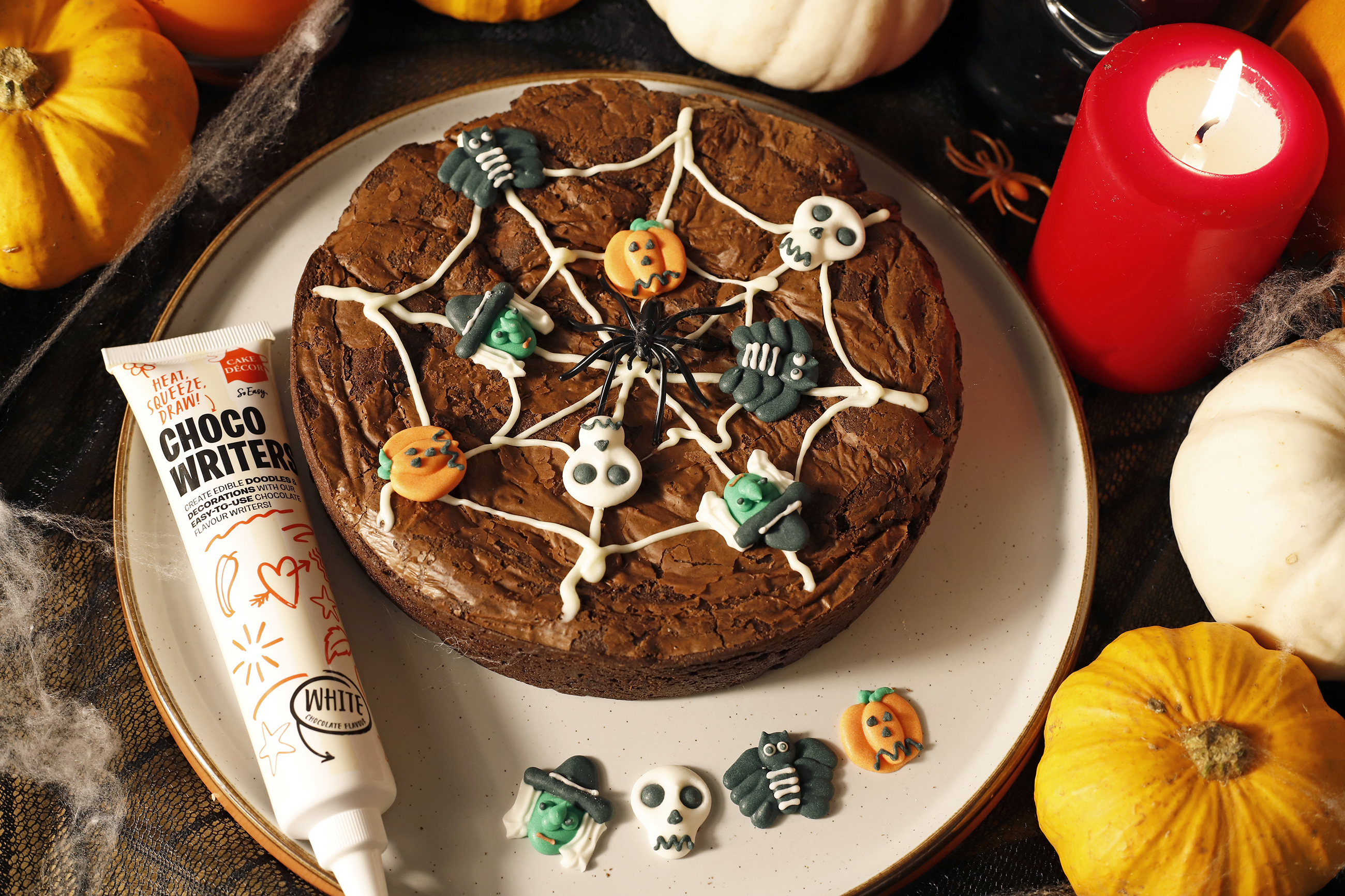 Halloween Brownie Decorating Kit - Get into the Halloween spirit with our fun and frightening Halloween Brownie decorating kit! For a spooktacular Halloween activity, our Halloween Decorating Kit includes an undecorated triple chocolate brownie, one white chocolate icing pen, 12 handmade Halloween sugar decorations (3 x witches, 3 x skulls, 3 x pumpkins & 3 x bats), and 1 plastic spider ring. We've also created a how-to tutorial video for using your decorating kit and to give you some spooky inspiration for decorating your own Halloween Brownie. (Please note decorations differ slightly from those in the video).
Halloween Cake Cards - Send one of our creepy Cake Cards to wish your friends and loved ones a scary Halloween and pop in a little treat or two (if they deserve it...!). Posted straight through their letterbox. We have lots of ghoulish card designs to choose from or you can create your own Halloween card using our Photo card option.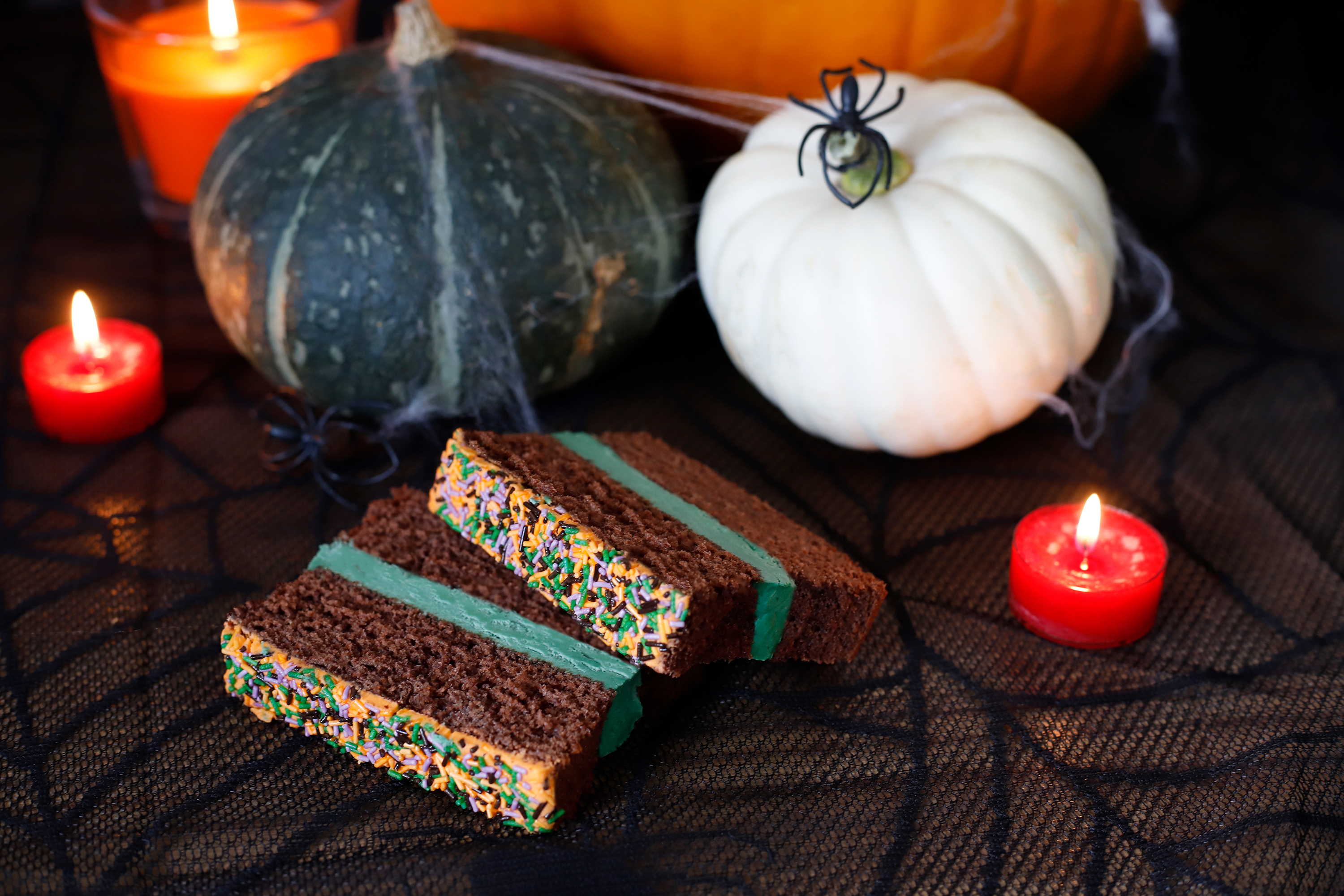 Halloween Slice – If you want a spooktacular slice or two of cake to add to your creepy Cake Card, then our Halloween Cake Slice is for you. A rich chocolate sponge with ghoulish green coloured vanilla butter icing, and topped with orange coloured butter icing and Halloween sprinkles. A perfect surprise treat to send someone special this Halloween!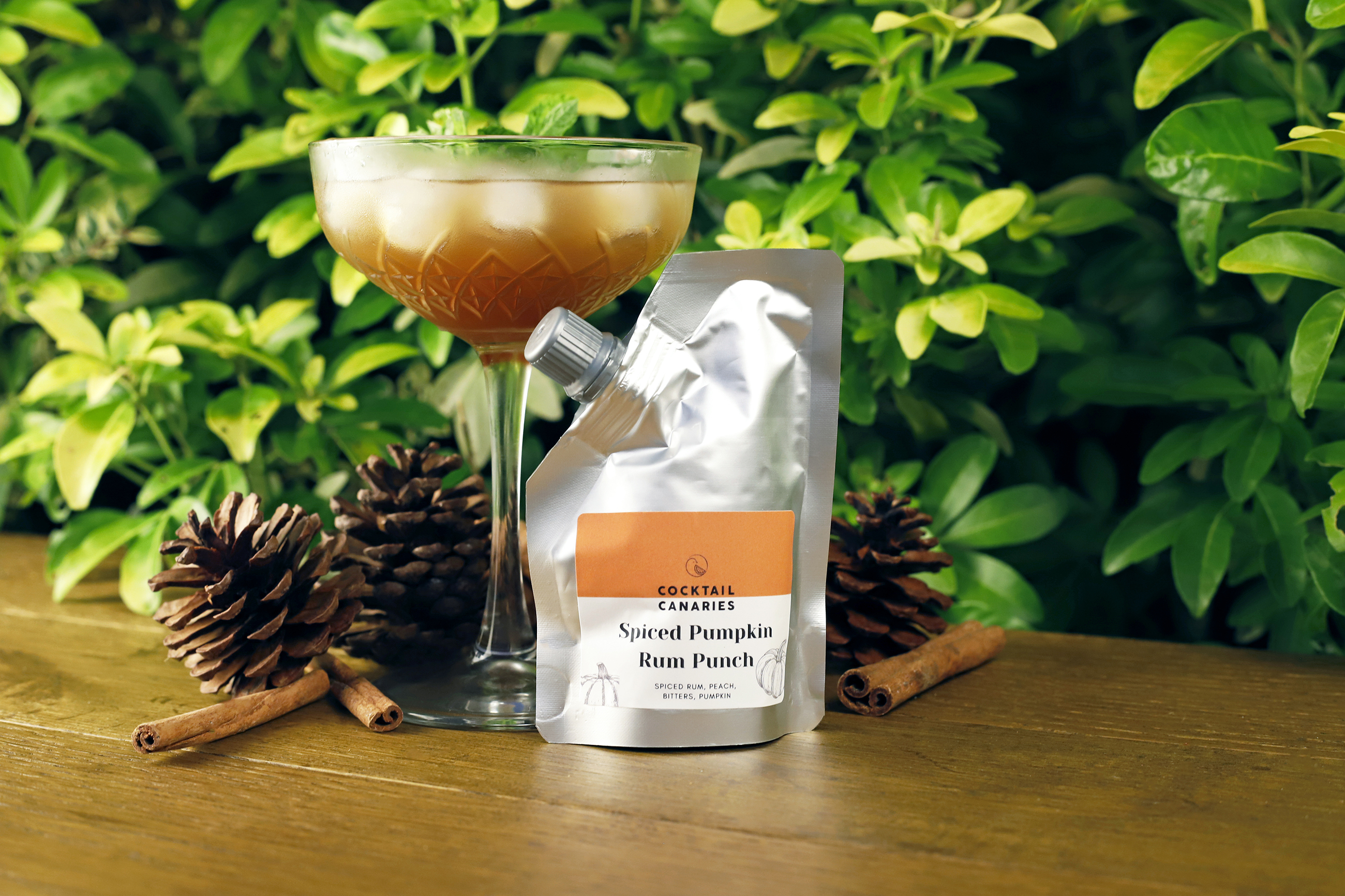 Spiced Pumpkin Rum Punch Cocktail – This delicious treat is for the older Halloween monsters. A warming autumnal spiced rum-based cocktail flavoured with peach and pumpkin. Enjoy it in a tall glass over crushed ice, topped with soda, and best garnished with a sprig of mint. It's made with Spiced rum, peach, bitters & pumpkin. Add to Sponge or Cake Card orders!