Vegan Chocolate Caramel Fudge Cake
An indulgent cake for Veganuary
Honestly, who wants to diet in January? It's still dark, and it's cold, you need comfort food to get you through the start of the year. If you're trying out a vegan diet for Veganuary, you'll want to find the tastiest treats too. And we all know vegan food has to be healthier than standard food, right? Well, that's what we all tell ourselves anyway.
Now, if you have tried vegan cakes in the past, or if you have been put off the idea before, we're here to tell you that vegan cakes can look and taste just as good as standard cakes. We've had lots of compliments regarding our vegan cakes before, many people have said they taste just as good as our standard cakes. So, we wanted to highlight one of our wonderful flavours that you could try for Veganuary and make your own decision on.
Vegan Chocolate Caramel Fudge Cake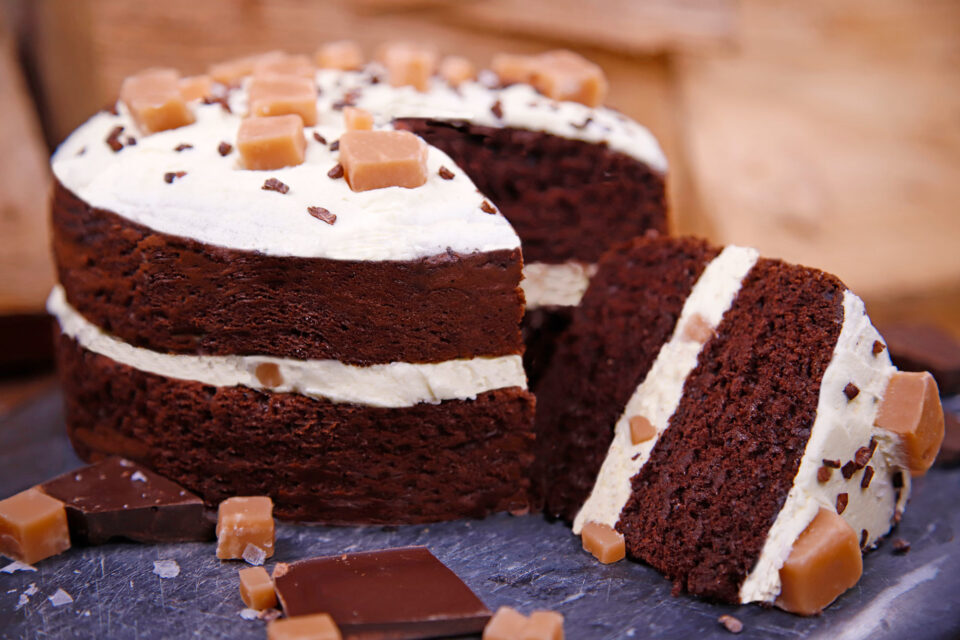 Our Vegan Chocolate Caramel Fudge Cake has a deliciously moist chocolate sponge which is sandwiched together with lashings of caramel flavoured buttercream and chunks of vegan vanilla fudge. On top, you will find more caramel buttercream finished off with more chunks of delicious salted caramel fudge and a sprinkling of cocoa nibs. Fudge, caramel, and chocolate are a match made in heaven!
Soya milk, chocolate, and vegan butter create our delicious and indulgent vegan chocolate sponge. Caramel flavouring is whipped into vegan butter to create a deliciously thick caramel buttercream. Vegan salted caramel fudge pieces, a sprinkling of cocoa nibs compliment everything perfectly.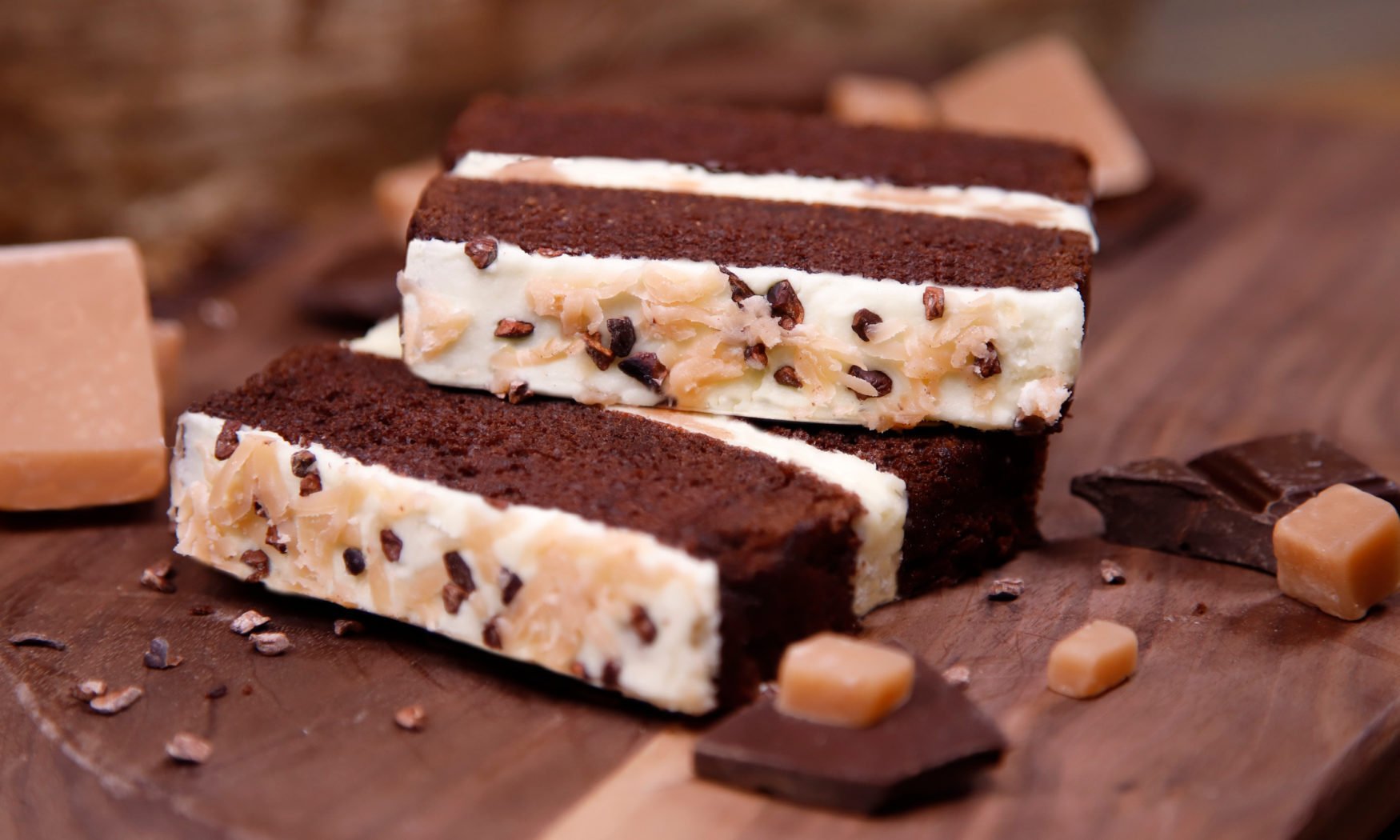 Our Vegan Chocolate Caramel Fudge Cake is also available as a slice of cake to send in one of our cake cards too! So, if you want to test a little bit before you buy a whole cake, or you want to send a thoughtful gift to your loved one, then our Cake Cards are the perfect choice. You can send a slice or two of delicious vegan cake and choose a card design, and include your own message, and then they are sent in the post and through the letterbox of the recipient.
Our sponge cakes are packaged in secure and robust packaging. The inner box is wrapped around the cake to securely hold it in place so the sides and top do not get damaged in transit. The box also includes a handy cutting guide! It is then put in a strong cardboard outer box for extra protection so it will arrive to you safely.
Sponge offer next day delivery on our vegan cakes across the UK, when you order by 2pm. So, if you can't be with a loved one on a special occasion, or want a delicious vegan birthday cake delivered to your door, or have a cake emergency, we will ensure that your cakes and brownies are delivered safely and securely straight to your front door. Our Sponge cake delivery service is second to none with our robust designed packaging that keeps your order safe in transit.
Whether you're looking for a vegan cake delivery to your region, our Sponge cake delivery service will get it there. We deliver our vegan cakes all over the UK, so no matter where you are, you can have one of our delicious vegan goodies delivered to you or your loved ones for any special occasion.
Placing your order couldn't be more straightforward, just place your cake order online on our website. Then you can select the delivery date from our handy calendar, whether you need your order for next day delivery, or want to place your order in advance, the choice is yours! Our calendar allows you to place your order as far in advance as you would like and you can pick a delivery date that is convenient for you.
If you're ordering for a special occasion, we recommend selecting the delivery date for a day or two before you require your order to make sure it is there in plenty of time. This is in case there are problems with the delivery (breakdowns, exceptional circumstances, or events). Our cakes and brownies have either a 7 or 10 day life from the date of dispatch, depending on the flavour, so even if they arrive a day or two early, they will still be fresh and delicious on your special occasion.