Birthday Photo Cakes
Create a wonderful Photo Cake for a birthday celebration!
Celebrate good times come on! Birthdays are a great reason to get together and have a fabulous party. When you are celebrating your own birthday it's great to know how loved you are with friends and family joining you on your special day. If you are planning someone else's party, then you're probably thinking about their birthday cake!
What if we told you, you could get a delicious cake that you can also put a special edible image on that would be perfect for their birthday! Whether you want to create your own photo cake with your favourite picture of the birthday person, or want to use one of our ready-made designs, we even that some themed TV, Game, and Film photo cake toppers that could be perfect for their birthday.
What are birthday photo cakes?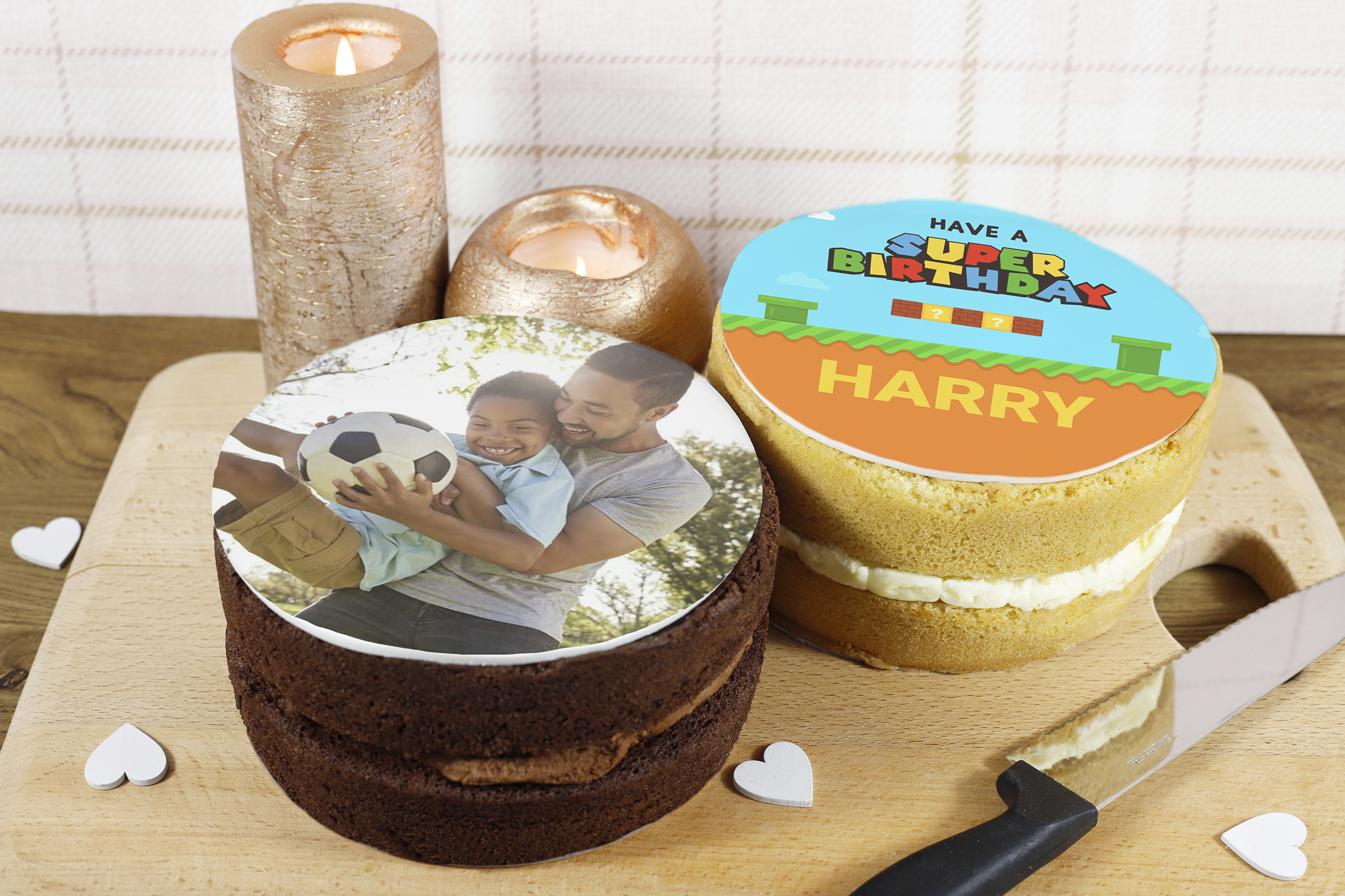 Well, this is how we create ours. You get to choose a flavour and size of cake, and then you can create a wonderful photo cake topper using our online designer. Once we have your order, we print off your design using edible ink onto edible paper. Then we take your photo topper and cut it out and adhere it to an icing disk. We then take your cake and add buttercream on top to secure your photo cake topper. So, in a nutshell, a photo cake is a cake with an edible image on top!
What cake flavours are available for a Sponge Birthday Photo Cake?
We have two delicious flavours to choose from, here's more about them: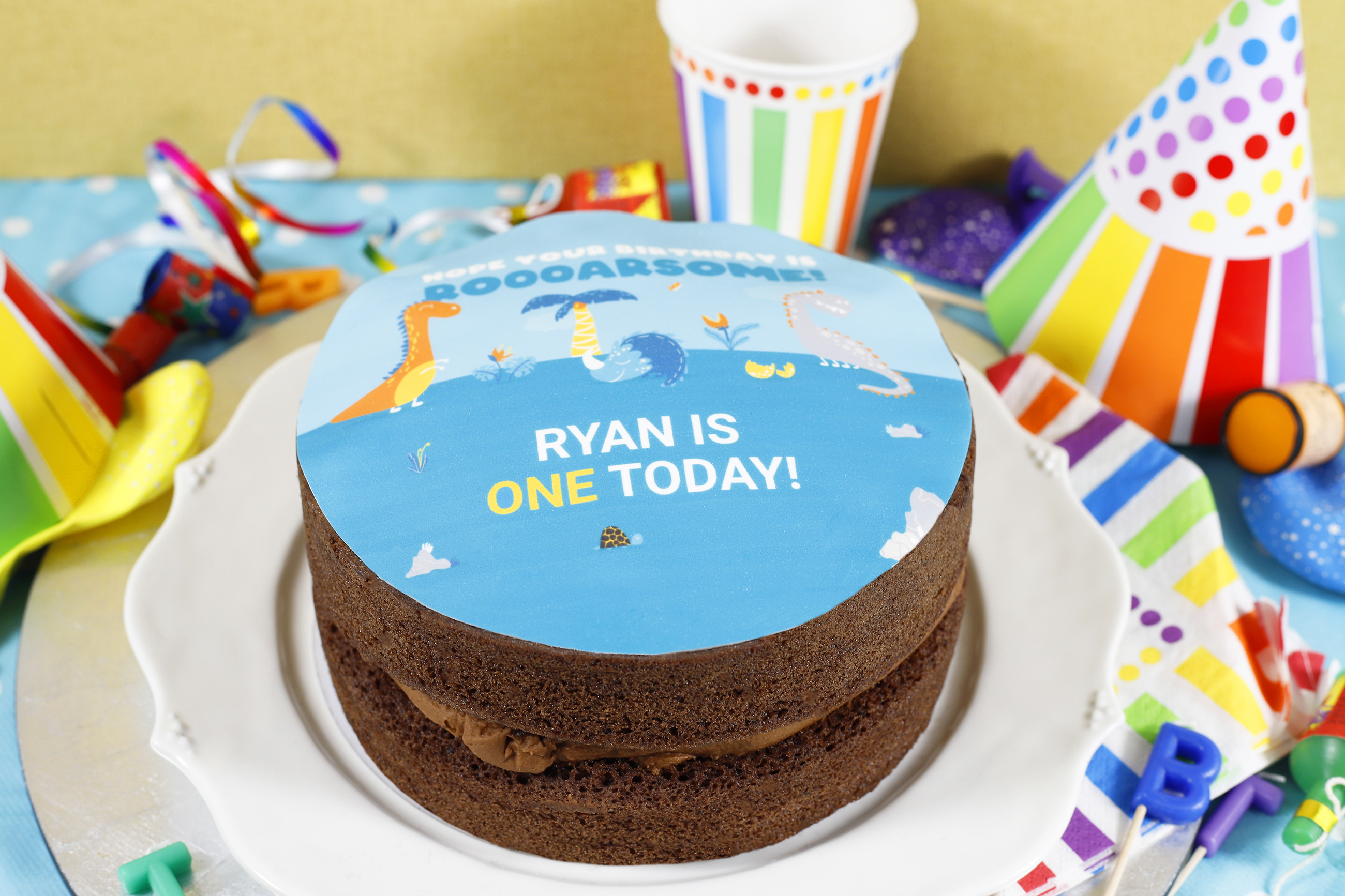 Chocolate Photo Cake - Luxurious and rich chocolate, flour, and free range eggs create a moist and indulgent Sponge. English butter and chocolate create the ultimate chocolate buttercream and milk chocolate flakes decorate the top. A chocaholics dream!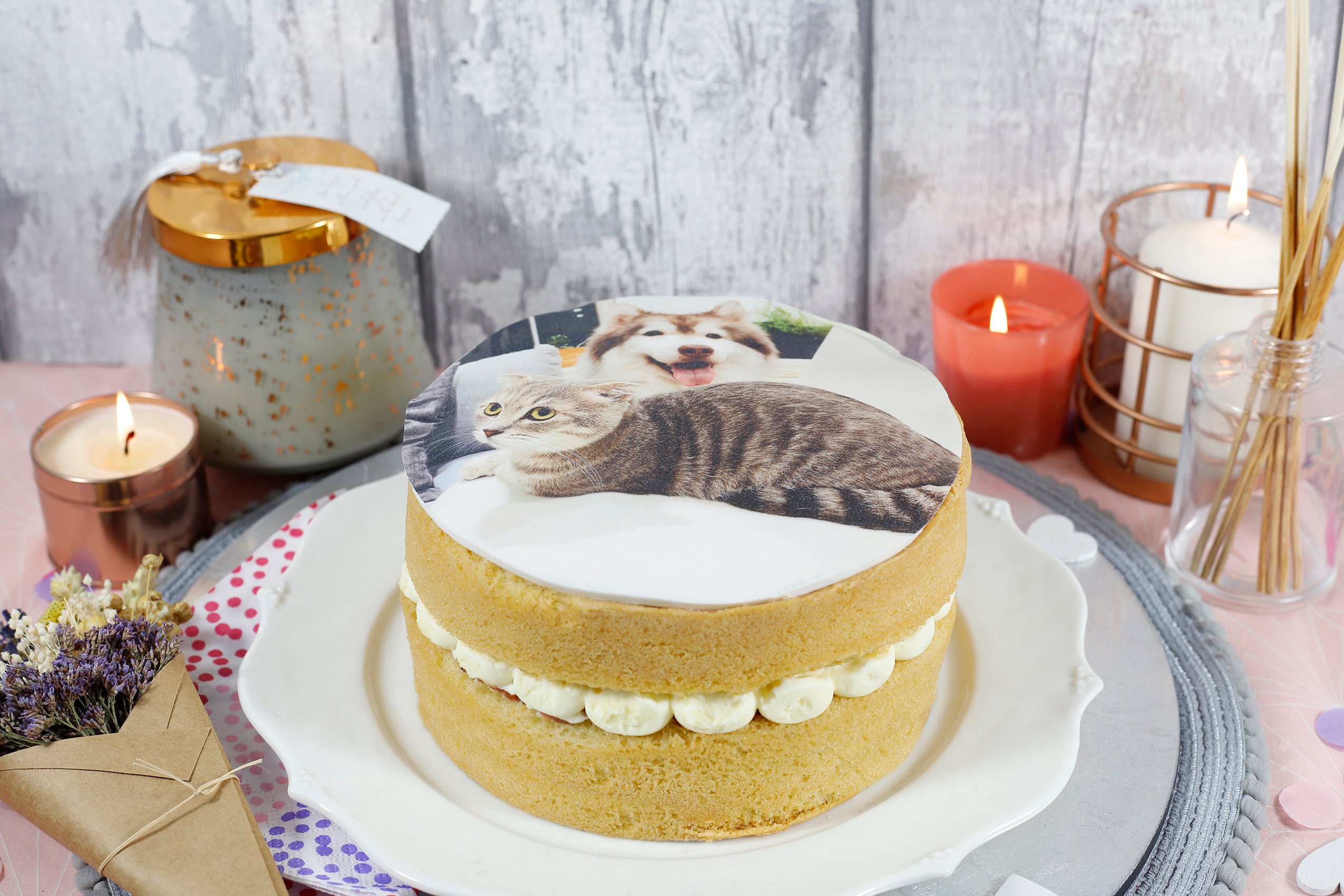 Victoria Sponge Photo Cake - Free range eggs, flour, and natural vanilla flavouring creates our award-winning light and fluffy Victoria Sponge. The buttercream is made from English butter and natural vanilla flavouring which is complemented perfectly with quality raspberry jam.
Both of these yummy cakes are available in two sizes; for 8 or for 16 people, so there is a cake to suit any size of celebration. As the slices are generous portions, these cakes could feed even more!
How do I create a Birthday Photo Cake?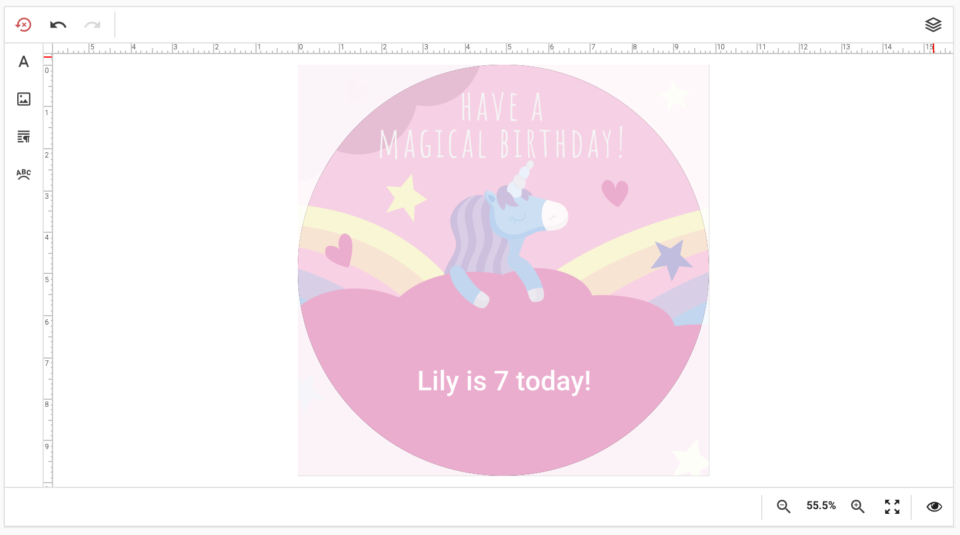 It's really easy to create a birthday photo cake topper with our new designer! Once you have selected your cake flavour and size click the buy button beside the drop-down. Then you will be taken to our cake topper designer. Here you can see we have lots of designs to choose from, you can even filter them by theme or occasion. You can personalise them by adding an image on top of one of our designs, or you can add text such as the birthday person's name. If you can't find a topper design you love, select the one that says 'Your design here' to create your own topper by adding images and text for the birthday celebration.
Will my birthday photo cake arrive safely?
Yes! We have worked hard to ensure the packaging for all of our cakes is secure to keep your cake safe in transit. The inner box is wrapped around the cake to securely hold it in place so the sides and top do not get damaged in transit. The box also includes a handy cutting guide! It is then put in a strong cardboard outer box for extra protection so it will arrive to you safely.
Where can I have my birthday Photo Cake delivered?
We deliver our cakes all over the UK and our photo cakes are no exception! Whether you are looking for a birthday photo cake to be delivered in London, Wales, Scotland, or almost anywhere else in the UK we can deliver them straight to your door. To find out more about our cake delivery service, visit our Cake Delivery information page.