Autumn Special
Introducing our Autumn Special Cake!
Gosh, it's become very autumnal all of a sudden, hasn't it? It was only last week that the sun was beating down on us, and now it's time to get out the jumpers, maybe you even got your woolly hats out already. Regardless I think we can all agree the temperature has dropped and the autumn months are officially here. Unfortunately, when autumn arrives it means that daylight hours are significantly less, which in turn means we will be spending more time indoors cosying up to keep warm.
But, it's not all doom and gloom! We're here to help! We've just launched our autumn special which is the perfect way to get the warmth you crave when you're spending more time at home.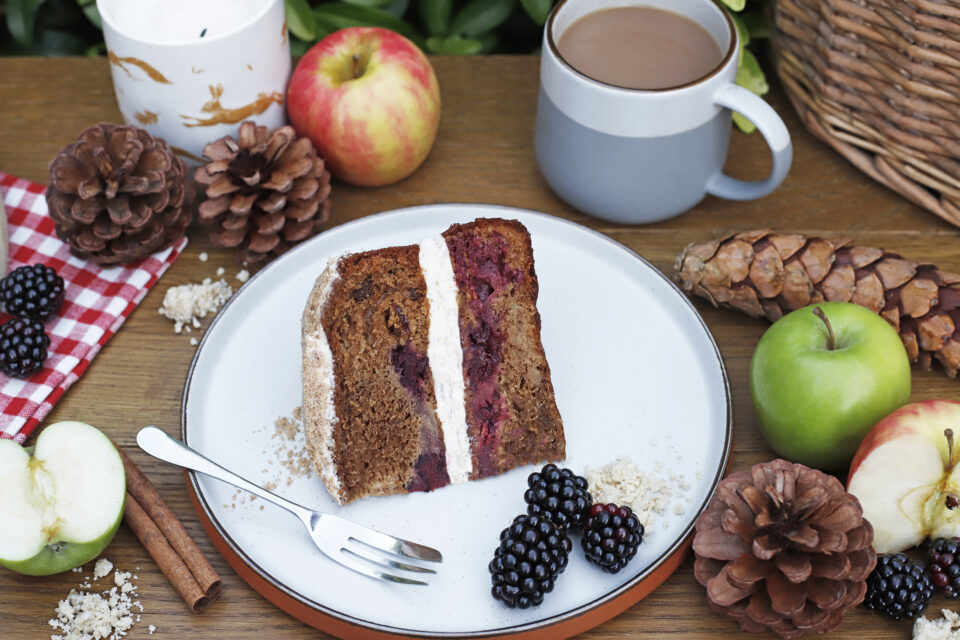 Our 2021 Autumn special is the Apple & Blackberry Crumble Cake. This new seasonal special will get you ready for you to cosy up with indoors in the warm this autumn and winter. Real apple and blackberry pieces, cinnamon, ginger, and free range eggs make a wonderfully light and tasty sponge. Real butter and natural vanilla flavouring create a luscious buttercream with crumble on top.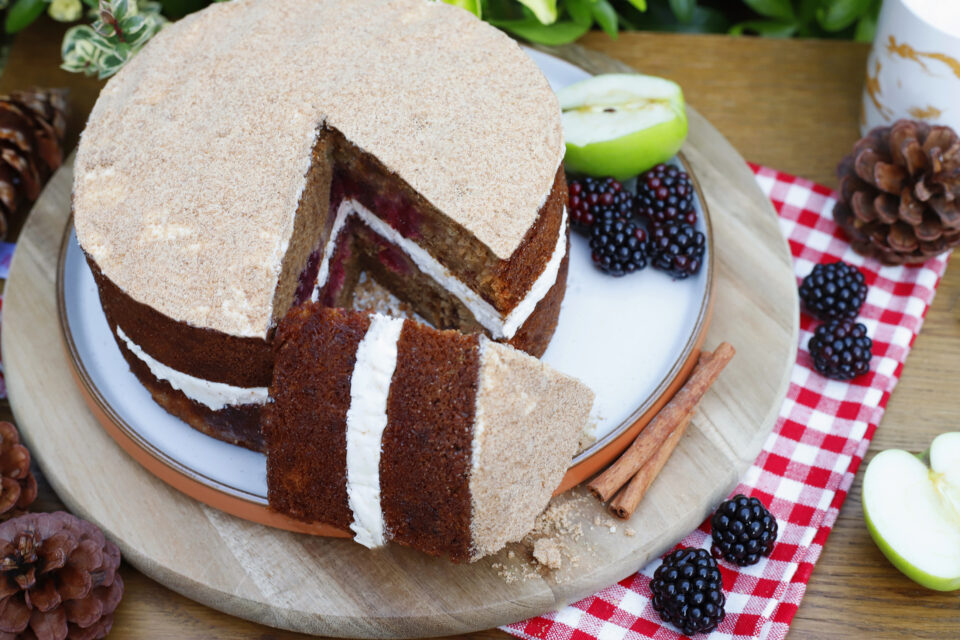 I know what you might be thinking – but I need a gluten free cake. Well, we don't like to disappoint. We also have a gluten free Apple & Blackberry Crumble Cake available as well. So even those with a gluten intolerance can enjoy a delicious slice of this warming autumnal cake. And don't worry, put a lot of care and attention into all of our cakes to make sure that our gluten free cakes are just as delicious as our standard range. Many of our customers have even said they couldn't tell the difference between our gluten free range and our standard range, as they taste that good!
All of our sponge cakes are packaged in secure and robust packaging. The inner box is wrapped around the cake to securely hold it in place so the sides and top do not get damaged in transit. The box also includes a handy cutting guide! It is then put in a strong cardboard outer box for extra protection so it will arrive to you safely.
Just like all of our other cakes, our Apple & Blackberry Crumble Cakes can be delivered all over the UK! We even offer next day delivery on orders when your order is placed by 2pm. It is very easy to get a cake delivered to your home, just place your cake order online via our website Sponge.co.uk, find the cake of your choice, add any personalisation options such as cards and drinks, go through the checkout process, and we'll make sure that your cake is delivered safely to your delivery address.