NEW Strawberries & Cream Cake
Find out more about our delicious new summer special cake!
As we approach the closing matches of Wimbledon this year, we have released our fabulous NEW Strawberries and Cream Cake just in time for the Wimbledon finals this year! This lovely new cake is a great summer special! It's an ideal cake to enjoy this summer with a BBQ or a picnic.
Strawberries and Cream Cake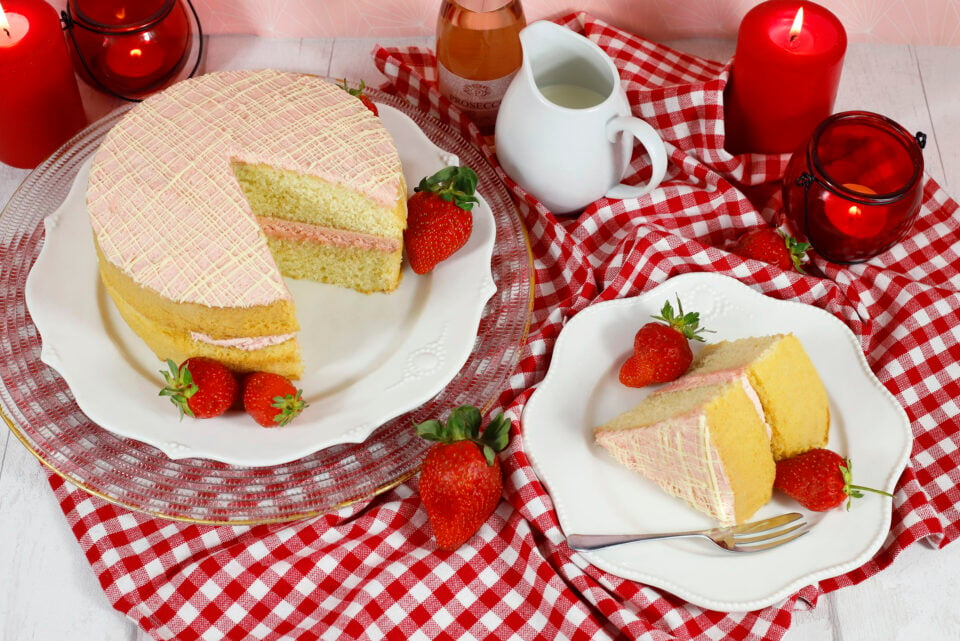 The sponge is made from free range eggs and flavoured with natural vanilla flavouring. In the middle you will find strawberry flavoured buttercream and a white chocolate drizzle on top.
If you are looking to send this as a gift, or if you want to treat yourself to something special this summer, this cake will hit the spot. There are lots of extras you can add with the cake if you want to make a wonderful gift.
Some of the options available to add as extras with your cake include wonderful drinks such as, Prosecco, Brewdog Punk IPA, Whiskey & Coke, gin & tonic, and more. We also have non-alcoholic options; tea, and coffee sachets, Belvoir Elderflower Presses, and Belvoir Raspberry Presses.
There are lots of candle options to choose from, so if you are sending the cake to someone special for their birthday you can make sure that they've got everything they need to celebrate. And as a final flourish, perfect for any gift, you can even have the cake gift wrapped.
Strawberries and Cream Cake Delivery
Sponge offer next day delivery on our cakes and brownies all over the UK, when you order by 2pm. So, if you can't be with a loved one on a special occasion, or want a delicious birthday cake delivered to your door, or have a cake emergency, we will ensure that your cakes and brownies are delivered safely and securely straight to your front door. Our Sponge cake delivery service is second to none with our robust designed packaging that keeps your order safe in transit.
Placing your order couldn't be more straightforward, just place your cake order online on our website. Then you can select the delivery date from our handy calendar, whether you need your order for next day delivery, or want to place your order in advance, the choice is yours! Our calendar allows you to place your order as far in advance as you would like, whether you want to order a wedding cake or order a birthday cake you can pick a delivery date that is convenient for you.
If you're ordering a cake or brownie for a special occasion, we recommend selecting the delivery date for a day or two before you require your order to make sure it is there in plenty of time. This is in case there are problems with the delivery (breakdowns, exceptional circumstances, or events). Our cakes have either a 7 or 10 day life from the date of dispatch, depending on the flavour, so even if they arrive a day or two early they will still be fresh and delicious on your special occasion.
For more information about our delivery service please visit our delivery page.