Photo Cakes & Cake Toppers
It's a special occasion, why have exactly the same thing as someone else? Here at SPONGE we are all about making things personal.
It's a special occasion, why have exactly the same thing as someone else?
Here at SPONGE we are all about making things personal. We have an extensive range of options for personalised cakes so whether it's a mini bottle of Prosecco, a card, or some fun fountain candles, you can add that little something extra to make someone's day.
By far our most popular option is the ability to personalise the top of your cake or create a photo cake. Our team has spent hundreds (perhaps even thousands!), of man hours researching and developing our cake toppers to try and make it the best way of making your cake uniquely yours, while still getting a great SPONGE cake experience underneath.
Because of their unique proposition, we've drawn all sorts of customers seeking to customise their cake, running the gamut from personal messages and inside jokes, celebrating a parkrun milestone, professions of love and marriage proposals, all the way to big well-known companies like Fat Face or Nespresso, sending out their logo on top of a cake to their best employees, suppliers, customers or outlets.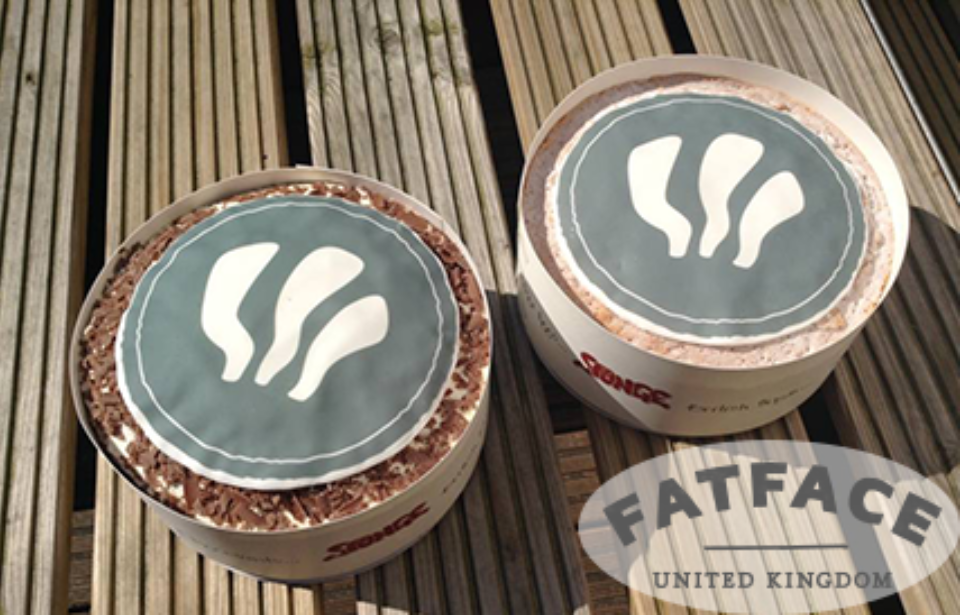 Here are some of our personalised toppers for Fat Face on some of our Sponges for 16 last year. As you can see the toppers didn't quite reach the size on our larger cakes, however we now have the capability to products toppers that cover the entire Sponge for 16!
You can take almost any of our existing 'For 8' or 'For 16' Sponge Cakes (Please note as of 2022 we have changed how our photo cakes are created. You can find our new photo cakes here) and add your very own personal cake topper to them. It could be with a photo, your own message, or if you're in a rush and not feeling too inspired, we've come up with a big range of seasonal and one-click predesigned toppers for you to choose from (see our Valentine's ones from last year below).
If you do wish to send a large quantity of topped photo cakes, then get in touch with our corporate team and we can discuss all the things we can do for you. We have a range of flexible options, such as sending employees a cake on their birthday each year, to large quantities for a new store opening, and much more.
Keep reading to see how our cake topper journey has developed over the years, and how our newest topper designer provides the best 'cake topping' experience yet, and is still getting better!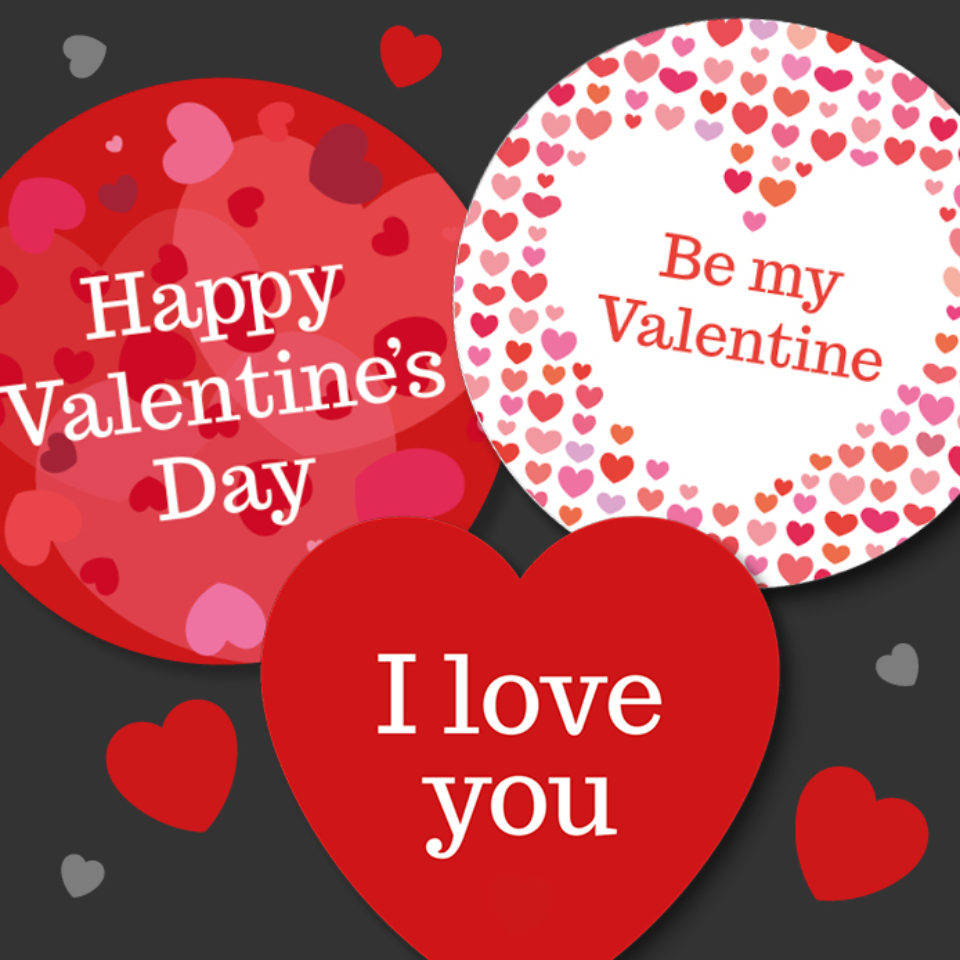 Sponge Cake Toppers: A History
Since our humble beginnings back in 2009 we have offered the ability to add a simple personalised message to your cake orders. When we first started, we used to cut each individual letter of your message, or the shape of your logo, by hand from fondant icing.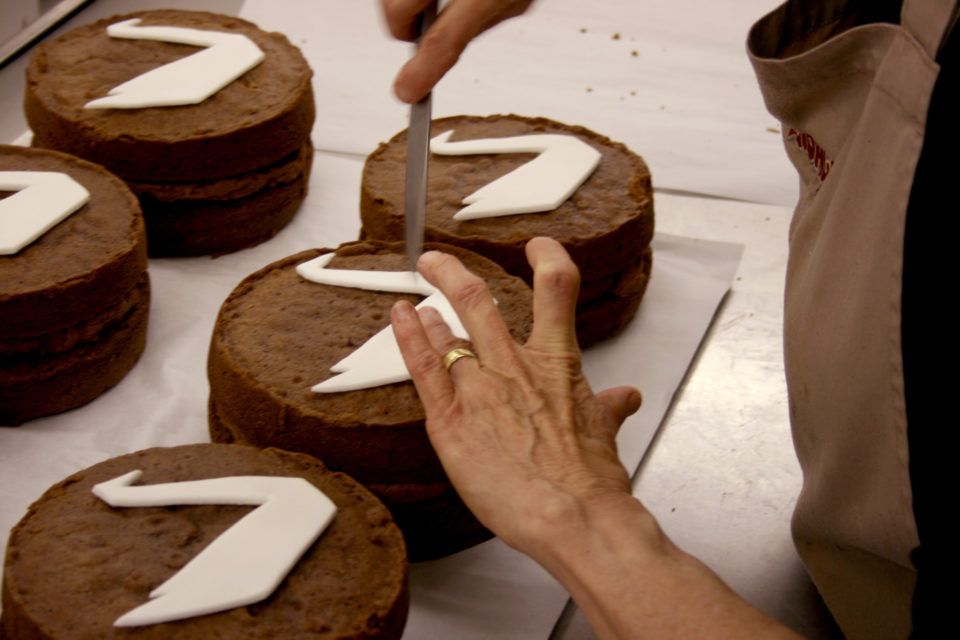 As we grew this became much less sustainable and we began to explore more automation in our process. After much consideration, we came to the conclusion that our toppers needed to be 'printed' instead of manually cut from icing, which would allow us much more flexibility in the long run.
One of the biggest advantages of this new approach was we could offer a range of pre-designed toppers, widely expanding the ability of our customers to customise their order.
Our first attempt at bespoke toppers with a message, took your message and sent it through to our bakery. A member of our team would then manually create a topper in a specially designed piece of software, print it out and hand it over to another member of the team to top the cake.
This was a big move forward, but there were some drawbacks. The software we were using had limitations and our team found it difficult to use, and we were vulnerable to errors as the message had to be re-entered from the order in to the software. Whilst it was still much quicker than cutting each letter, it was also quite time consuming and labour intensive.
We decided to invest some of our development time into creating our own system. Our aim was to stay with the existing design, but to automate the entire creation process so we could click a button and the topper would be printed, no manual intervention required.
We also wanted to allow the customer to see an accurate preview of what would end up on top of their cake.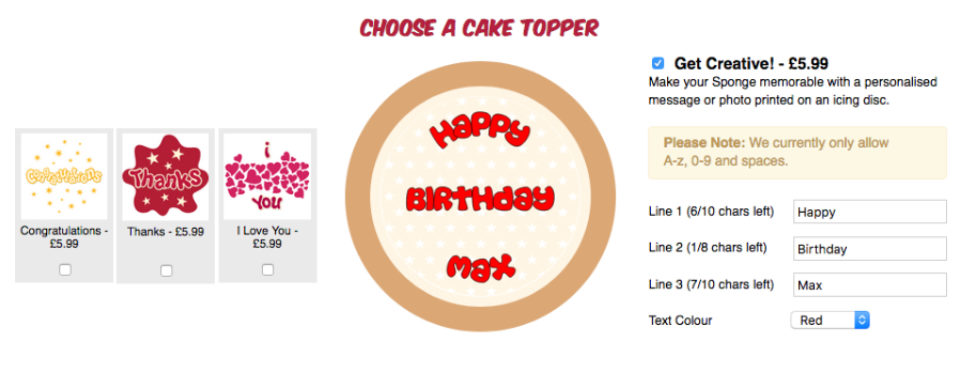 This was another big leap forward, but it too had a few drawbacks. This design used curved text at the top and bottom of the cake, which looked great when the words used were reasonably short, but there would be some very unattractive overlapping and size contrasts when longer words were used. So we had to limit the number of characters that a message would contain.
Our longest text block would allow for just 10 characters! This would mean commonly used words such as 'congratulations' would not fit. Surprisingly this didn't cause too many problems and our customers graciously adapted and used 'congrats' and variations on words that wouldn't fit.
Our next big leap forward was the addition of photo cakes. We had dipped our toes in the water of photo uploads with the first version of our cake card product, so we had a base of knowledge to work from with that, but the toppers had their own challenges. One big example they were circular, not the portrait images we could much more easily print for cake cards.
We decided to make a trade off of simplicity and take the photo and simply layer it centrally underneath the existing message. This had the advantage of being very simple to use, but did not really allow for any adjustment of the image, and we still had the character limits of the message itself.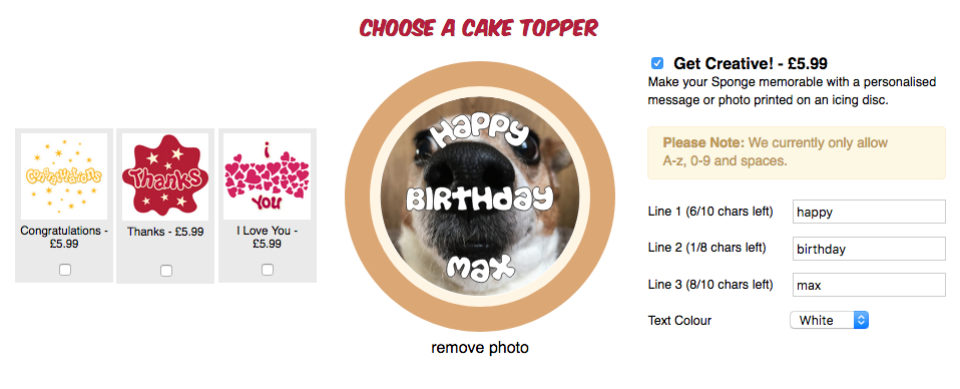 Next Steps
So when it came time to take another look at our toppers, we had all these years of lessons learned, and big ambitions for what we thought cake toppers could do.
In the back of our minds we still had all the same niggles from the previous versions, we had specific aims for this new version, and we wanted to remove as many of those artificial limitations as possible. Those aims were as follows:
Allow as much (or as little) text in the message as desired.
Move to a new, cleaner, and more readable type face
Allow adjustments to the photo framing (zoom, nudge etc).
Must still be simple and easy to use
We got cracking, and after a long slog, a few false starts and dead ends, and lots of rounds of tweaks with the team and our friends and families, we came up with our new photo cake designer.
Design Your Own Topper
In autumn 2018 we launched our brand new topper designer, and we think its a massive leap forward and a really fun way to make a cake special!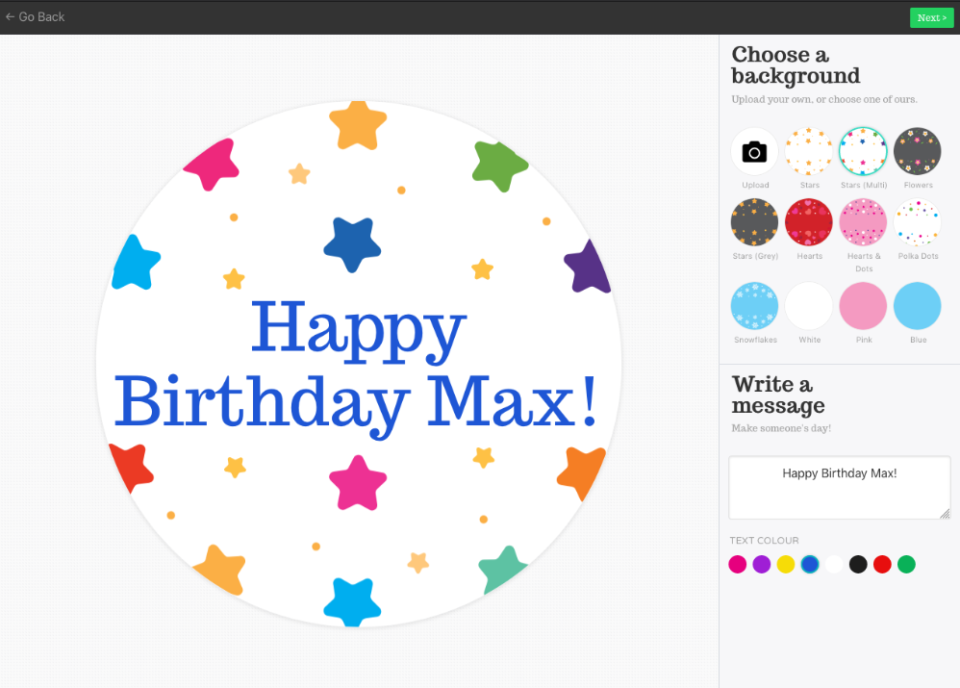 After a long gestation period, we think we've achieved our aims, and even added a few more bonus features.
Here's whats new or improved:
Brand new look
We've tried to create an intuitive (and therefore easy to use) interactive designer. Its clean and clear, the available options are deliberately kept simple, so you won't see things like photo adjustment controls if you haven't chosen a photo. We aren't trying to create photoshop!
A range of backgrounds
You can choose between your own background or one of our predesigned ones. This gives you the flexibility to pop a message on top of the cake even if you can't quite find that perfect photo.
We will tweak the range now and again, mainly to keep track of the seasons, but we've gone for a fairly simple range with a mix of fun and colourful designs that we think should cover most occasions, and a trio of plain options if none of those quite fit. We don't wish to overload you with options!
'Smart' cropping
When you initially add an image to the designer, we try and find the best framing automatically. We do this by searching for edges, colours that look like skin, areas with high saturation and a number of other factors, to find a good starting point.
We think its a pretty effective option that works the vast majorityof the time (it works very well on landscape images where the subject is off centre).
Not all images are made equal and you may not agree with the choice the algorithm has made, so for that we have provided a set of adjustment controls to allow you to customise the framing to your liking.
Photo adjustment
We have provided a range of controls to allow you the ability to tweak the framing of the image. You can nudge the positioning of the image up, down, left or right. You can also zoom in to the image (although we don't recommend zooming too far in, see our 'How can I get the most of my own design?' in the frequently asked question section below). We think this should provide enough flexibility to get your image just to your liking.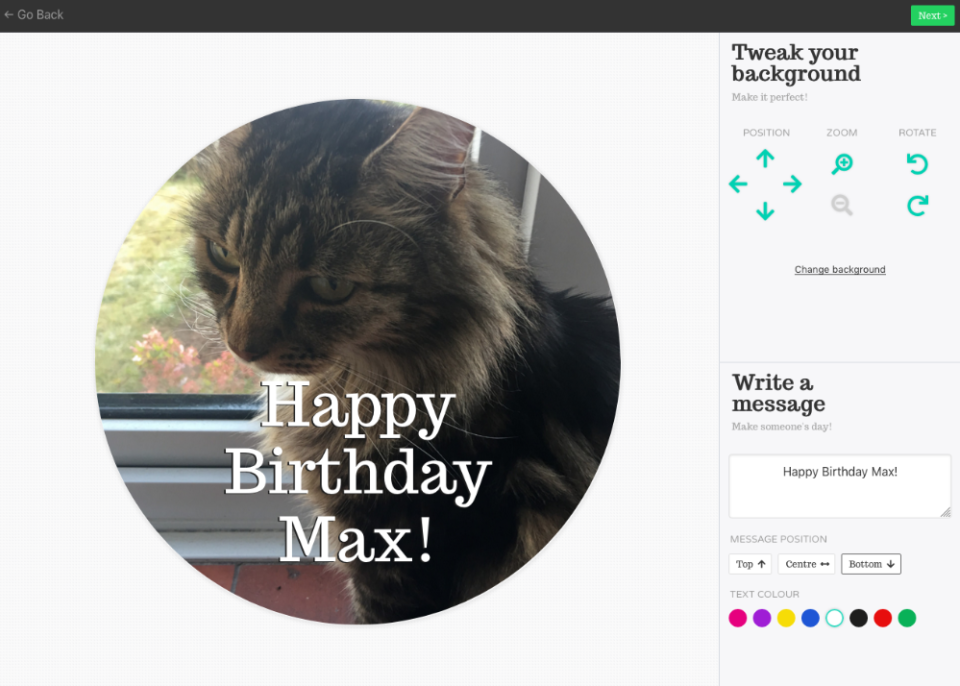 Message length
You can now get so much more message on your cake! Say congratulations, or floccinaucinihilipilification, write a poem, or whatever you like! Our smart text sizing will size your message to fit on the topper.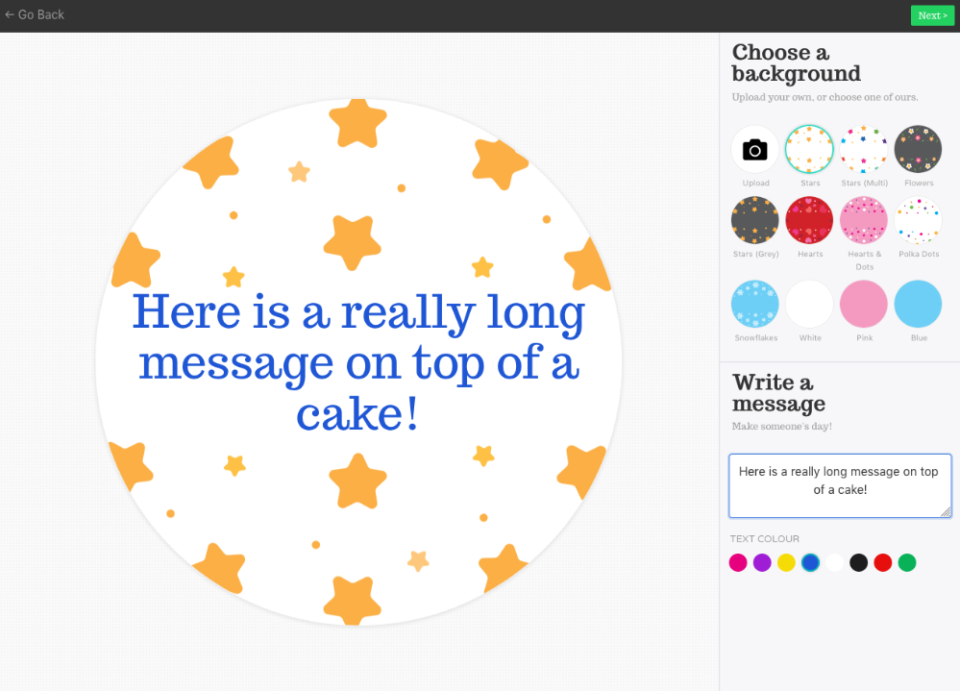 Message positioning
If you have selected one of our pre-designed backgrounds, then your message will be placed in the centre of the topper. However if you have uploaded your own photo, then you can place your message at the top, in the centre or the bottom. Tweak your positioning to fit the photo, (or adjust the photo to fit the message!) it's your choice.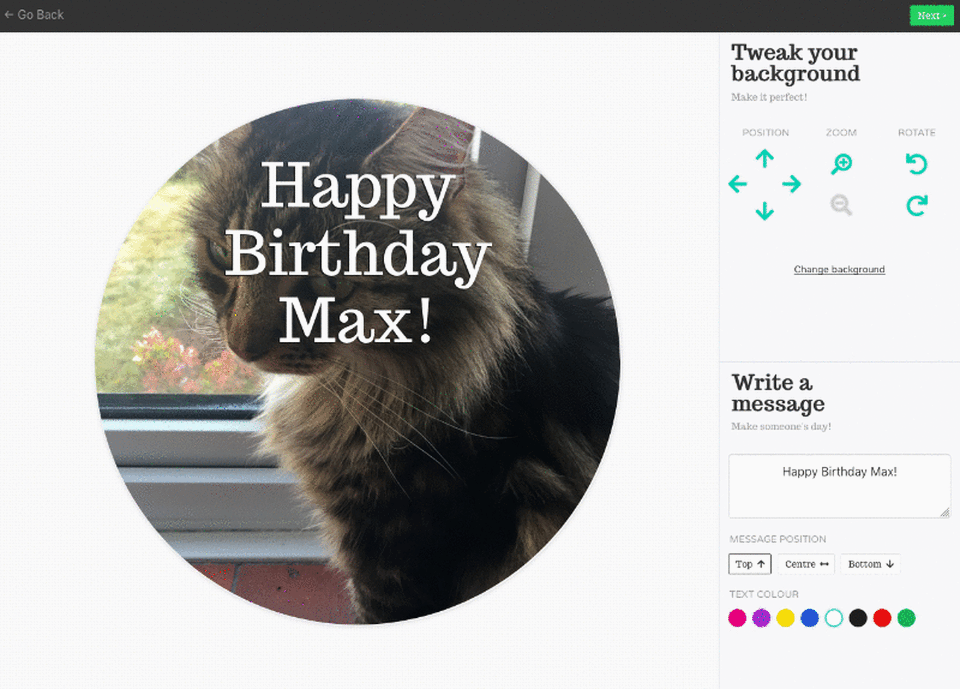 More to Come
This is the basis of our cake toppers for the years to come, and we've got a few more ideas in the pipeline which we think will make it even better.
Frequently Asked Questions
We get asked a few of the same questions now and then, so we've collected them here.
How are they made?
Once we receive you order and it is ready to be sent through to our bakery team for processing, your cake topper will go through a three step process.
Step 1: Print
The first step is to print your design (or perhaps one of our many predesigned cake topper options).

For this, we use a specially modified printer which uses food safe edible inks (made from food colouring) instead of regular inks which contain all sorts of inedible chemicals. The design is then sent through the printer, printed on an edible icing sheet made from various starches and sugars which your design will be printed on.
Step 2: Topping

The second step is for your design to be added to the cake you have chosen. To do that we first roll out some fondant icing, and then carefully place the printed disc on top, using a little water to adhere the two parts. We trim off the edges and the design is then ready to go on top of the cake.
Using a little butter cream for 'glue' we stick the icing and topper to the cake and smooth it all down.
Step 3: Wrapping and Dispatch

Your finished cake is then checked by another member of our bakery team, before being sealed and packaged in our tried and tested postage packaging, and then handed off to our delivery partner along with all of the other cakes going out that day.
How can I add a photo or topper to my cake? I can't see the option!

Our topper options will only appear once you select a cake to purchase. We do this because not all of our cake options can be topped in the same way. For example our 2018 Christmas special 'Gingerbread Latte' came with a gingerbread man on top, so we disabled the cake topper options on those cakes as we considered them already 'topped'.
So simply select the cake you wish to top, and when you click 'Buy' then the process of customising your cake will begin!
Why is some of my photo cut off?

Photos by their nature are rectangles, and sometimes, squares. In order to fit them on top of our round cakes, we have to round the edges off any photo in order to make it look right. If you have anything at the edges of the image, then these are likely to be cut off.
As you can see in the following image the area in red (the fork, the cranberries etc) won't show because we've had to 'carve out' a circular area of the rectangular image.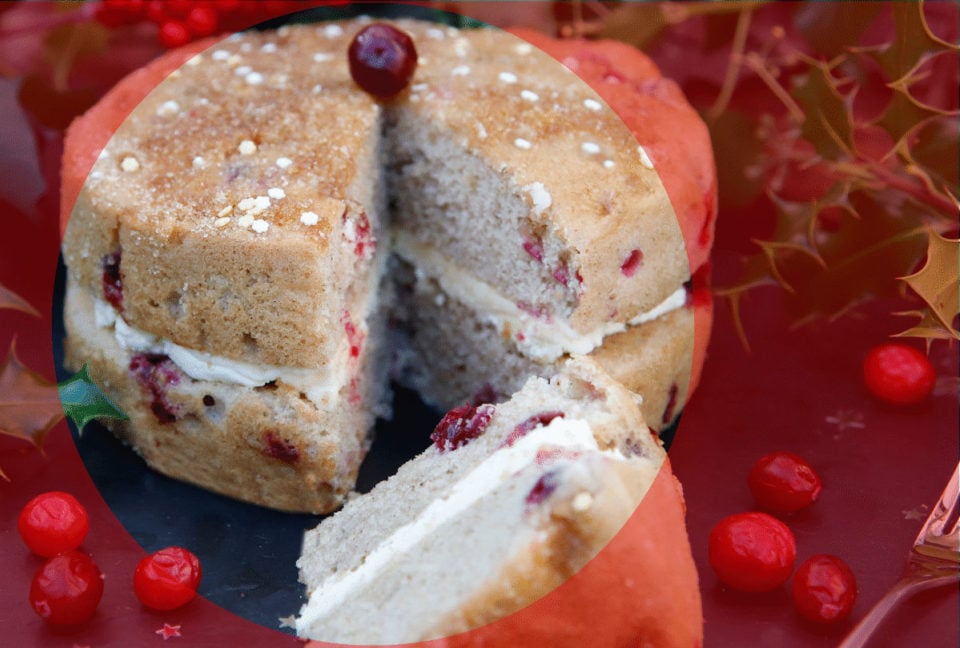 Our topper designer offers various tweaking options, like zoom in and out or nudges (up, down, left, right). We're pretty confident you can frame your picture, or at the very least find an area within your picture, to make it look great but not all photos will make for a good cake topper. The beauty of our designer is that you can keep experimenting with a few different pictures and see which one looks best!

If I want to add my own specially designed image or company logo, what size photo/image should I use?

Our designer functionality should be able to adapt to most sizes.
We have created a handy template file which you can use if you wish to, or send to your designer if you have one. This is set to the proportions necessary to ensure your whole design will be visible. You can download that from here.
Please also bear in mind the best practices (featured below) when you do use your own imagery.

How can I get the most out of my design?

1. Use high quality images
Our designer will allow you to use images that perhaps will not result in the best quality possible end product. This is a pragmatic trade-off after years of seeing the different shapes and sizes of images that our customers send through to us. The designer will warn you if the image you want to use may result in a poor quality end product.
When we decide which images are suitable for a cake topper we judge it on the shortest side of the image, so if you have an image that has a width of 1000 pixels, but a height of 500 pixels, we would consider the size of that photo to be 500 pixels.
We have a hard minimum of 500 pixels. So even if your photo is 2000 pixels across, but only 499 in height, we would not allow you to use that image in our designer, and it will reject it with a message saying as such.
Our recommendation for the best results is using images with a minimum of 1500 pixels on its shortest side. You can of course go higher than this if you wish, but only up to a maximum total file size of 4MB.
2. Cake size matters
Related to the above, if you are topping a 'Sponge for 16', they are larger than our 'Sponge For 8' cakes, so you may need better imagery for the larger circumference of the 'For 16'. If you stick to the sizes above then that should easily accommodate both sizes of cake.
3. Use the zoom function sparingly
Our designer allows you to nudge and zoom the image, but the more you zoom into the image, the more the quality will degrade. We would only recommend zooming in 1 or 2 'stops'. If your image is particularly high quality (e.g 2000 pixels or more) then you may be able to zoom further in without any quality loss.
Our designer will give you a warning if you zoom in further than the recommended amount of 'stops'.
4. Use your own images
As tempting as it may be to search through google images for that perfect image, these images are usually of dubious provenance or may have copyright issues attached to them, but most likely will be of poor quality.
We find that 'meme' images are particularly bad for this, as they are usually of low quality and a shape that does not transfer to the circular nature of our cake tops (see 'Why is some of my photo cut off?' for more info on this).
4. Try not to crop or resize your images too much (or at all)
Our designer will allow you to 'frame' the image using zoom and nudges. We would recommend using this instead of cropping the images yourself. If the image you use is an odd shape or size then it may be much more difficult to find a framing that will work well.
If you are trying to get the perfect framing, then use our template (see above 'If I want to add my own specially designed image or company logo, what size photo / image should I use?') before you use the designer.
5. Only add a message using the text option in the designer.
Want to add a message to the top of the cake? Great! The designer will allow you to place text on your cake topper.
We don't recommend you adding the text yourself using an image editor, as this will be 'burnt in' to the image and we would be unable make any changes to it once you have submitted it to us. If you add it using the designer, you can get in touch with us and provided it hasn't reached our bakery team, we can easily make changes to the message if for example you realise you've made a spelling mistake or typo, or want to add a few more words, or even remove the message entirely.
Can I top a Baby Sponge?

We have tried a few times, but at this stage we haven't developed a robust enough technique for topping our baby sponges that would survive the unique challenges of delivery.
Our baby sponges are very small and delicate which creates a unique set of challenges for our toppers and production system. We're always exploring however, so this may become an option at some point in the future.