How To Make Gluten Free Cake
Over the last few years, our gluten free sales have grown massively and now represent about 25% of the total number...
Over the last few years, our gluten free cake sales have grown massively and now represent about 25% of the total number of sponge cakes we sell. We are increasingly finding that our trade customers are so confident in how good our gluten free sponge cakes taste, they are switching all their cakes over to gluten free rather than stocking gluten and gluten free options.
When Sponge first started to experiment with gluten free cakes, we found the tricky bit was making sure the sponges held together. After trying various gluten free flour options, we settled on Doves Farm flour as we think they make the best gluten free flour. However, just replacing the flour alone was not enough to make one of our delicious gluten free sponges. We initially found the sponges were not holding together as well as we would have liked and the texture was not quite good enough either. It took us lots of test batches to get the right combination of milk, ground almonds & a little bit of xanthan gum, which we add to the gluten flour, sugar, margarine and eggs.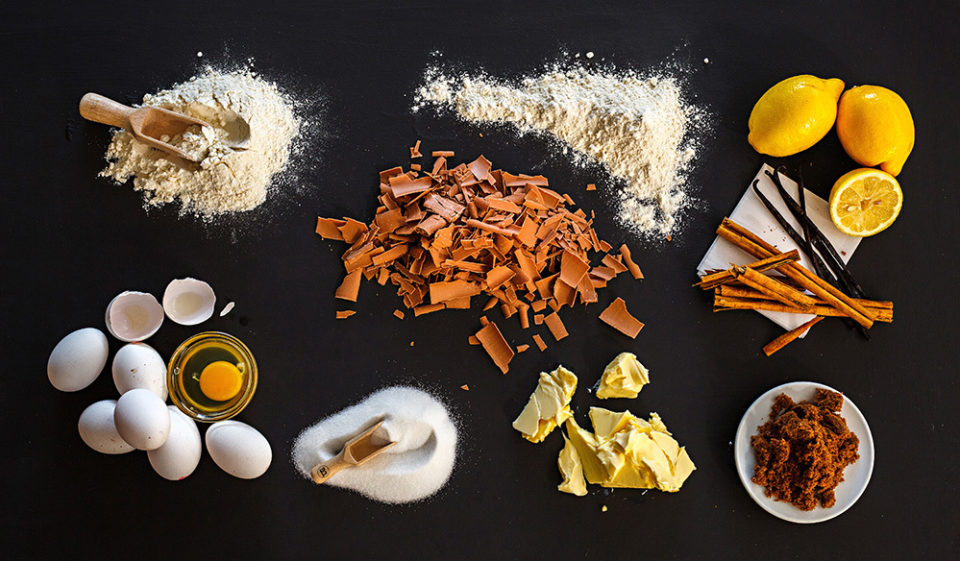 We use this recipe in our bakery to make baby sponges, sponges for 8 people, sponges for 16 people, our sharing sponges and sponge slices for our cake cards. We sell our gluten free cakes online, to wholesale and to corporate customers.
So, to the method. We mix the sugar and margarine as we would one of our traditional sponges until the mix is light and fluffy. We then shell the local free range eggs and add them to the mix at a slow mixer speed, along with a natural flavouring depending on the sponge we are making. The flour is gradually added to the mix, followed by the ground almonds and xanthan gum. The bowl is regularly scraped down to ensure the ingredients are fully mixed together. Finally, the locally sourced milk is slowly added. The mix is then measured into the tins & the tins go onto the trays and then onto the rack. After spending around 30 minutes in oven, we roll out a batch of 60 delicious bases which will make up 30 cakes. To get our legendary height, we always use 2 bases to make one our cakes rather than cutting a single base in half.

Our butter icing is made using a combination of British salted and unsalted butter and British icing sugar. Again, depending on the flavour, we add a natural flavouring to the icing which we buy in from a local company in Suffolk. One of the bakers will spread a generous amount of butter icing in the middle and on the top of the cake. The gluten free cake will then be sealed in its own bag to keep it fresh. Within an hour of it being baked, the cake is then stored in the freezer to seal in its freshness, waiting for an online order to send out next day delivery to be enjoyed anywhere in the UK.