Apple Crumble SPONGE Friday, FREE Baby Sponge at Suffolk Show + FREE Father's Day Card!
...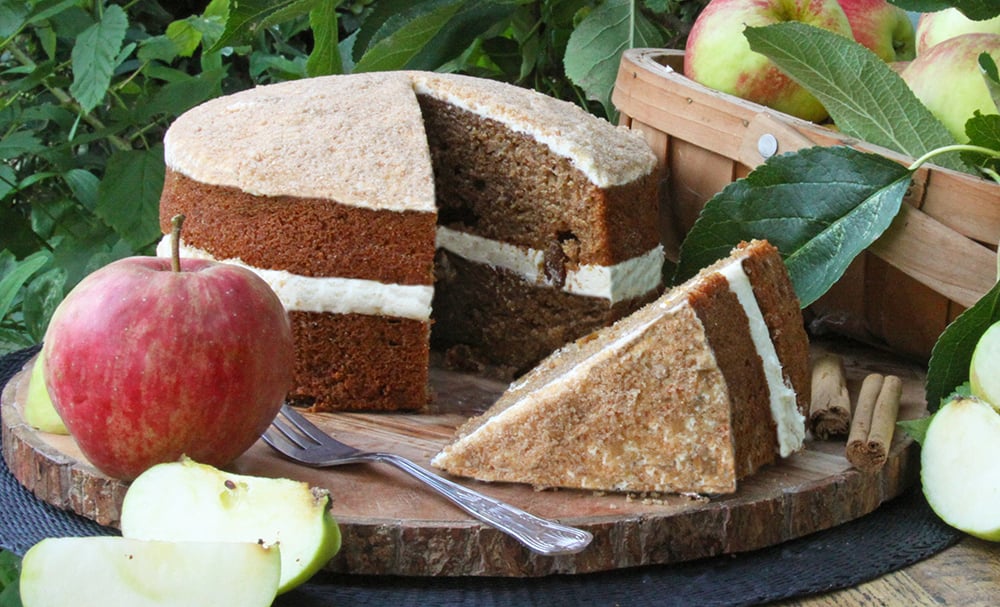 Apple Crumble SPONGE Friday: perfect for Half Term grazing!
Beautifully light cinnamon sponge with sultanas and real apple pieces, vanilla butter cream sandwiches the sponge and the crumble pieces scattered on top give this week's Great Taste Award winning Apple Crumble SPONGE Friday both a bit of crunch and its show stopping appearance!
"I got this Sponge for free after sending one to my grandad for his birthday - it was absolutely delicious! The 7" cake is much bigger than you think and is wonderfully light and moist. Customer service is also superb - will certainly be ordering again." Holly from London Read more Apple Crumble reviews...
Order by 2pm Thursday 23rd May to get your hands on a 7" Apple Crumble Sponge for £9.99 and a 10" for £16.99!
Sponging on the Broads!
Mavis emailed in this Sponge Moment pic…
"Please find a picture of Lucy and Gemma Sponging on the Norfolk Broads. No crumbs left for the ducks!!"
Thanks, Mavis. Enjoy your Apple Crumble SPONGE Friday!
Win a SPONGE Friday!
We give away a SPONGE Friday each week to the best Sponge Moment. Send pics to [email protected], post to Twitter, Facebook or Instagram for a chance to win!
FREE Baby Sponge for Suffolk Show visitors!
We're on the road again! If you're visiting The Suffolk Show over the next two days, then drop by and pay us a visit at Stand 134 (in the Food Hall) to taste our delicious Sponge. + Sponge Family Members will receive a FREE Baby Sponge (just let us know you're a Sponge Family Member!) Click here to sign up to the Sponge Family online if you haven't already.
You can also bag Sponge Gift Vouchers with up to 50% off at our stand - great for presents!
Free Father's Day card!
Say it with Sponge this Father's Day (Sunday 16th June) and get this cool (and very British!) gift card you can personalise with your own message for Free!!
To get the freebie, add any Sponge to your basket, personalise with our quirky Father's Day card and then use code: TOPDAD on the Checkout page. Simples!
Last chance to enter our Father's Day competition with Plantabox!
Win one of 10 prizes of Baby Sponge cakes, Father's Day card and personalised Plantabox Crate! The competition closes at 9am Wednesday 5th June so click here now to enter! + Don't forget, you can get 15% off at the Plantabox website with code: SPONGE15
Please Sir, can I have some more Sponge..?!
We have a Cake Plea winner! Last week, we ran a competition on Facebook, Twitter and Instagram asking students to post pictures of their Cake Plea! We received eleven entries and James Reilly was the winner for his Oliver Twist inspired Cake Plea... (middle right)
"james reilly: @SPONGECAKESLTD #cakeplea #hungrystudents #pleasesircouldihavesomemore pic.twitter.com/0LnhBgpXe"
Enjoy your Sponge, James and thanks to everyone for some very creative entries!
NUS Extra?
Don't forget you can get 10% off in the Shop at www.sponge.co.uk with your NUS Extra card number. Just tap it in on the Checkout page!
Happy Birthday!
Sponge Family members: Alfie Bailey, Jen Burns, Joanna Terry, Marcus Cunningham, Gemma Marshall, Jenny Reynolds, Joanne Regan, Jodi Smith, Mary Cookson, Sandra McDaid and Roberta Gordon. Hope you all have great days! x Email: [email protected] for birthday shoutouts!
Follow us!