FREE Wedge of Christmas Sponge with Victoria SPONGE Fridays!
Beginning to look a lot like Christmas..! It's the grand Christmas Lights switch-on in our hometown of Holt this evening and to celebrate,...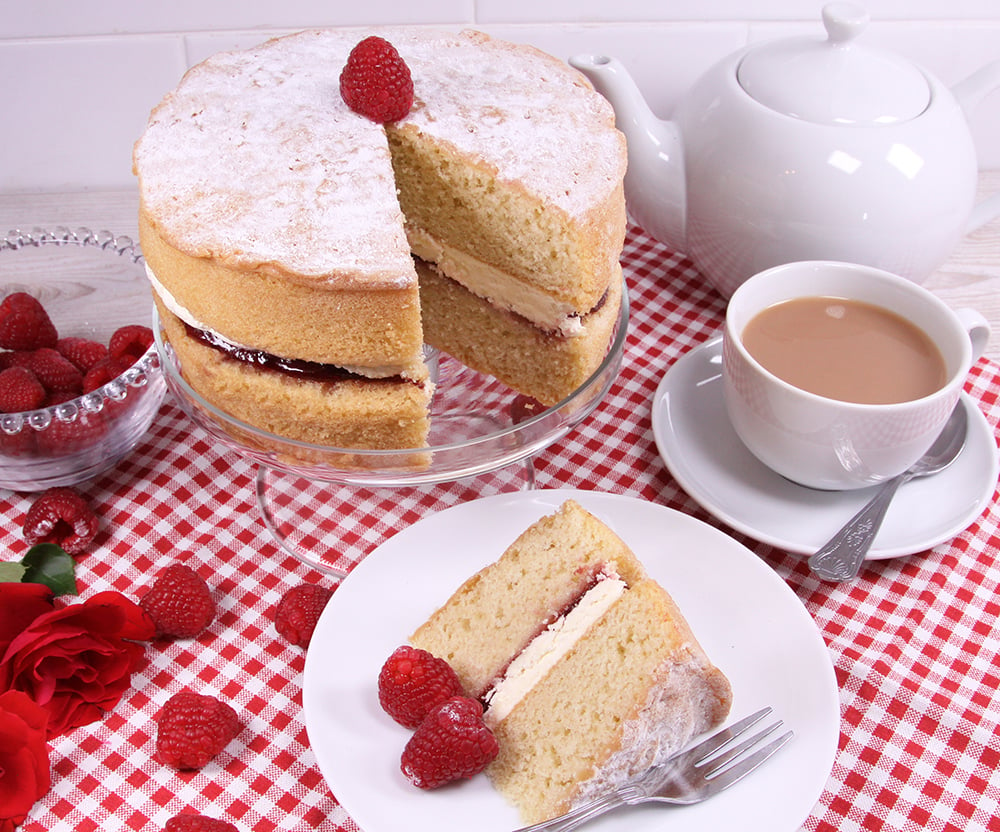 Beginning to look a lot like Christmas..!
It's the grand Christmas Lights switch-on in our hometown of Holt this evening and to celebrate, we're giving away a FREE Wedge of our new Orange and Cranberry Christmas Sponge with every Victoria SPONGE Friday!
Light fluffy vanilla sponge, sandwiched together with the finest British strawberry jam and naturally flavoured vanilla butter cream, Victoria Sponge was recently awarded with a Gold Star in the prestigious Great Taste Awards!
"Beautifully moist sponge. Made a 2 tier birthday cake for my Mum's 80th. Not one person had a bad word to say, in fact the party went very quiet while everyone was eating! Brilliant, thank you." Elaine from Bristol. Read more Victoria reviews...
Order Victoria SPONGE Fridays by 2pm Thursday 22nd November to get your hands on a 7" Sponge for £9.99 and a 10" for £16.99!
Ordering SPONGE Fridays
We now have a page where you can pre-order any SPONGE Friday up to 3 months in advance, so no need to type in the 'SPONGEFRIDAY' code! Click here to visit the SPONGE Friday page and see when your favourite flavour is coming up!
|
BBC Good Foodies!
Helen Yates and her mates (yes, that rhymes!) enjoying Sponge at the BBC Good Food Show Birmingham recently...
Great pic, enjoy your Victoria Sponge! :)
Be the face of SPONGE Friday!
We give away a SPONGE Friday cake every week to the best Sponge Moment. For a chance to win, send in your Sponge Moment pics to [email protected], or post to Twitter or Facebook. We pick the best one for the SPONGE Friday email, you become famous and bag a free cake, win win!
Good luck! :)
|
Nick's Birthday Sponge Moment
Lots of you have spoken to or emailed our Nick in the Sponge office with your Sponge woes and left lovely comments on his excellent customer service.
Well, for those of you who like to put a face to a name, here he is...enjoying his birthday Coffee Sponge in the office last week!
The extra savvy customers of you will also have seen the special NICKSBIRTHDAY discount code on Facebook and Twitter on the day! Keep an eye out for Sponge team birthday discounts in the future! :)
|
Say goodbye to autumn..!
Before we welcome in our new Orange & Cranberry Christmas Sponge, we say goodbye to our autumn special, Apple and Blackberry Crumble Sponge: a twist on our Great Taste Award winning Apple Crumble, featuring deliciously plump blackberries rippling through the lightly spiced sponge. A layer of vanilla buttercream, blackberry jam and a crumble topping complete this autumnal indulgence.
We only have 16 of the 7" Apple and Blackberry Crumble Sponge cakes left, so we've dropped the price to £9.49 (better than the SPONGE Friday offer!), but once they're gone, they're gone, so grab yourself a bargain!
|
Sponge at work
Our Sponge cakes make great thank you gifts to suppliers, customers or your team, with ten flavours available, personalisation options to make your Sponge even more special and gift vouchers and subscriptions on offer.
If you're ordering multiple cakes on behalf of a company this Christmas, give us a call on 01263 711033 and we'll offer you a discount or have a look at the Sponge at Work page on our website for more gift ideas.
|
Cake for your thoughts!



Your feedback is still coming in for our new website and we're continuing to reward our pick of the comments with a box of Baby Sponge cakes.




This week, Michelle Jenkins bags the box of Babies... "Oh thank you very much for the Sponge Friday page on the website. It's great to see what's coming up, but also I think you had me in mind for my Birthday in March.


The weekend before you have the coffee cake and then the weekend after my birthday the baby sponges (my favourites). What more can a girl ask for! "


Thanks, Michelle for taking the time to tell us what you think. Enjoy the Baby Sponge cakes!




Click here to read all the comments. Email your feedback to [email protected] and we'll reward the best with a box of Baby Sponge cakes!




|


Email:

[email protected]

for birthday shoutouts! Here are this week's: The lovely Quintassential on Twitter celebrates his birthday on Friday! As well as: Ann Clark, Hazel Rea, Caroline Clark, Lynne McEvoy, Jacques Lachetta, Amanda Rock, Alanna Stokes, Samantha Wood, Chloe Nicholas, Alun James and Jacob Thorne. Hope you all have great days! x


|