Have a Victoria SPONGE Friday!! Great for last minute Mother's Day gifts + Competitions galore!
The Victoria Sponge - Quintessential Queen, the nation's favourite. Light fluffy vanilla sponge, sandwiched together with the finest Bri...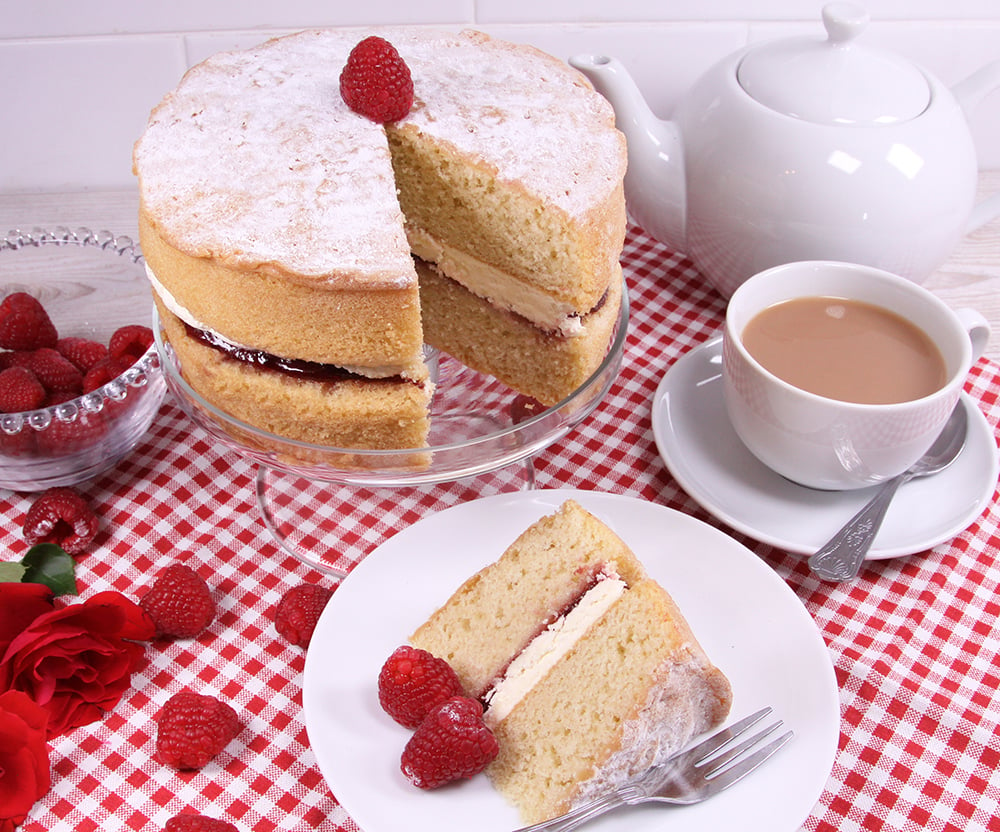 The Victoria Sponge - Quintessential Queen, the nation's favourite. Light fluffy vanilla sponge, sandwiched together with the finest British strawberry jam and naturally flavoured vanilla butter cream! Great for a last minute Mother's Day gift!!


"I bought one and told my family I made it myself - they didnt believe me!! It was deeelicious!! Best Victoria ever! I always enjoy a slice and pot of tea when I visit Byfords. Fab! x." Sally from Norwich.

Use code: SPONGEFRIDAY at the checkout by 2pm Thursday 15th March to get your hands on a 7" for £9.99 and a £10" for £16.99!



Last minute Mother's Day gifts!


Still haven't found a Mother's Day gift? Why not buy your favourite lady some Sponge! Order by 2pm Thurs 15th for next day delivery this Friday + we've also knocked £1 off card & gift wrap so your Sponge will be under wraps until Sunday!

Baby Sponge gift boxes, or choose from 7" and 10" Sponge cakes (even this week's Victoria SPONGE Friday!) and personalise with cards, champagne, edible sparkles, or your own message on a topping to make your Sponge really special, all at: www.sponge.co.uk

Sponge Moment winner!

Amy from Sheffield won this week's Sponge Friday for sending in pics of her student buddies enjoying some Sponge with a pint or two! Perfect combination, thanks Amy! x

Weekly Sponge Moment Competition


Every week, we reward the best Sponge Moment pic with a SPONGE Friday! All you have to do for a chance to win is send in a pic of you, your friends or family enjoying Sponge, it's that simple! Send in Sponge Moments to:

[email protected]

, Facebook or Twitter!



Got the luck of the Irish [Cream]?!


Our bakers have made four 7" Irish Cream Sponge cakes to give away in time for St. Patrick's Day this Saturday 17th March!


Anyone who orders Sponge between now and 2pm Thursday 15th March will be entered into a prize draw to win an Irish Cream! Winners will be announced on the Sponge website, Facebook and Twitter by 4:30pm this Thursday!



Win tea and Sponge!


Only four days left to enter our competition to win some lovely teapigs tea! Click here to view the prizes and enter the competition. Also, get a cheeky li'l 15% off at teapigs with code: SPONGETP12

Win Sponge! You can also win scrummy Sponge with teapigs. We're giving away: 3 month Subscription, 7" & 10" whole cakes & a Box of Babies, so head over to the teapigs website to enter! Closing date for both competitions is midnight, Sunday 18th March, so good luck!


If your company would like to run a Sponge competition, drop us a line at:

[email protected]

and we'll send you a Sponge if it goes ahead!



New Sponge Special!!


Avid Sponge fans would have spotted that we have recently been testing a new Neapolitan Sponge!


We've almost perfected this new flavour, so look out for it on the Sponge website by the end of the month!



Sponge Birthday shoutouts!


Happy Birthday to Sponge Family Members: Emma Wallace, Claire Walker and Mia Horn. Hope you all have great days! x


Not to mention our very own Mark Joll who celebrated his birthday last week (kept that one quiet, Mark!;) We won't mention his age, but here's a pic of the Sponge, Sue baked especially..!