Get Well Soon Cake Cards
A lovely letterbox gift for someone feeling under the weather
Wintertime is always rife with bugs going around. And this year is no exception. We all know what it's like to feel under the weather, we just want to snuggle up, eat some comfort food and keep warm. And generally, we just mope around feeling sorry for ourselves.
So, when you know someone is feeling under the weather, it's nice to send them a little pick me up to make them smile. And to let them know you're thinking about them while they recover.
You don't want to send them anything too big, because it might be too much with the way they are feeling. But a letterbox gift is just about the right size to show them that you care.
Our cake cards are an ideal gift to send to a friend or loved one when they aren't feeling well. You can send a couple of slices of delicious cake inside a fabulous card and you can add a few extras to create a great gift. We have a great range of Get Well Soon card designs to choose from as well: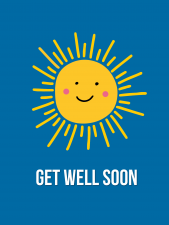 Get Well Soon Blue Cake Card - Someone feeling blue? Send them our smiling sun get well soon Cake Card to brighten their day. Make them smile when they are feeling under the weather with this wonderful card. This cute get well soon card is ideal to send to him or to her, featuring a smiling sun on a blue background and the message "Get well soon".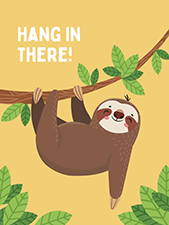 Hang In There Sloth - If you want to send a card to cheer them up, why not send them this cute sloth card with some cake inside? Our Hang in there sloth card features a cute illustrated sloth hanging on a vine with illustrated leaves and the message 'Hang in there!' on a yellow background.
Koala Love and Hugs - Send an adorable animal card for any occasion with our Koala love and hugs card. It features a cute big Koala cuddling a baby Koala with illustrated flowers and butterflies, along with the message 'Love & Hugs' on a pale pink background.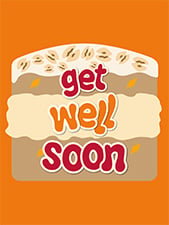 Get Well Sponge Cake Card - Send get well soon wishes with our fun get well soon card. It features an illustrated sponge cake with the message "get well soon" on an orange background.
Sending Lots of Love Bear - Whether you miss someone, it's a special occasion, or you want to just let someone know you care, we have a fabulous card you can send them. This Sending Lots of Love Bear features an adorable illustrated bear with a flower crown and the message 'Sending lots of love' on a pale orange background.
These are just a few of the lovely get well soon cards we have available, there are plenty of others to choose from, we are sure you'll find one to make them smile.
Our Cake Cards can be delivered across the UK and posted straight through the letterbox. Depending on the delivery date you have selected, orders will usually be despatched two days prior to your delivery date.
You can pre-order for a future date / special occasion. We always recommend selecting a delivery date a day earlier than intended, just in case of any unforeseen issues.
All cake card orders are posted out on Royal Mail 48 hour tracked service. We will provide a tracking number so you can see where your order has got to. Royal Mail aim to deliver 96% of tracked items on time, including Saturdays, although this is not a guaranteed service.
Once you have placed your order, we will keep you updated via email with a confirmation of your purchase, delivery details, and when your card is on its way.