Anniversary Photo Cakes
Celebrate your special day of the year with a Photo Cake
Anniversaries are such special occasions; they are a day where we celebrate a momentous day with our partner. Whether it's the anniversary of the day you met, when you first started your relationship or your wedding anniversary, there is a lot to celebrate! And a celebration is complete without a cake!
It's important to make sure you have the right cake to suit the occasion, making sure the flavour is right, but also presentation is key. What could be better for an anniversary for two people in love than with a photo cake to mark the occasion.
Photo Cakes are just as the name describes; they are edible photos that sit on top of a delicious cake! Our Photo cakes are hand-made, and placing your photo cake order online is easy with our handy Photo cake topper design tool.
How are the photos for Photo Cakes made?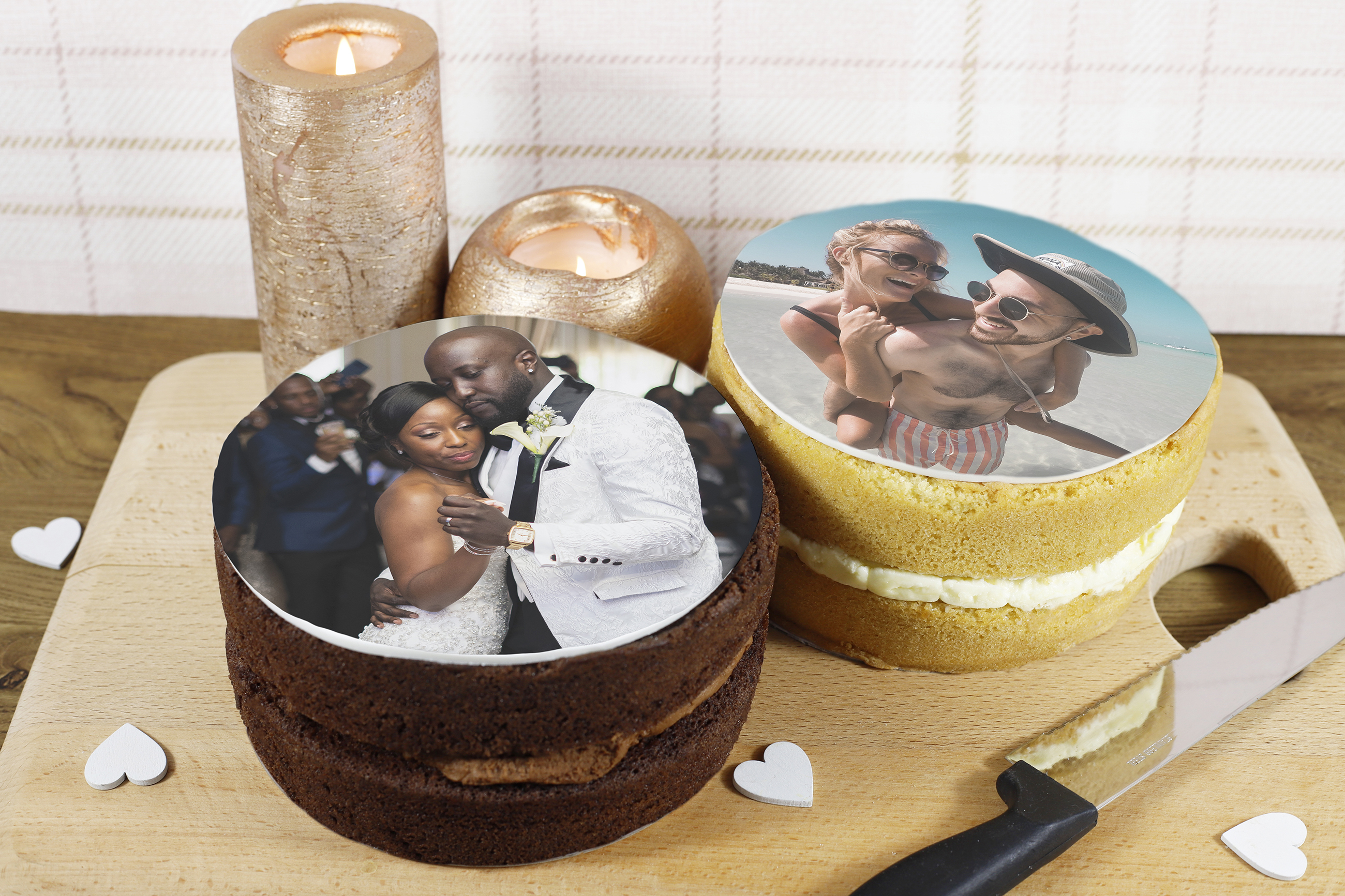 It's really simple, whether you choose one of our ready-made designs and customise it, or choose to create your own photo cake by uploading an image to go on top of the cake. Once we have received your order your cake will be lovingly prepared and made by hand, then we print your photo out with edible ink on top edible paper. Our small team of bakers will carefully cut out your topper and place it on an icing disc which is then carefully attached to the top of your chosen cake flavour with buttercream.
What cakes are available?
We have two yummy sponge cake flavours to choose from, and both flavours are available in two sizes; a sponge for 8 or sponge for 16 people:
Victoria Sponge Photo Cake – A delicious classic flavour everyone will love. Free range eggs, flour, and natural vanilla flavouring creates our award-winning light and fluffy Victoria Sponge. The buttercream is made from English butter and natural vanilla flavouring which is complemented perfectly with quality raspberry jam.
Chocolate Photo Cake – This sponge cake is perfect for any Chocoholic! Luxurious and rich chocolate, flour, and free range eggs create a moist and indulgent Sponge. English butter and chocolate create the ultimate chocolate buttercream and milk chocolate flakes decorate the top.
What designs are available?
We have lots of designs available to choose from, and they're easy to find. Once you've selected your cake flavour and size, you'll be taken to our photo cake topper page where you'll see lots of ready-made photo cake topper designs. On the right-hand side of the screen just above the designs, you'll see a drop-down menu where you can filter them by category. For anniversary photo cake designs just select the anniversary option from the drop-down menu. Here are some of the anniversary designs available: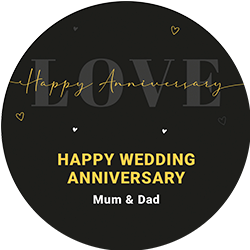 Happy Anniversary Love Photo Cake Topper – This simple but beautiful design is on a black background with the word Love in a grey shade in big bold font. Over the top of the word love is the message "Happy Anniversary" in calligraphy style gold font, and there are white and gold love hearts around.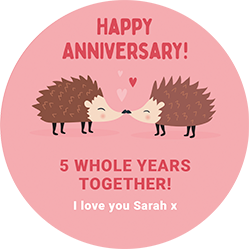 Happy Anniversary Hedgehogs Photo Cake Topper – An adorable edible cake topper perfect for any couple. It features two cute illustrated hedgehogs with their noses touching and love hearts between them with the message "Happy Anniversary!" on a pink background.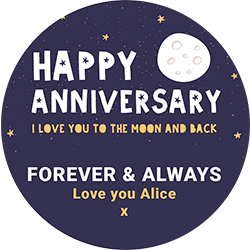 Moon and Back Anniversary Photo Cake Topper – A cute topper to tell someone you love how much they mean to you. The photo cake topper features an illustrated moon and stars with the message "Happy Anniversary. Love you to the moon and back" on a dark blue background.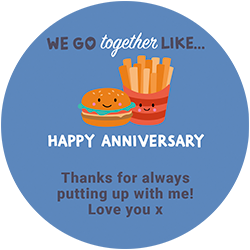 Burger and Fries Anniversary Photo Cake Topper – This quirky design is sure to make your loved one's smile. An illustrated burger next to an illustrated box of French fries with smiley faces and the message "We go together like..." above and the words "Happy Anniversary" underneath, all on a blue background.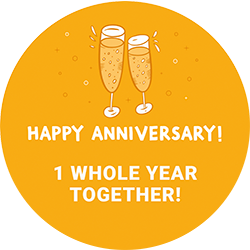 Champagne Glasses Anniversary Photo Cake Topper – A toast to the happy couple! On this photo cake topper, you will find two illustrated champagne glasses 'clinking' with bubbles around them and the message "Happy Anniversary!" on a yellow background.
These are just a few of the fabulous designs we have created, there are lots more to choose from. Or if you want to create a customised photo cake topper, select the topper which says 'Your design here' from the options. You can personalise all of our photo cake toppers by adding text including names and numbers, and you can also add your own photos, either to create a whole topper by yourself or just as an extra special touch to one of our ready-made designs.
All of our Photo cakes are available for delivery across the UK, so if you're looking for a photo cake near you, just order one online! It's the simple way to get a customised photo cake for any celebration.
Our sponge cakes are packaged in secure and robust packaging. The inner box is wrapped around the cake to securely hold it in place so the sides and top do not get damaged in transit. The box also includes a handy cutting guide! It is then put in a strong cardboard outer box for extra protection so it will arrive to you safely.