Rainbow Cake is back!
Brighten up your party with a Rainbow Cake
We've heard you! Our rainbow cake is officially back! We know that a lot of you were disappointed when we temporarily paused production of our rainbow cake, and yes, it's been a bit of a waiting game but it is back, back, back again! We are so excited that this wonderful vibrant cake will be delivered to your homes all over the UK.
If you're new to Sponge, or just happened to miss our rainbow cake here's some more information about this fabulous cake: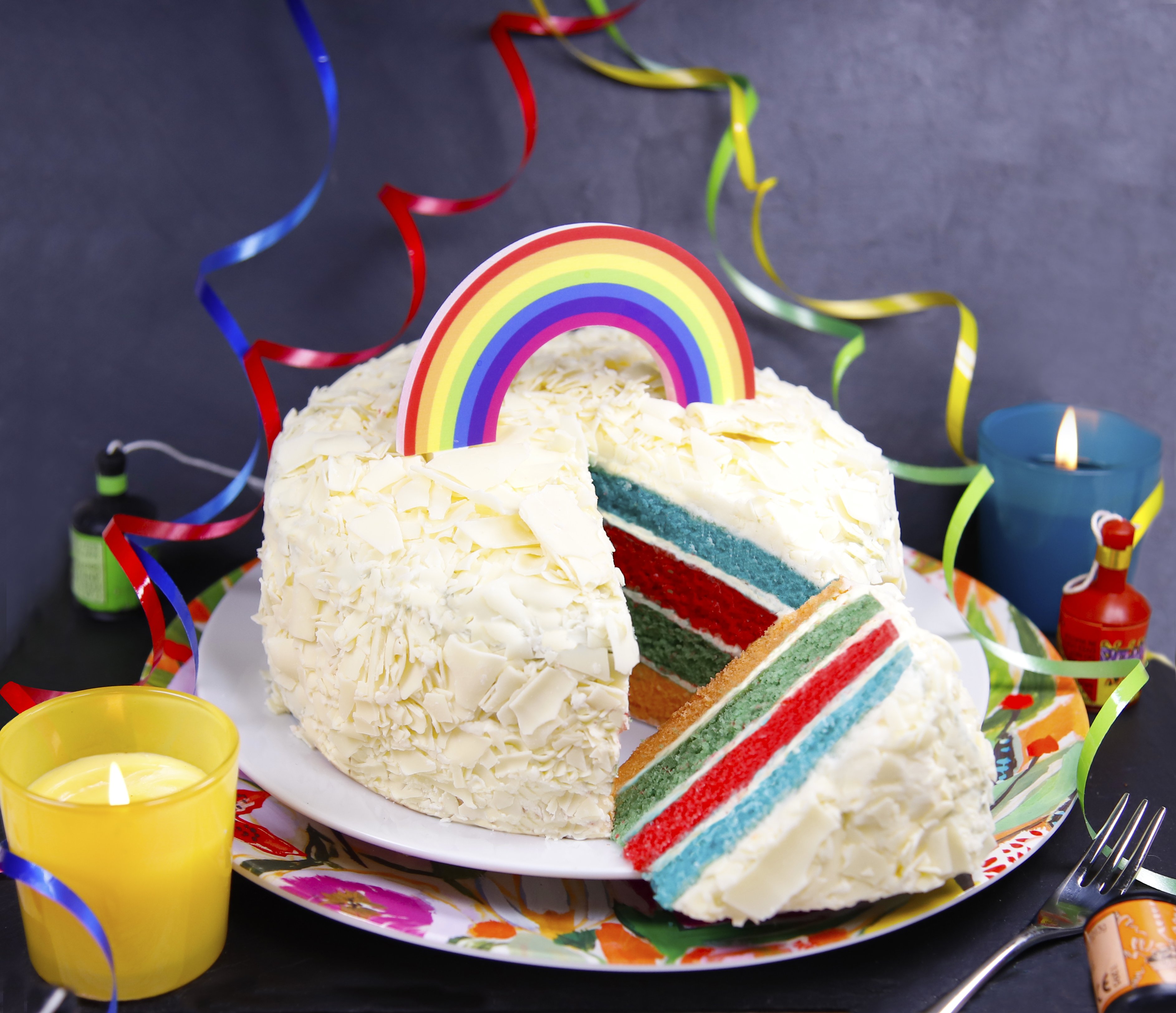 Our colourful rainbow cake is made up of four layers of light and fluffy vanilla sponge with three layers of deliciously sweet vanilla buttercream sandwiched between. Vanilla buttercream also covers the entire cake and it is then coated very generously in a cloud of white chocolate flakes. The perfect rainbow birthday cake for any age, or a great cake to cheer up a loved one. Due to the number of layers, buttercream and coating it is very generous and will easily feed more than 8 people! Comes with a rainbow topper for decoration.
All of our cakes are sent out in secure and robust packaging to ensure your cake is protected during its transportation from our bakery to your door. The inner box is wrapped around the cake to securely hold it in place so the sides and top do not get damaged in transit. The box also includes a handy cutting guide. It is then put in a strong cardboard outer box for extra protection so it will arrive at your home safely.
Our Rainbow cake truly is a fantastic celebration cake, with the added element of surprise. As the cake is covered in buttercream and white chocolate flakes you get the real experience when you cut into the cake and pull out the first wedge to reveal the beautiful rainbow layers. It will be a real wow factor as the centerpiece at any party.
This cake is perfect for any birthday celebration, whether it's going to be a kid's rainbow birthday cake or a rainbow birthday cake for an adult, everyone is going to love this colourful and delicious cake.
To make it even more special there are lots of extras you can add into the box to create a terrific birthday cake package to give to your loved one. We have a whole range of card designs to choose from, and a card for every occasion, so you can pop one in the box with a personalised message written on it by you in a font of your choice from our font options. There are other items to include as well such as drinks, candles, and balloons, we're sure you'll find everything you need to create the perfect cake package.
Whether you are sending a rainbow cake to a loved one or getting it delivered straight to your door, you'll be please to know that we offer rainbow cake delivery all over the UK. Left it to the last minute to find a cake? Don't worry! We offer next day delivery (subject to availability) when you place your order by 2pm.