Hand-Made Cakes
Do you think that Cakes better when they are handmade? We certainly do!
There is nothing better than a hand-made cake. We pride ourselves in the fact that all of our cakes are lovingly hand-made in our bakery in Holt. From our Chocolate cake to our Red Velvet cake, our bakers have worked hard perfecting every recipe by hand, especially our Gluten Free and Vegan options. We think you can definitely taste the love and care that goes in to baking a delicious sponge cake by hand - which can't be replicated by machines or technology.
Of course machines can help and we have to use pretty big mixing bowls and ovens with the amount of cakes we have to make but we would never hand over the delicate process of making cakes completely to technology.
Our Cake Cards cake slices are also handmade with extreme care and dedication. We hand-make these as loaf cake versions of our normal round whole sponges then slice them to create the perfect size slice to fit in our Cake Cards which can pop straight through your letterbox.
Not only are our cakes all hand-made, but we also package out products by hand with upmost care to ensure they are handled safely and with care. We use robust packaging to make sure that your Sponge arrives to you safely via our courier delivery service.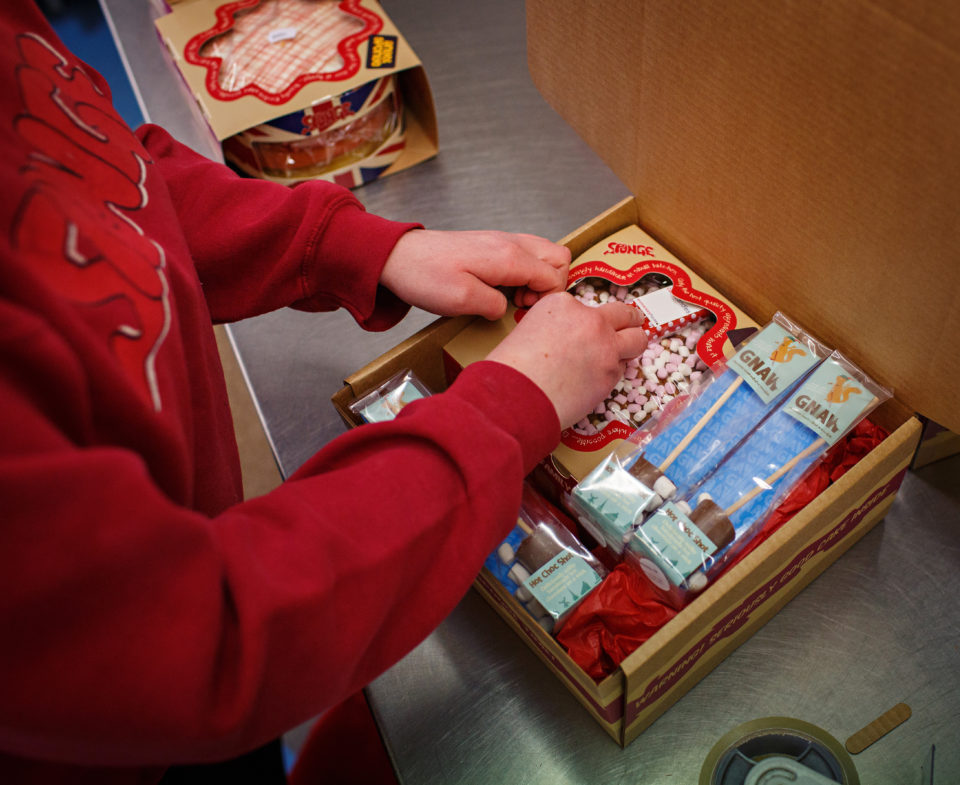 Our cakes are made perfectly imperfectly, as no hand-made cake can ever look completely perfect but that is the charm of them! We do have vigorous standards on taste, look and quality though so you can be assured you will get a top notch hand-made cake delivered.
All ingredients are hand measured to make sure they are as precise as can be and then measured in to tins before going in the ovens. Once out of the ovens and cooled, our delicious handmade buttercream is carefully applied to the centre of the two sponge cakes creating the perfect sponge sandwich. That is the secret to our generous sponges - we bake two separate sponge cake layers rather than baking one and cutting it in half - this gives our cakes a great height and depth and created the perfect sliced wedge.

All the toppings for our cakes are also applied by hand, such as drizzling the chocolate over the Chocolate Orange Sponge and applying chocolate flakes to decorate our Chocolate Cake.
Process of hand-making our Sponges:
1. Firstly, we hand crack all our eggs very carefully.
2. Measure out the flour, sugar and margarine mix - following exact figures.
3. Measure out ingredients go in a mixing bowl and mixed until perfect consistency.
4. Baking tins are greased ready for the Sponge mix.
5. Mixture is added to tins, all measured accurately ready to go in to the oven.
6. Cake tins are put on rolling baking trays.
7. Cake tins are then rolled in to the oven to bake!
8. Once ready, out of the oven they come! They are cooled before our delicious buttercream is added to the centre and also the top on some flavours.
9. Buttercream for the Sponges is measured by hand and mixed together.
10. Buttercream is sandwiched between the top and bottom which is accurately measured.
11. Toppings for cakes are all different, but they are all added by hand carefully.
12. Once toppings have set; the cakes are packaged up ready to be sent out for delivery to be posted to your house!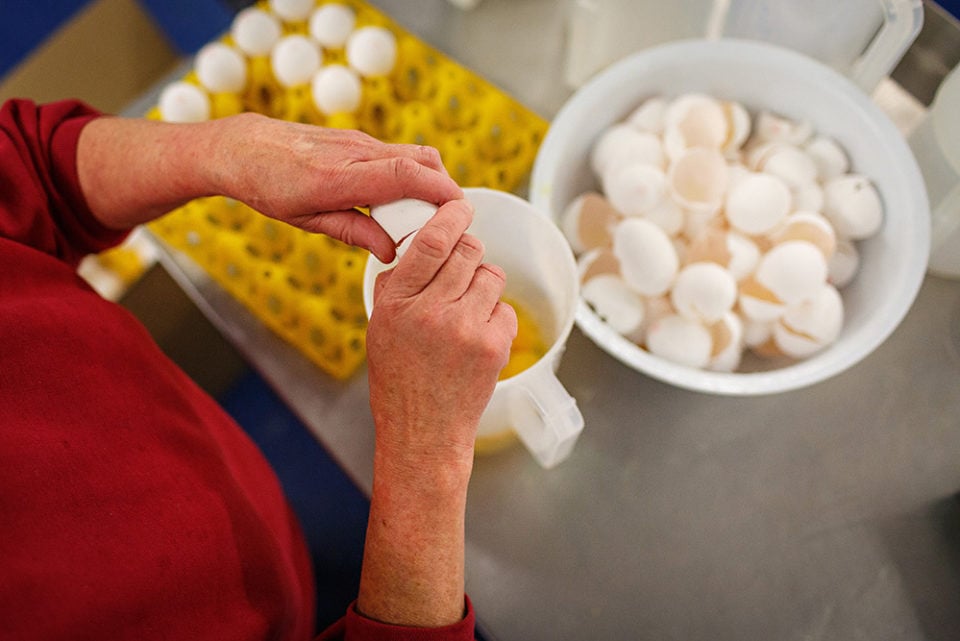 To personalise your sponge cake you can upload your own photo to have printed out and added to the top of your sponge, or you can select one of our pre-made Cake Toppers. These are printed, cut out, applied to icing, and put on top all by hand. All ensuring that the cake toppers are applied correctly and look just right.
Even our Baby Sponges are hand-made, making sure they are done to perfection. They are cut in half, filled, and topped all by hand. We think of them as a better, more unique version of cupcakes!
We have loads of flavours to choose from including Chocolate, Carrot, Sticky Toffee, Red Velvet and much more.
Our brand-new limited-edition Gin and Tonic Cake is another masterpiece we have created and perfectly hand-made. It has been a difficult one to crack, but our hard work has definitely paid off!
Don't have time to bake for a party or celebration? Then our hand-made cakes will be the perfect solution for this, as they do not look like your typical bought cakes. They will fit right in with any homemade food. Really show someone how much you care about them and make their day with our yummy homely hand-made cake.
If you enjoy delicious hand-made cakes then why not join our Sponge Club? Get free delivery on all orders as well as many other perks, discounts and exclusive products.