Try all the flavours SPONGE Friday: 8 Baby Sponge £9.99!
Try all the flavours with this week's SPONGE Friday! Hosting a Wimbledon party this weekend to cheer on our favourite Murray Mint or dusti...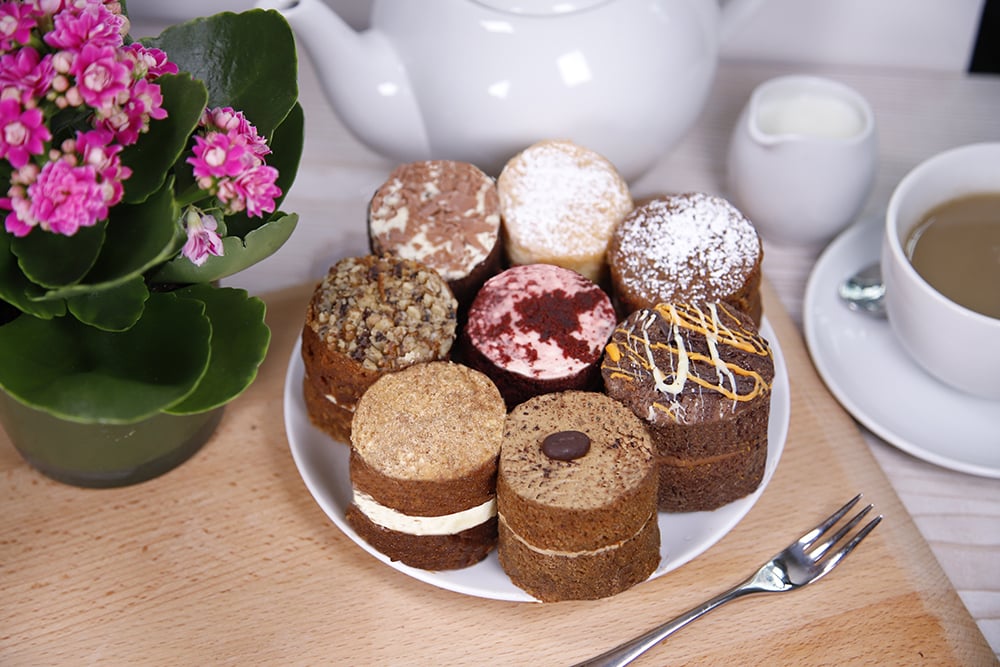 Try all the flavours with this week's SPONGE Friday!
Hosting a Wimbledon party this weekend to cheer on our favourite Murray Mint or dusting off the BBQ to enjoy the sunshine? Get your hands on this week's SPONGE Friday to celebrate the weekend in style! All Traditional (Victoria, Chocolate, Coffee and Lemon) & Quirky (Apple Crumble, Carrot, Bakewell and Chocolate Orange) flavours are on offer...
Box of 8 Baby Sponge cakes: Cutest gift in the world! Traditional and Quirky flavours, gift wrapped with a personalised card, all for just £9.99 instead of £17.99, saving a whopping £8!!
Super Sharing Sponge: The ultimate party cake! Sixteen giant Wedges of Traditional & Quirky flavours in a 10" Sponge cake, £21.98 instead of £24.99, less than £1.40 a slice!
Order SPONGE Fridays by 2pm Thursday 4th July to be munching on delicious Sponge on Friday 5th!
Life Saving Baby Sponge!
Hannah Clay emailed in this fantastic Sponge Moment!!
"Hello to the lovely people at Sponge, this is our Critical Care Paramedic, Ben, enjoying a quick Sponge break before the East Anglian Air Ambulance is called on its next life-saving next mission… I think you'll agree, it's well deserved! Best wishes, Hannah."
Excellent Sponge Moment, Hannah! Send our regards to Ben and the rest of the East Anglian Air Ambulance paramedics for their sterling work and enjoy your Baby SPONGE Friday!!
Win a SPONGE Friday!
We give away a SPONGE Friday each week to the best Sponge Moment. Send pics to [email protected], post to Twitter, Facebook or Instagram for a chance to win!
Summer's finally arrived..!
...And it's in the form of our new special, Coconut and Pineapple Sponge!!
Long awaited (much like the British summer!), but it's here and the perfect refreshing accompaniment to the hot weather we're being promised next week!
Crushed pineapple laces through delightfully moist Sponge, sandwiched together with lashings of pineapple and coconut infused butter cream and topped with flakes of coconut, yum!
Click here to order yours today from www.sponge.co.uk
Hurrah for the Cheeky Weekend!
We know all our lovely Sponge customers love a good deal, so we've brought back our Cheeky Weekend offer! Order on Saturday or Sunday this weekend for Buy One Get One Half Price on all 7" Sponge cakes. Use code CHEEKYWEEKEND at the Checkout to save a whopping £6! Click here to shop 7" Sponge cakes.
Ps. You can always freeze our Sponge cakes, so need to lose sleep over how you're going to eat 2 in 10 days..! ;)
Sponge crumbies!

School's Out. Why not say thank you to those hard working teachers the Sponge way! Click here for some ideas and offers on Sponge gifts not to mention guaranteed extra credit...

Give One Get One Free! Haven't enjoyed our Give One Get One Free offer yet? Click here to sign up to Join the Sponge Family and take advantage!








Happy Birthday!
Julie Curr, Karen Fittier, Solange Thomas, Maggie Chambers, Samantha Pearce, Amanda Adaway, John Ireland, Stuart Morris, Victoria Campbell, Hannah McIlvennie, Mark Young and Caroline Bryan. Hope you all have great days! x Email: [email protected] for birthday shoutouts!
|
Follow us!