Super Sharing & Baby SPONGE Friday! Great for Christmas gifts & parties!
Christmas Gifts & Parties covered this SPONGE Friday! The Super Sharing and Baby SPONGE Friday is back! Great for fussy eaters, office part...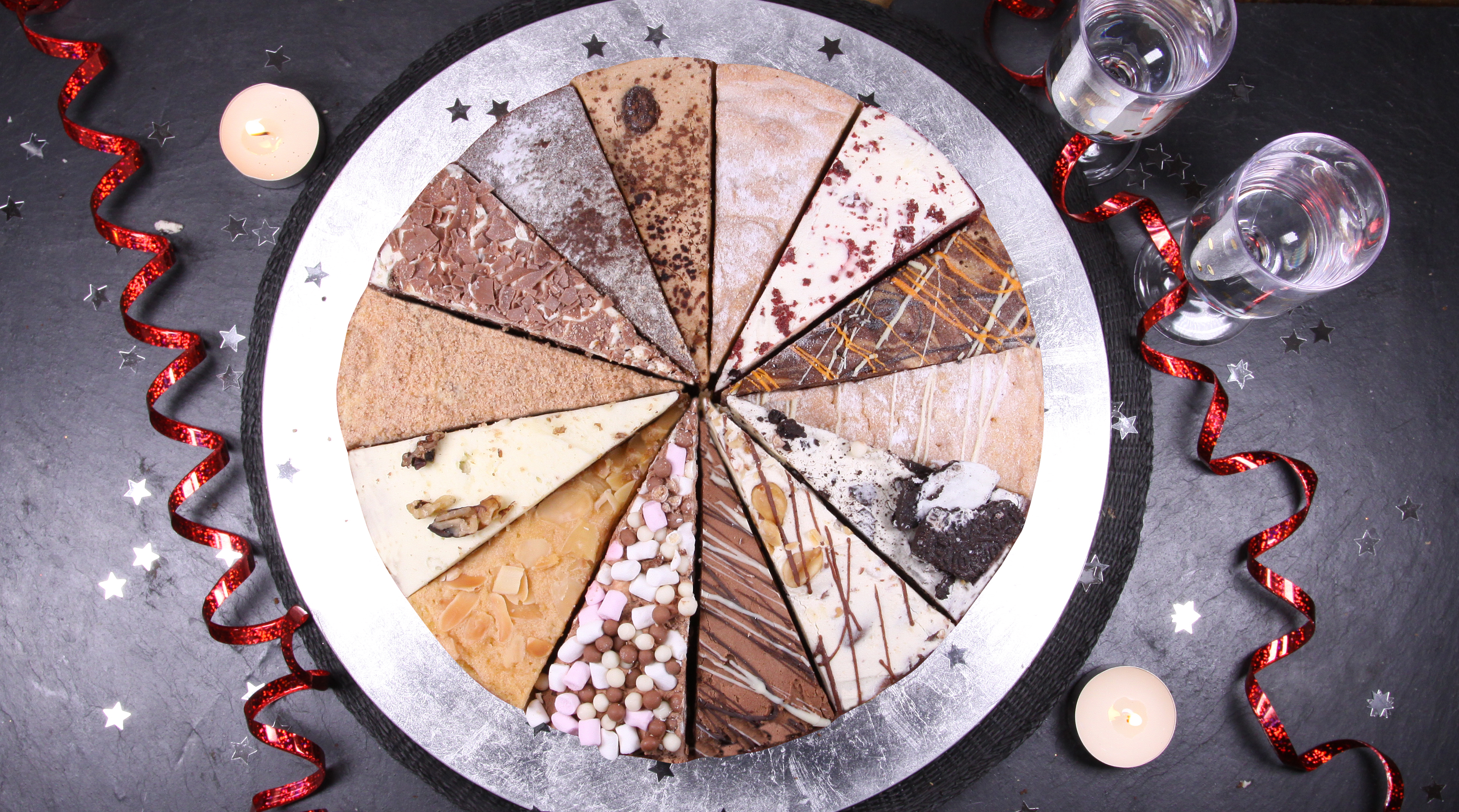 Christmas Gifts & Parties covered this SPONGE Friday!
The Super Sharing and Baby SPONGE Friday is back! Great for fussy eaters, office parties and last minute gifts for workmates, try all Traditional (Victoria, Chocolate, Coffee and Lemon) and Quirky (Apple Crumble, Carrot, Bakewell and Chocolate Orange) flavours in one!
Box of 8 Baby Sponge cakes: The cutest gift in the world! All Traditional and Quirky flavours, gift wrapped and with a personalised gift card, all for just £9.99 instead of £17.99, saving £8!!
Super Sharing Sponge: The ultimate Christmas party cake! Sixteen giant Wedges of Traditional and Quirky flavours in one 10" Sponge cake, just £21.98 this week instead of £24.99, that's less than £1.40 a slice!
Order this week's SPONGE Friday by 2pm Thursday 13th December for delivery Friday 14th.
Ordering SPONGE Fridays
We now have a page where you can pre-order SPONGE Fridays in advance, so no need to type in the 'SPONGEFRIDAY' code! Click here to visit the SPONGE Friday page and see when your favourite flavour is coming up!
|
£1 a Baby Sponge today only!
We've been running 24 hour deals daily since last week in our 12 Days of SPONGE Christmas promotion.
Day 6, Wednesday 12th December: Baby Sponge cakes £1 each in all Party Boxes!
Ideal for stocking fillers, Christmas parties & gifts, get Baby Sponge cakes for £1 each when you order any Baby Sponge Party Box! Box of 16, any flavours are just £16, boxes of 32 are £32, saving £8!!
No code required. The offer runs until midnight tonight, so be quick! Click here to Shop Baby Sponge Party Boxes now!
|
Christmas Market Moment

Sponge Moment at the Lincoln Christmas Market over the weekend…


"The Pallant family enjoying Sponge after having them as their wedding cakes!"


Great pic, thanks for letting Amy take the snap! Enjoy your SPONGE Friday!

Win a SPONGE Friday!
We give away a SPONGE Friday every week to the best Sponge Moment. For a chance to win, send in your pics to [email protected], or post to Twitter or Facebook. We pick the best one for the SPONGE Friday email, you become famous and bag a free cake! Good luck! :)
|
SPONGE is for Giving this Christmas!
If you are not yet a Sponge Family Member, click here to join up!
As well as receiving weekly offers, news and competitions, take advantage of the Give One Get One Free offer!
Just provide a few details and enjoy a thank you from us by sending somebody special a lovely 7" Sponge and we will send one to you with no charge.
Perfect for a Christmas gifts! x
|
SPONGE Calendar!
If you want a little piece of SPONGE in your kitchen all year round, why not add our new calendar to your next order!
At just £2.99, they make great gifts + what a fab way to organise birthdays and cake deliveries!
Available to add onto any Sponge from your basket, click here to Shop Sponge.
|
Last ordering dates for Christmas...



If you want to enjoy Sponge over the holidays or you want to send Spongey gifts to your loved ones, order Sponge cakes, Gift Vouchers and Subscriptions online up to 2pm Friday 21st December for delivery Christmas Eve (Monday 24th).




However, because of demand, to absolutely guarantee delivery before Christmas, we are advising customers to order by 2pm on Thursday 20th, for delivery Friday 21st December. As always, we need 24 hours notice for Personalised Sponge cakes, so please add on an extra day for these.




Email us at: [email protected] or give us a call on: 01263 711033 for more information.




|


Email:

[email protected]

for birthday shoutouts! Here are this week's: Hazel Cuene-Grandidier, Brid Evans, Jo Walton, Bushra Sultan, Clare Briscoe, Natalie Durrant, Katrina Walsh, Nicola Abbott, Alex Anstey, Robert Bradford, Lisa Dexter, Carole Price, Debbie Grinstead, Jenny Swann, Will Sides, Amy Hulyer and Jodie Taylor. Hope you all have great days! x


|
Follow us for exclusive Christmas offers!
Follow Sponge Cakes on Twitter