---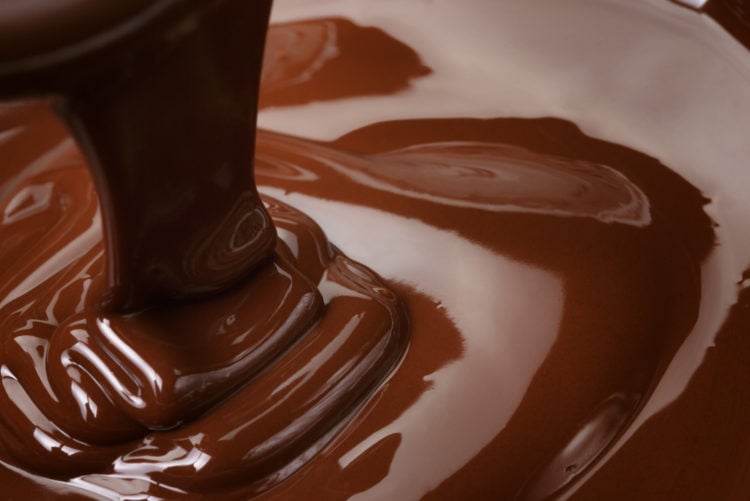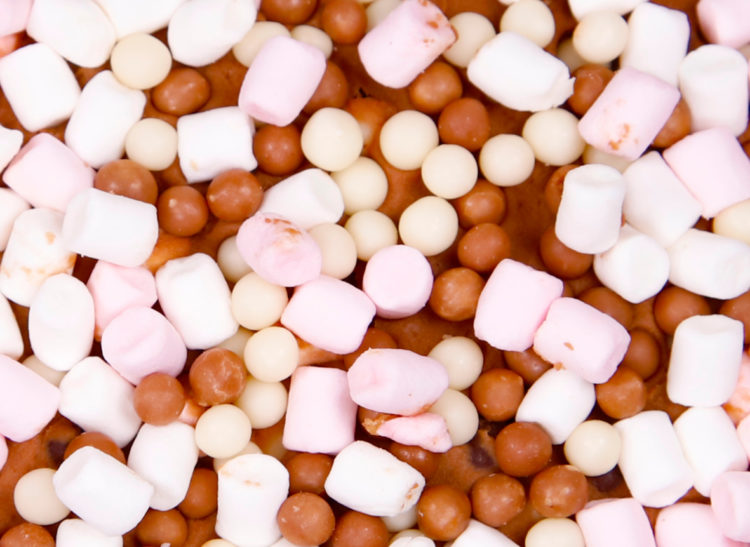 What's in the mix?
Naturally flavoured vanilla sponge and delicious chocolate sponge are swirled together creating an indulgent marbled sponge. English butter and chocolate create a smooth buttercream, with marshmallows and crispy chocolate pearls on top.
Sumptuous Buttercream
Our chocolate buttercream is wonderfully thick and creamy. Generously filled in the middle and on top.
---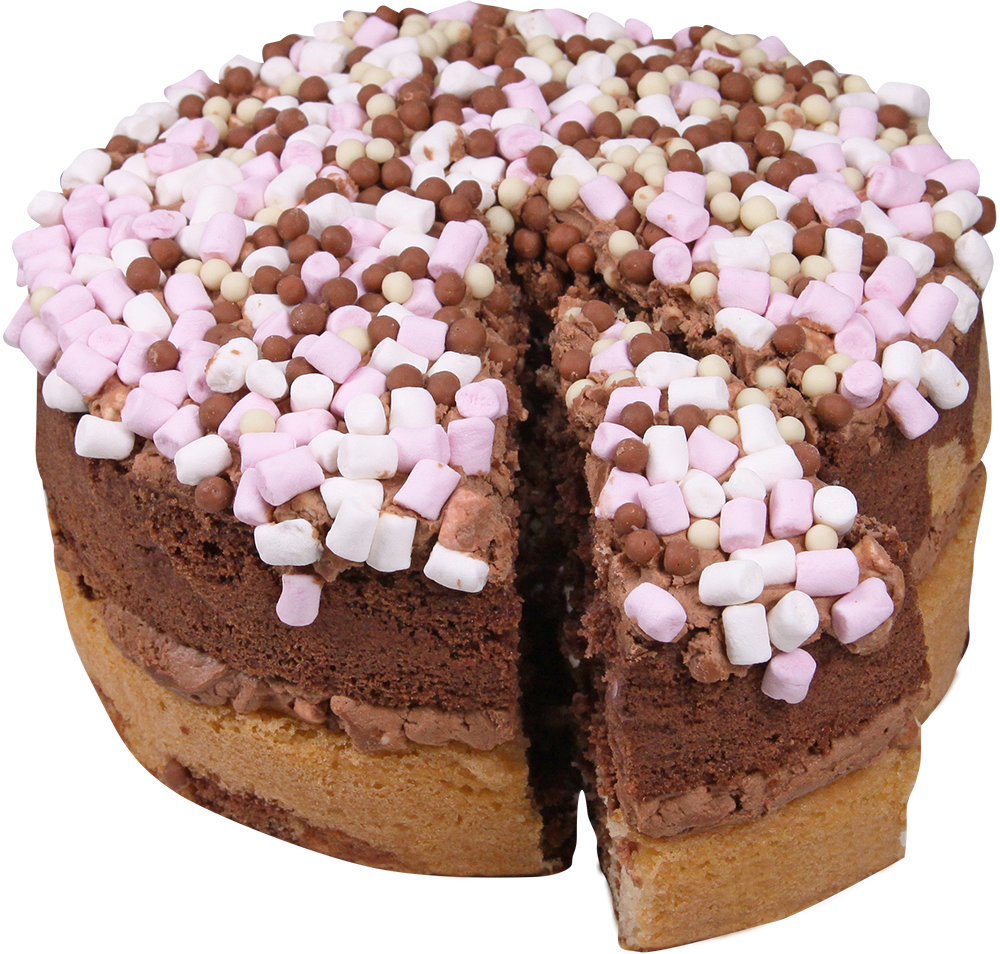 How do I look?
Our Rocky Road Cake is made with an indulgent marbled chocolate sponge, held together and topped off with a generous amount of chocolate buttercream and loaded with gooey marshmallows and milk chocolate and white crispy pearls.
STORAGE - Please store me in an air-tight container in a cosy spot - I don't like being kept in the fridge. Can be frozen for up to 6 months.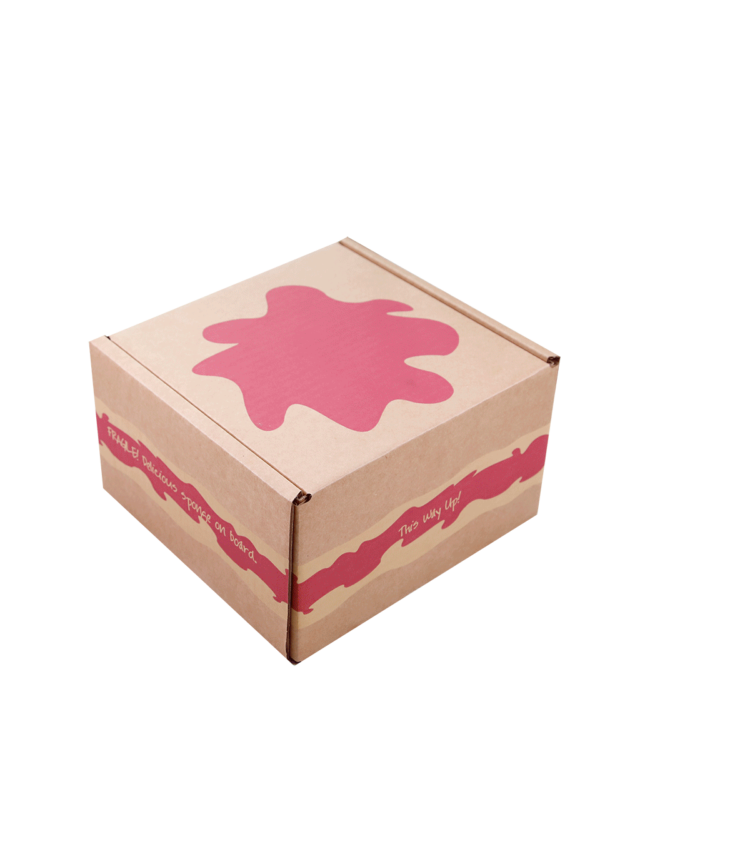 How do I arrive?
Our sponge cakes are packaged in secure and robust packaging. The inner box is wrapped around the cake to securely hold it in place so the sides and top do not get damaged in transit. The box also includes a handy cutting guide! It is then put in a strong cardboard outer box for extra protection so it will arrive to you safely.
| Product | Serves | Pack Weight | Cake Diameter | Cake Depth | Shelf Life from day of dispatch |
| --- | --- | --- | --- | --- | --- |
| Rocky Road for 8 | 8 | 1kg | 17.00cm | 8.00cm | 10 days |
| Rocky Road for 16 | 16 | 1.7kg | 24.00cm | 8.00cm | 10 days |
Reviews
Marie F - 11/05/2022

Rocky Road for 16

Seriously the best cake in the World. Rocky road was my sons choice for his birthday. Whilst I loved it, my favourite is still the Victoria and Bakewell! You will have never tasted cake as good as this and the fact it's delivered to your door in perfect condition is just genius! If you haven't tried Sponge from "Sponge" yet…. Dive in you will not be disappointed ❤️

Claire S - 27/04/2022

Rocky Road for 8

The cakes are always scrumpy with solid packaging meaning g they arrive undamaged. The cakes themselves are adored by all my friends as natural ingredients and therefore not too sweet.

Lucy H - 25/04/2022

Rocky Road for 16

So easy to order and reliable delivery service. Enjoyed by all!

Juliet B - 18/04/2022

Rocky Road for 8

Rockie Road cake was great but the filling was rock hard despite following instructions.

Ben F - 03/04/2022

Rocky Road for 8

We have ordered two cakes recently (we have had the rainbow one in the past) the millionaires one was brilliant the rocky road sponge was quite dry and we would not reorder

Emma C - 02/04/2022

Rocky Road for 8

Unfortunately I did not get to try the cake because it was a gift. It was for my sister in law and she loved it!!

Paula Y - 28/03/2022

Rocky Road for 8

Was a gift. They enjoyed it

Nadine E - 08/03/2022

Rocky Road for 8

Birthday girl choose this one and really liked it

Stephen T - 15/02/2022

Rocky Road for 16

Cook looked fantastic and tasted great. It ticked all the boxes.

Katrina Y - 03/02/2022

Rocky Road for 16

Rocky Road was perfect for our son's 21st Birthday. It looked fun, with an abundance of mini marshmallows on the top.

Judith W - 02/02/2022

Rocky Road for 8

Despite tasting and looking great, the cake was heavy and dry, so very disappointing. Something obviously amiss in either the ingredients ratio or the baking process. The buttercream was lovely and I liked the marshmallow and chocolate balls topping.

Geraldine K - 01/02/2022

Rocky Road for 8

As always was very delicious. I have bought many cakes from Sponge before and they are always delicious.

Margaret K - 01/02/2022

Rocky Road for 8

Was bought to appeal to young children which it did. Actually for my birthday, which is much much greater than the children's.

Zoe M - 01/02/2022

Rocky Road for 8

Great cake and not sickly

Gaynor F - 01/02/2022

Rocky Road for 8

Always excellent service and your cakes taste delicious.

Kayleigh s - 07/11/2021

Rocky Road for 8

I ordered this cake for my husband and children to boost their moral as I was un isolation after testing positive for Covid, They were so excited when it arrived and the comments I have had have been nothing but positive. My mother said it was one of the best cakes she has tried. I can not comment on the taste as sadly covid has stole my sense of smell and taste, but by the looks on everyone else's faces... it was amazing!!!

Kim A - 10/10/2021

Rocky Road for 8

Can't fault what you're doing from order to delivery, excellent all rounder ?

Pam H - 05/10/2021

Rocky Road for 8

Really tasty and looked just like the picture. Very pleased with it

Celena C - 26/09/2021

Rocky Road for 8

Bought as a birthday cake for my husband. It was so delicious that the cake couldn't even last a day! Every one seem to keep going for more. Moreish.

CINTHYA M - 25/09/2021

Rocky Road for 8

My boyfriend love it! It arrived at the perfect time, it was fresh and delicious.
Have you tried?
Rocky Road Cake
Sugar, margarine (palm oil, rapeseed oil, salt, emulsifier E475, flavouring, sunflower oil, colours (curcumin, annatto), free range eggs, self raising flour (wheat flour, raising agents (sodium bicarbonate, mono calcium phosphate), calcium carbonate, iron, niacin, thiamin), butter (milk), dark chocolate (cocoa mass, sugar, cocoa butter, milk powder, emulsifier (soya lecithin), vanilla flavour), milk and white crunchy beads (milk chocolate, white chocolate (sugar, cocoa, whole milk powder, cocoa mass, emulsifier soya lecithin), crisped cereals (rice flour, wheat flour, sugar, wheat malt), cocoa powder, marshmallows (glucose-fructose syrup, sugar, water, gelatin, anticaking agent (maize starch), colour (E162), flavouring), natural vanilla flavour.
ALLERGENS IN BOLD. Made in a bakery which handles gluten, eggs, nuts, milk, soya & sulphites.
All of our cakes are baked in the same kitchen and although we do all we can to minimise the risk of cross-contamination we cannot 100% guarantee this.
Contains Gluten

Contains Milk

Contains Eggs

Contains Soya