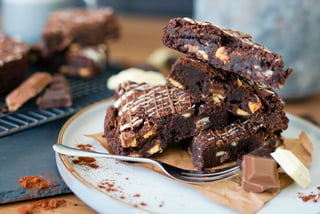 Brownies By Post
Find lots of delicious brownies by post in our online shop. We have a great range of mouth-watering brownies available for delivery.
Our postal brownies include the following flavours which are available to order with next day delivery available; triple chocolate brownie, white chocolate and raspberry brownie, salted caramel brownie, chocolate orange brownies, speculoos biscoff brownies, and hazelnut praline brownies. Most of our brownies are gluten free (with the exception of the speculoos biscoff brownies), and we also have a few vegan brownie options; vegan chocolate broownie, vegan speculoos biscoff brownie, and a vegan half and half brownie.
Looking for a twist? We have mini baby brownies by post available too.
Don't forget to keep an eye out for new flavours and additions to our postal brownie range.