Last Orders Christmas 2021
Calling last orders for Christmas deliveries!
Christmas is on Saturday! It's the 20th of December and the clock is ticking down with only 5 sleeps to go until Santa will be making his way across the globe and down our chimneys to drop off presents for all the good boys and girls this year.
With that in mind, if you are looking for a delicious treat to put out for Father Christmas this year, then we're sure he'll love some cake in place of a mince pie or cookies this year. Or if you are still after the perfect pudding to end your Christmas day, we have lots of delicious options to suit that too.
If you still need to send a Christmas card or letterbox gift to a loved one this year you still have time but need to be quick to get your orders in for our Cake Cards. We are calling last orders for our Cake Cards – tomorrow at 2pm is our cut off point for Christmas Cake Card delivery. The estimated delivery for cake cards sent out on the 21st of December is the 23rd of December, just in time for Christmas!
As for your cakes there is an extra day to get your orders in – you'll need to get your cake orders in by the 22d of December by 2pm for delivery on the 23rd December 2021. Two days before Christmas but our cakes stay fresh for 7-10 days (depending on the flavour). So, they will still be fresh and delicious on Christmas day – just keep them in their packaging until Christmas day, in a nice cosy spot so the icing is nice and soft.
There are still lots of cakes to choose from – we still have our Christmas Specials available too. Here are some of our favourite Christmas special cakes this year: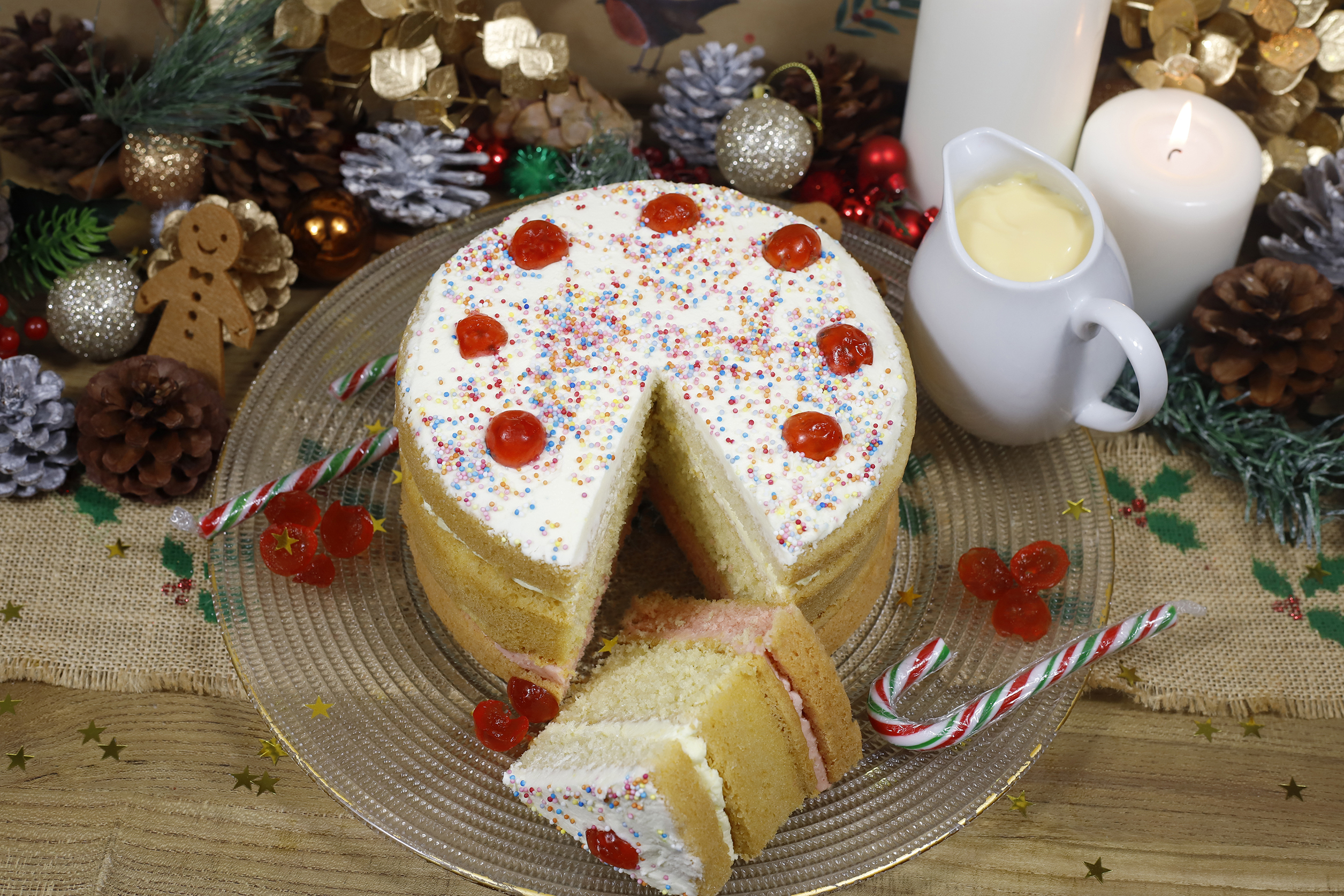 Trifle Cake - Based on a classic traditional Christmas dessert our Trifle Cake is all about the layers! Three marsala wine flavoured sponge layers, one pink, one yellow and one white. These are sandwiched together with three layers of buttercream, strawberry at the bottom, vanilla custard in the middle and vanilla on top! Just like a trifle the top is decorated with half cherries and multicoloured sprinkles. Perfect as the centrepiece for your Christmas table this year.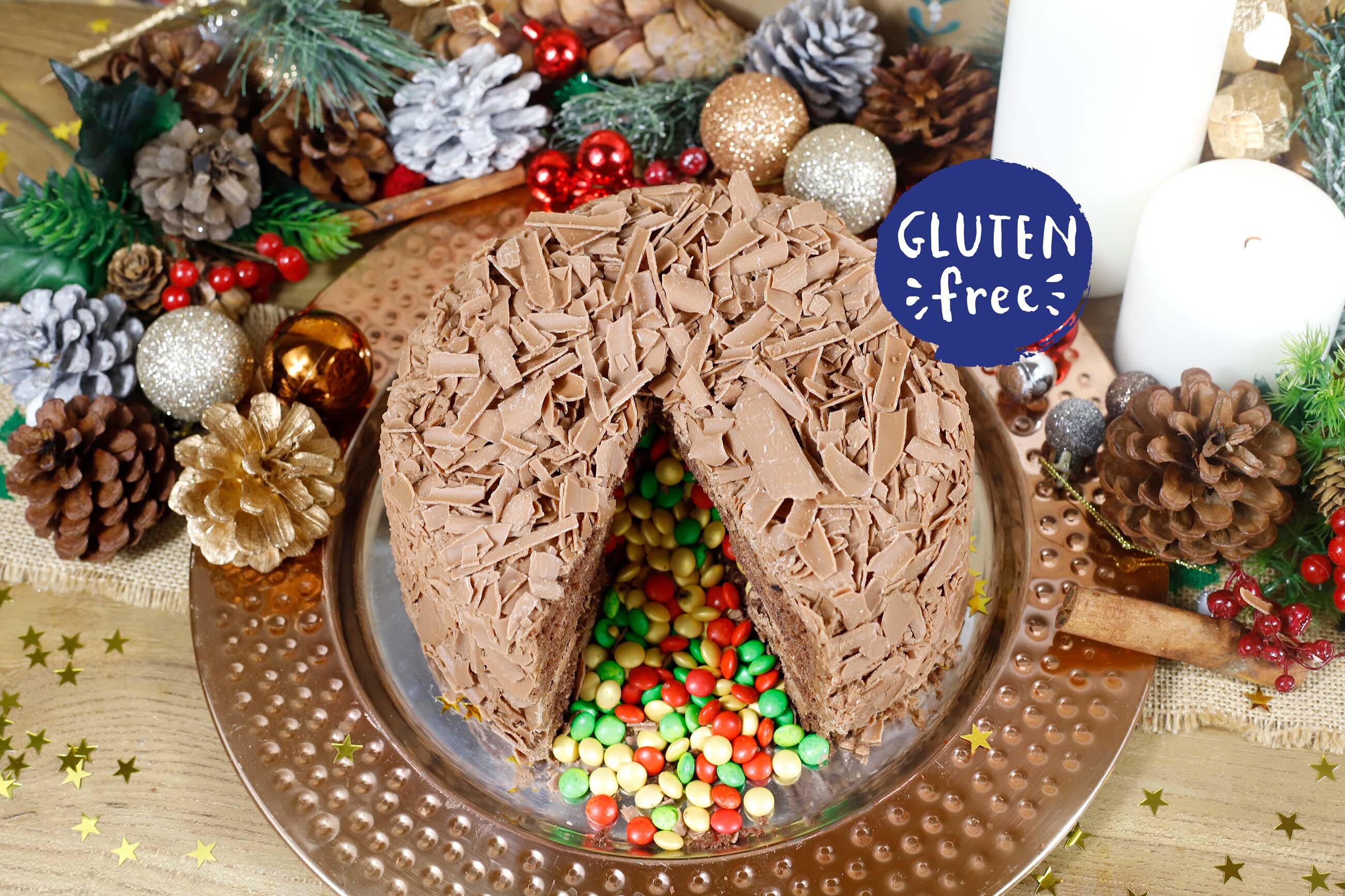 Christmas Pinata Cake - Get in the festive spirit with our limited edition Christmas Pinata Cake. A decadent four layered chocolate sponge cake, smothered in chocolate buttercream and chocolate flakes, with a festive surprise centre! Perfect for holiday celebrations with your family and friends and winter birthdays. And it's available as a gluten free cake too!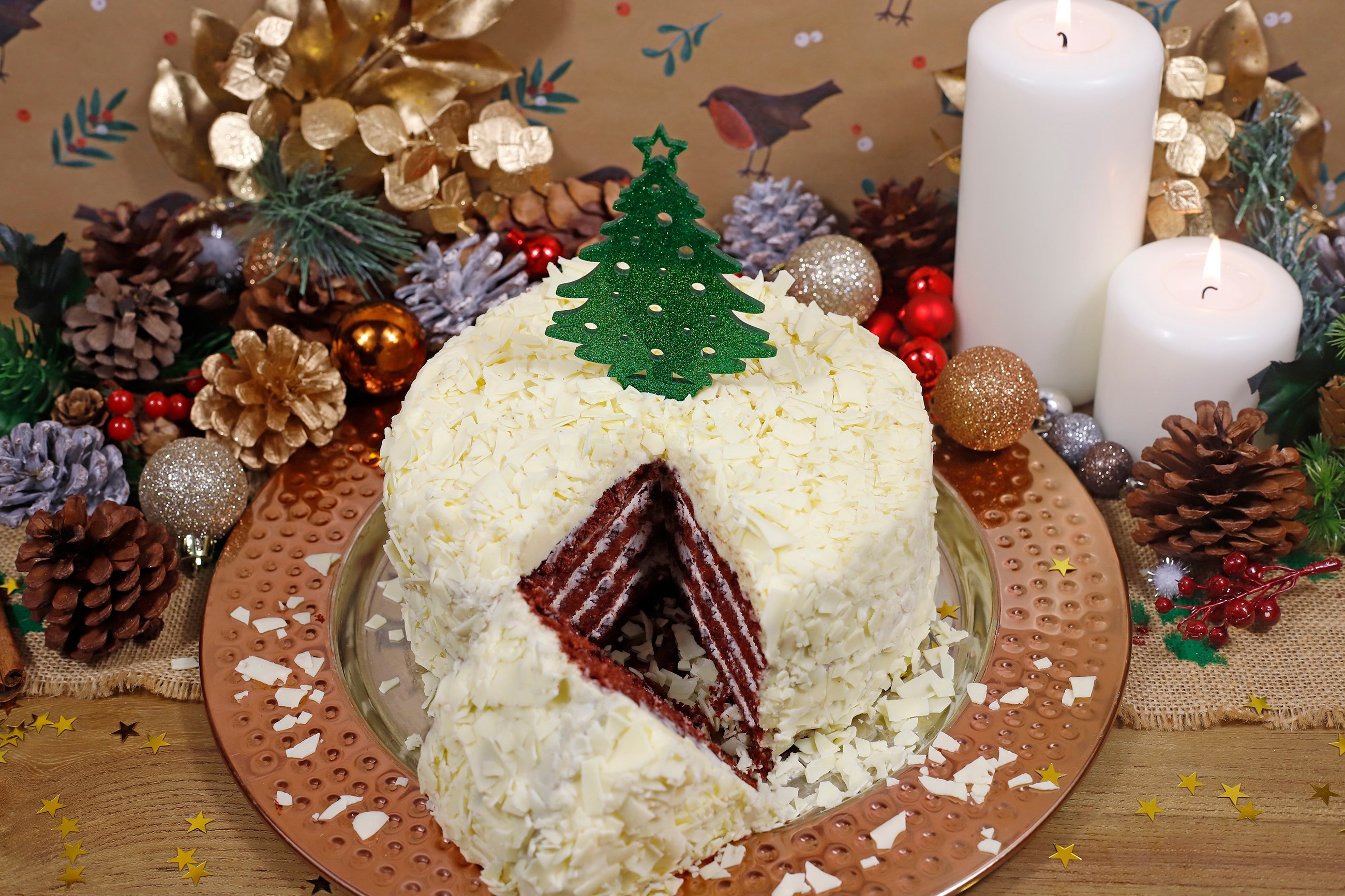 Red Velvet Snowball Cake - This decadent Red Velvet Snowball Cake has four layers of rich red velvet sponge and velvety smooth vanilla buttercream. It is smothered all over with white chocolate buttercream and white chocolate flakes to create a stunning snowball effect. Perfect as the treat to enjoy with your favourite drink or as dessert after your festive meal. Comes with festive Christmas Tree topper.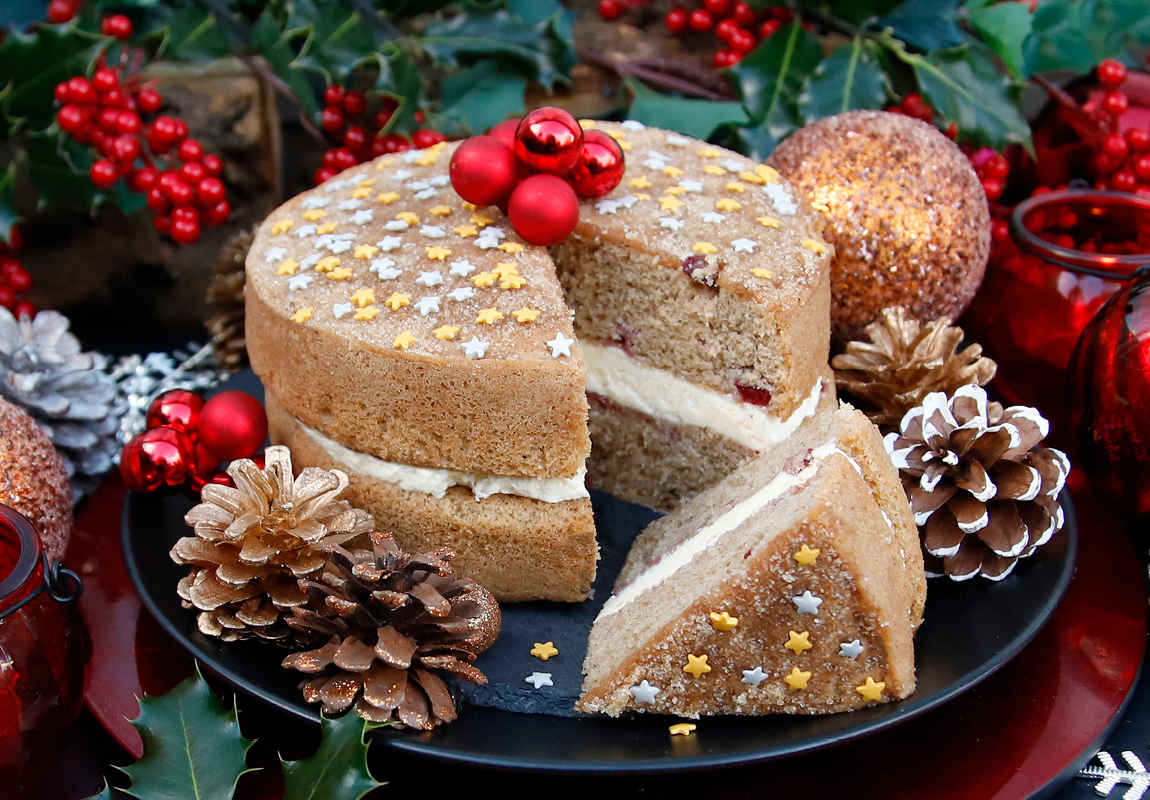 Spiced Orange and Cranberry Cake - Due to popular demand our Spiced Orange & Cranberry Sponge has returned once again, to be enjoyed by all! Delicious whole cranberries are baked into the sponge along with free range eggs, natural orange flavouring, warming mixed spices, ginger, and cloves. Fresh orange juice is drizzled on top with crunchy Demerara sugar. This cake is also available as a gluten free cake.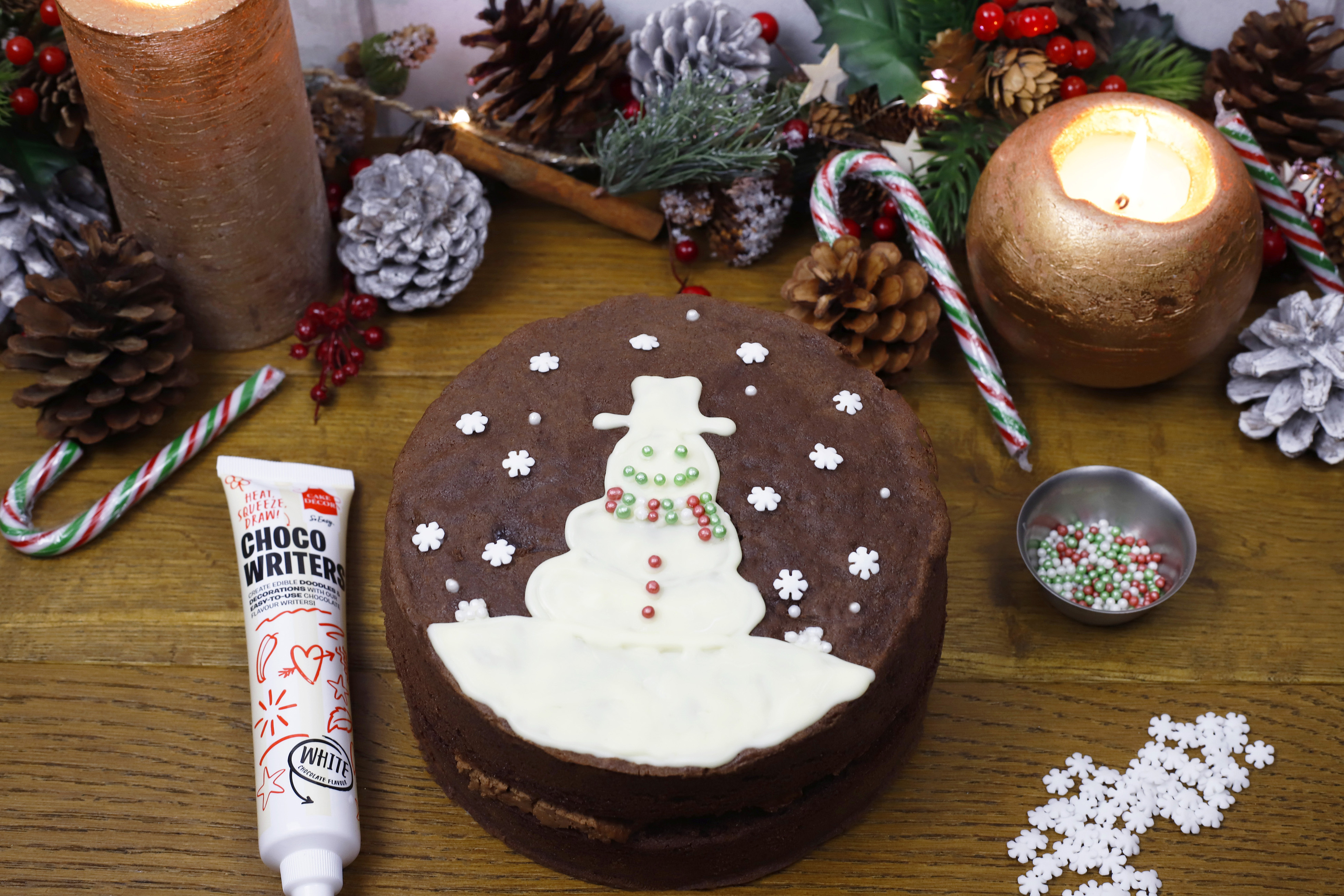 Chocolate Cake with Christmas Decorating Kit - Get into the spirit of Christmas with this fabulously fun Chocolate Cake Christmas Decorating Kit! A great activity to do with your loved ones on the run up to the big day and will look lovely as a centrepiece on your Christmas table! You could do one snowman as seen on our decorating tutorial below, or even a little family of snowmen - it's completely up to you! Get your family together and get creative this Christmas...
And we have plenty more to choose from along with other goodies, so check out our Christmas gifts page to grab some last-minute goodies for Christmas this year.