Four Sharing Cakes
Share the love by sharing some cake!
If it's time for a celebration, you'll probably be planning a get-together, and no matter how small a get together it may be, you'll be keen to make sure you have everything to make the celebration go off right. Perhaps you are just planning to meet up with someone you haven't seen in a long time. Regardless, of whether you're meeting up with old friends, or having a family get together, cake always goes down well with everyone.
We have a wonderful range of cakes, and brownies available for when you are meeting up with loved ones. In particular, we believe our sharing cakes are the perfect choice for these occasions. They stop the stress and hassle of having to decide on one flavour of cake and prevent arguments when people want or prefer different flavours.
Our Four Sharing Cakes are perfect for feeding a group where everyone likes different flavours or if you want to sample a few of our flavours in one cake! Choose between a Traditional, Quirky or Gluten Free Four Sharing Cake. Here is some more information about our four sharing cake options: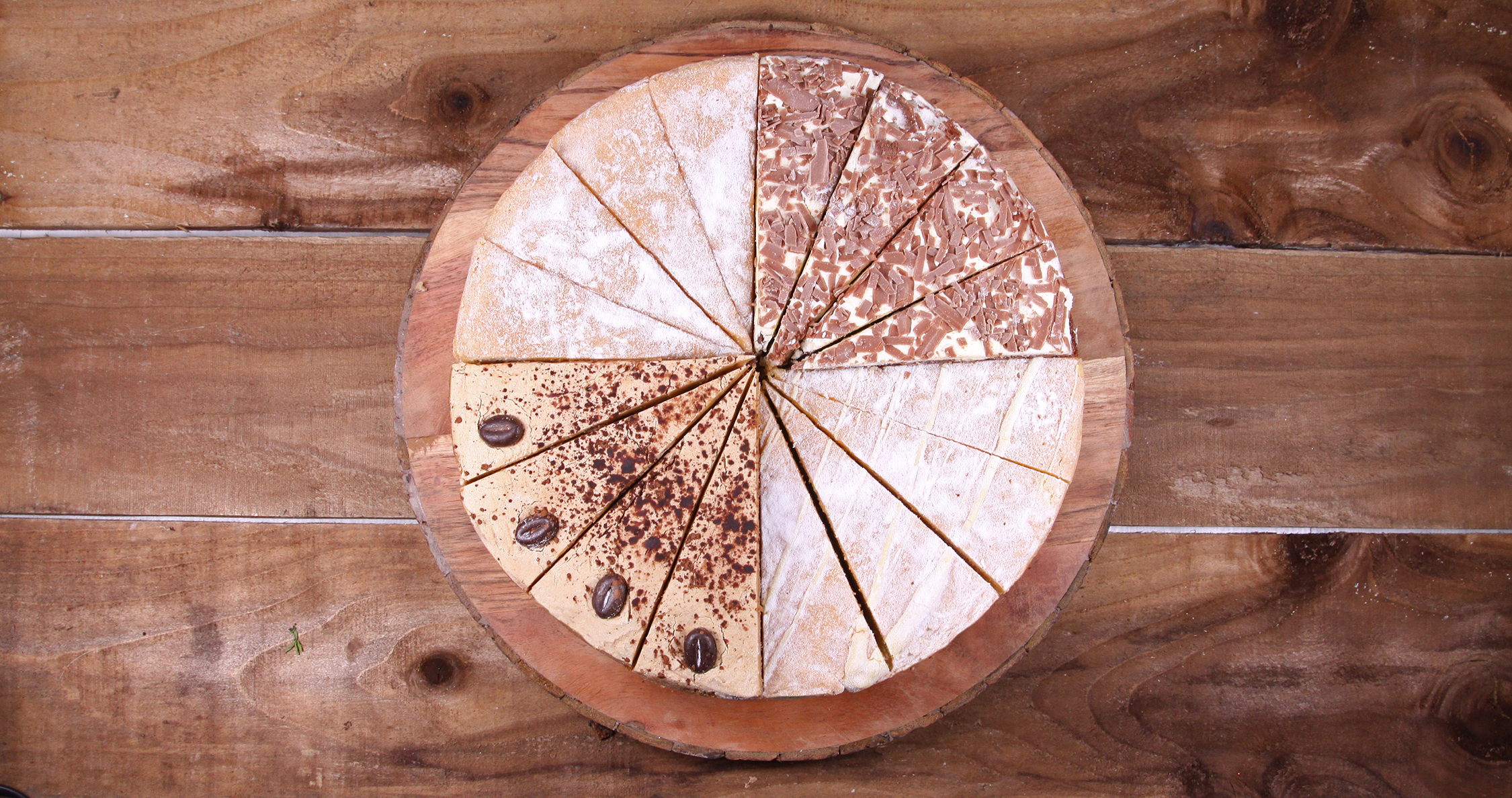 Traditional Four Sharing Cake – Our Traditional Four Sharing Cake contains four wedges each of our traditional flavours - Victoria, Chocolate, Coffee and Lemon Cakes. Perfect for a gathering where everyone has a different favourite flavour!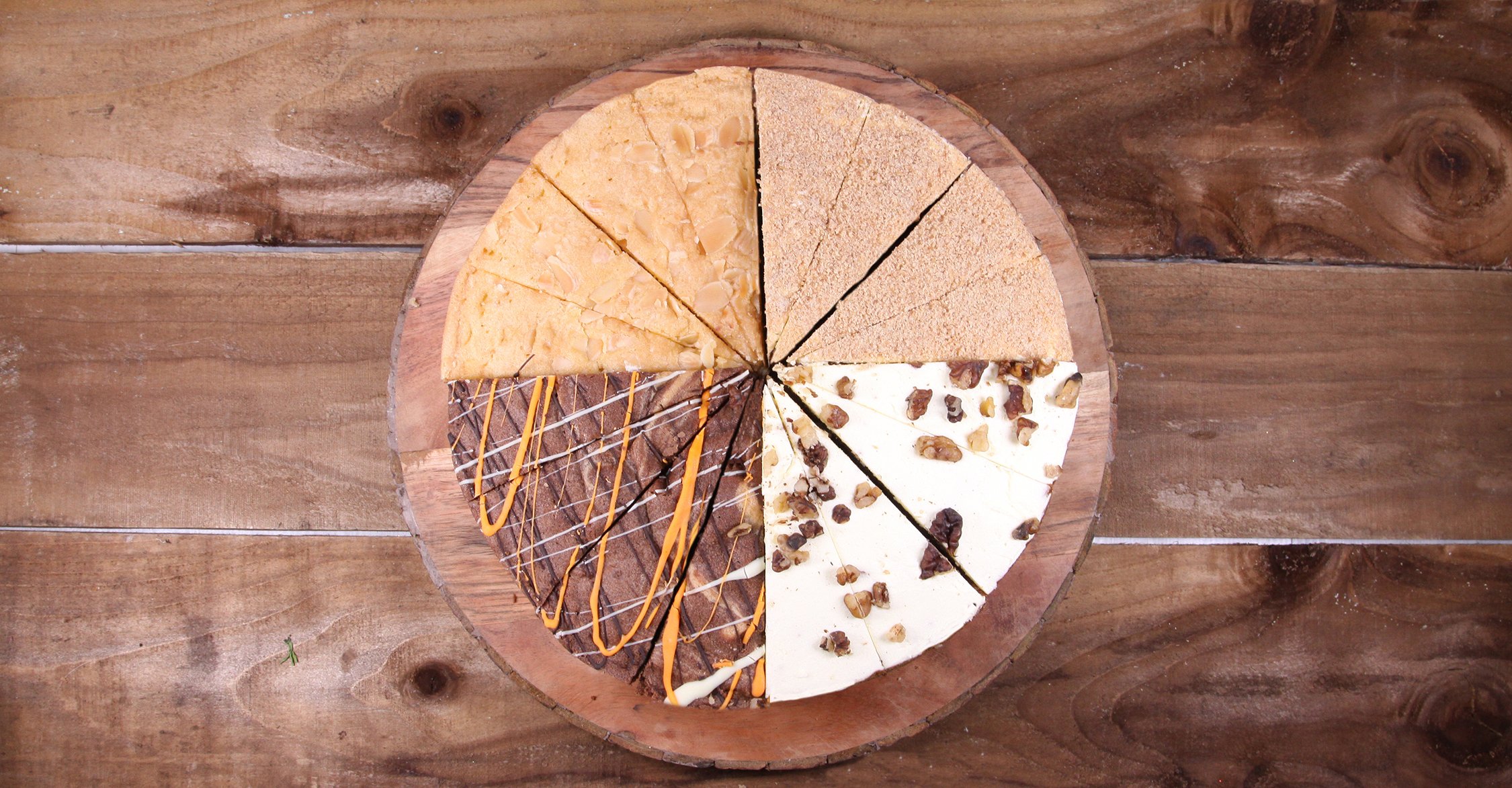 Quirky Four Sharing Cake – Our Quirky 4 Sharing Sponge contains four wedges each of our delicious Apple Crumble, Bakewell, Chocolate & Orange and Carrot Cakes. Perfect for those that like something a bit different from the norm and can't decide which flavour to go for!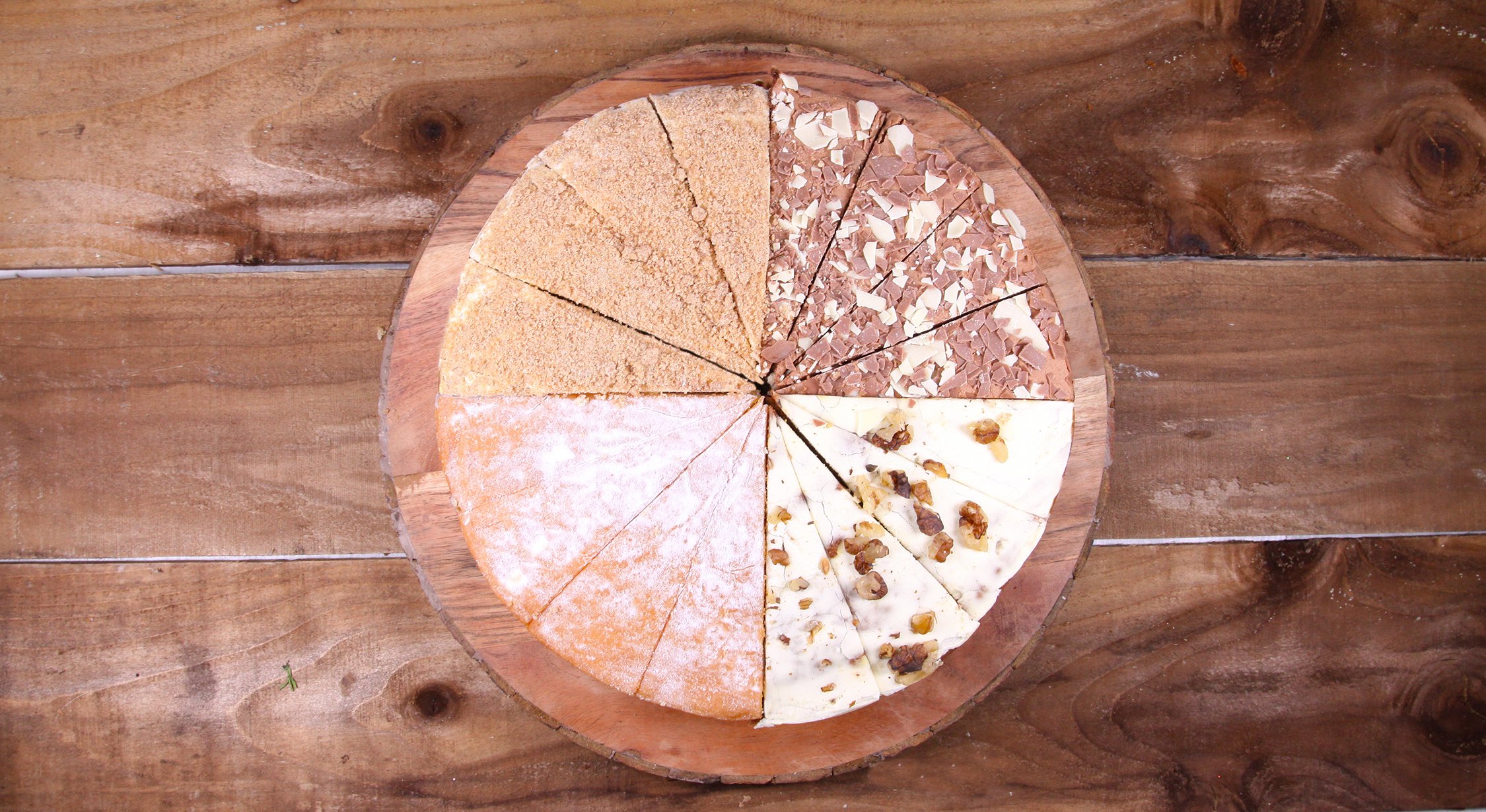 Gluten Free Four Sharing Cake – Our Gluten Free Four Sharing Sponge contains four wedges each of our popular Victoria, Chocolate, Carrot, and Apple Crumble Gluten Free Cakes. Perfect when you can't decide which flavour to pick or want to try them all!
Your Four Sharing Cake will be made up of four wedges of each flavour with separators between them to create a whole sponge cake!
Our sponge cakes are packaged in secure and robust packaging. The inner box is wrapped around the cake to securely hold it in place so the sides and top do not get damaged in transit. The box also includes a handy cutting guide! It is then put in a strong cardboard outer box for extra protection so it will arrive with you safely.
Four Sharing Cake Delivery
We deliver our four sharing cakes all over the UK - simply order your cake online via our website and pick a delivery date. Our sponge cake delivery is second to none and we will ensure your occasion or birthday cake is delivered safely and securely straight to your front door.
We offer next day delivery on our sponge cakes if you order by 2pm (subject to availability) or you can pick the delivery date you would like via our delivery calendar as you go through the checkout. Whether you want to send a sponge cake to a friend or get one delivered to enjoy at home we will make sure you are kept up to date with your cake order with regular email notifications.
We can deliver anywhere in the UK including cake delivery to London, cake delivery Manchester, cake delivery Birmingham, cake delivery Liverpool as well as cakes delivered to Bristol.