---
You're a Star Pinata
A delicious four layered chocolate sponge cake with chocolate buttercream and covered all over in chocolate flakes. To top it all off you will find a fun surprise in the middle - blue and white chocolate beans and edible golden stars on top.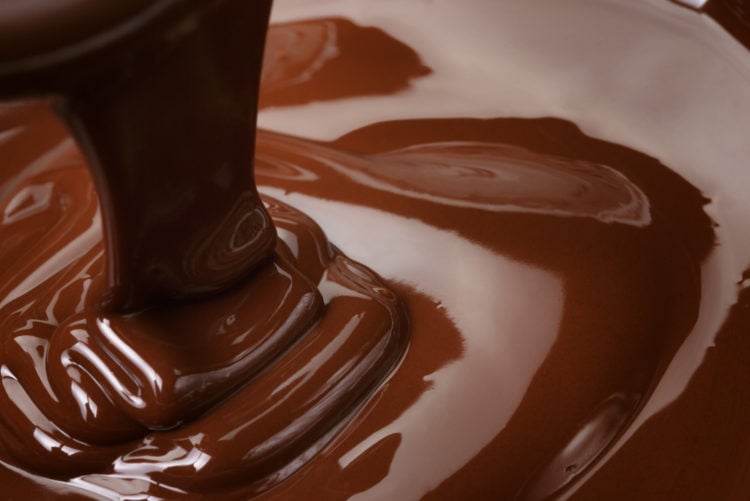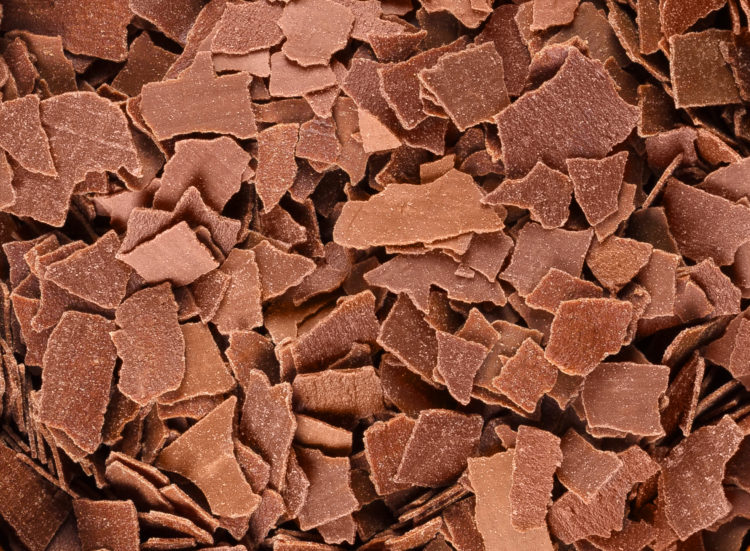 What's in the mix?
Rich chocolate, flour, and free range eggs create a moist and indulgent Sponge. English butter and chocolate create a delicious chocolate buttercream and milk chocolate flakes cover the sponge. White and blue chocolate beans inside.
Sumptuous Buttercream
Our chocolate buttercream is wonderfully thick and creamy. In the middle you will find delicious milk chocolate buttercream layers between each sponge, and then chocolate buttercream is smothered round the entire cake and covered with chocolate flakes!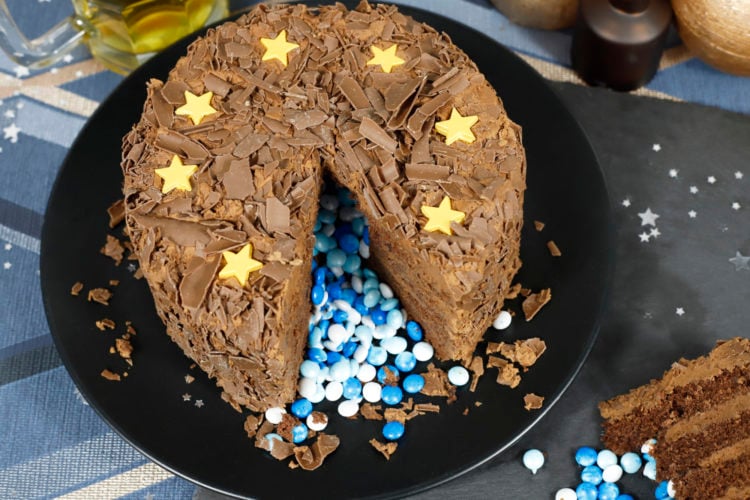 Surprise!
Cut to reveal blue and white chocolate beans inside!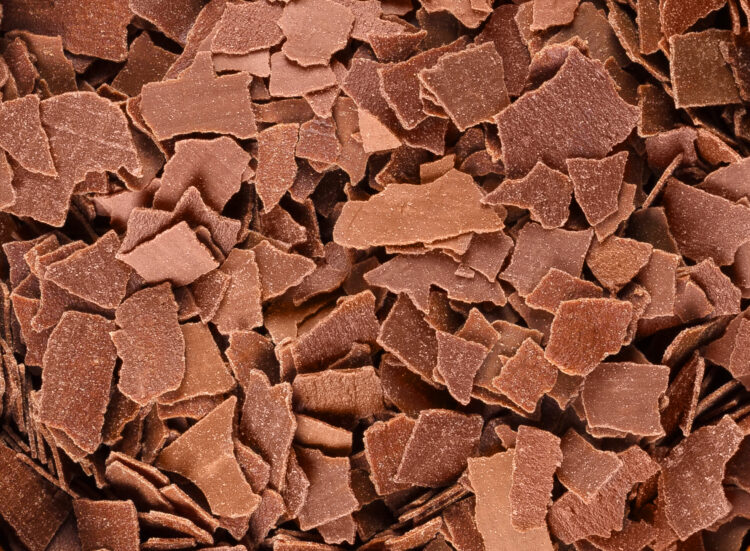 Chocolate Flakes
The entire cake is smothered in chocolate flakes.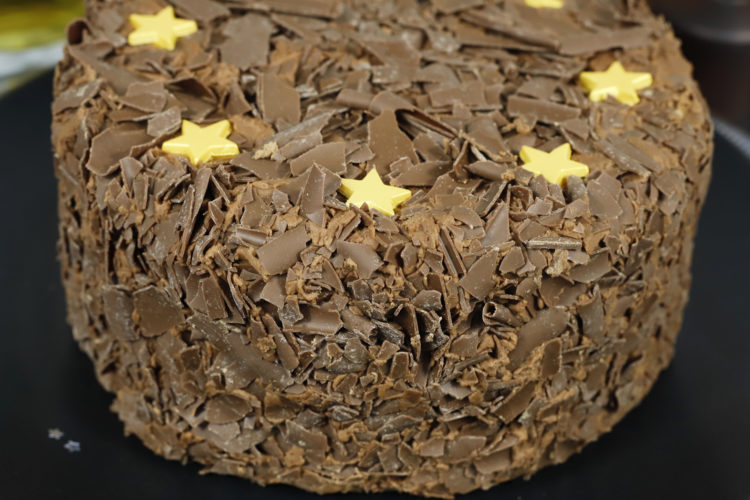 Stars
Decorated with edible gold stars on top!
---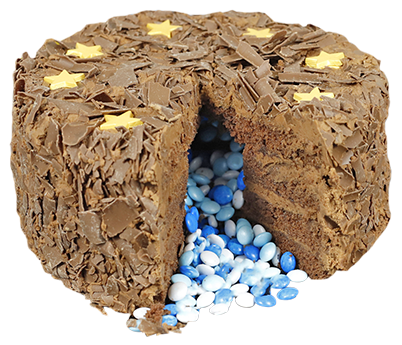 How do I look?
Our You're a Star Pinata Cake has four layers of chocolate sponge which is separated with thick layers of chocolate buttercream. More chocolate buttercream is smothered over the entire cake and then coated in chocolate flakes for added crunch. Inside you will find white and blue chocolate beans and decorated with edible gold stars on top.
STORAGE - Please store me in an air-tight container in a cosy spot - I don't like being kept in the fridge. Can be frozen for up to 6 months.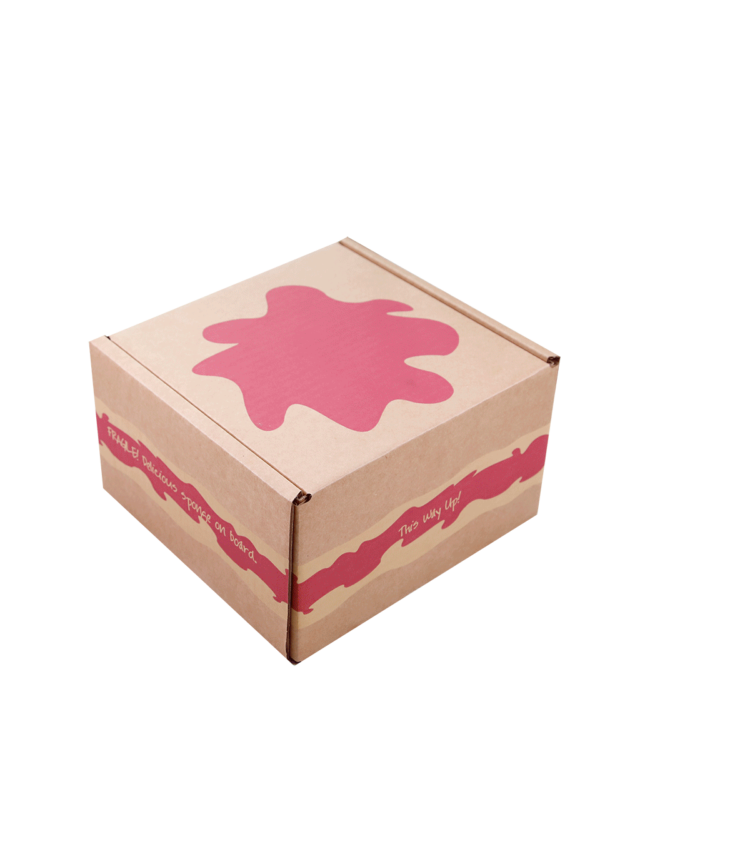 How do I arrive?
Our sponge cakes are packaged in secure and robust packaging. The inner box is wrapped around the cake to securely hold it in place so the sides and top do not get damaged in transit. The box also includes a handy cutting guide! It is then put in a strong cardboard outer box for extra protection so it will arrive to you safely.
| Product | Serves | Pack Weight | Cake Diameter | Cake Depth | Shelf Life from day of dispatch |
| --- | --- | --- | --- | --- | --- |
| Youre a Star Pinata Cake | 8 | 1.25kg | 17.00cm | 8.00cm | 10 days |
Youre a Star Pinata
Sugar, Butter (Milk), Egg, Self Raising Flour (Wheat), Vegetable Fat: Palm; Vegetable Oil: Rapeseed; Water; Salt; Natural Flavouring., Vegetable Oils: Palm, Rapeseed; Water; Salt; Emulsifier: Polyglycerol Esters Of Fatty Acids; Flavouring; Colour: Annatto, Curcumin., Sugar, Whole Milk Powder, Cocoa Butter, Cocoa Mass, Emulsifier (SOY Lecithin (E322)), Natural Vanilla Flavouring (Soya), milk Chocolate (60.5%)[sugar, Whole milk Powder, Cocoa Butter (20% Min), Cocoa Mass, Lactose (milk), Skimmed milk Powder, Emulsifiers; Soya Lecithin, Sunflower Lecithin, Natural Vanilla Flavouring, Cocoa Solids: 32% Min]. Sugar, Stabiliser; Arabic Gum, Rice Starch, Natural Vanilla Flavouring, Agar. Colours; E171, E120, E160a, E133, E174. Glazing Agents: Carnauba Wax, Beeswax, Shellac, E464., Cocoa Powder, Icing Sugar; Glucose Syrup; Palm Oil; Invert Sugar Syrup; Water; Emulsifiers: E414, E471; Stabiliser: E415; Humectant: E422; Glazing Agent: E904; Colours: E171, E172.
ALLERGENS IN BOLD. Made in a bakery which handles gluten, eggs, nuts, milk, soya & sulphites.
All of our cakes are baked in the same kitchen and although we do all we can to minimise the risk of cross-contamination we cannot 100% guarantee this.
Contains Gluten

Contains Milk

Contains Eggs

Contains Soya

Suitable for Vegetarians