Vegan Victoria Sponge Cake
We've just launched a wonderful vegan version of our Victoria Sponge Cake!
Whether you have been vegan for a long time, or have recently decided to try a vegan diet, or even if you can't eat dairy, you'll be happy to hear that we have just launched our Vegan Victoria Sponge Cake.
When you can't eat dairy, or choose not to eat animal products, finding a great cake can be tricky. Sometimes the cake can be dry and crumbly, or the texture can be all wrong. We believe that eating a cake should be a pleasurable experience that brings a smile to everyone's face, especially on a special occasion when you are making memories. That's why we have spent a long time perfecting our new vegan cake; we wanted to ensure that it looks and tastes as good as our standard Victoria Sponge Cake.
Here's some more information about our new Vegan Victoria Sponge Cake: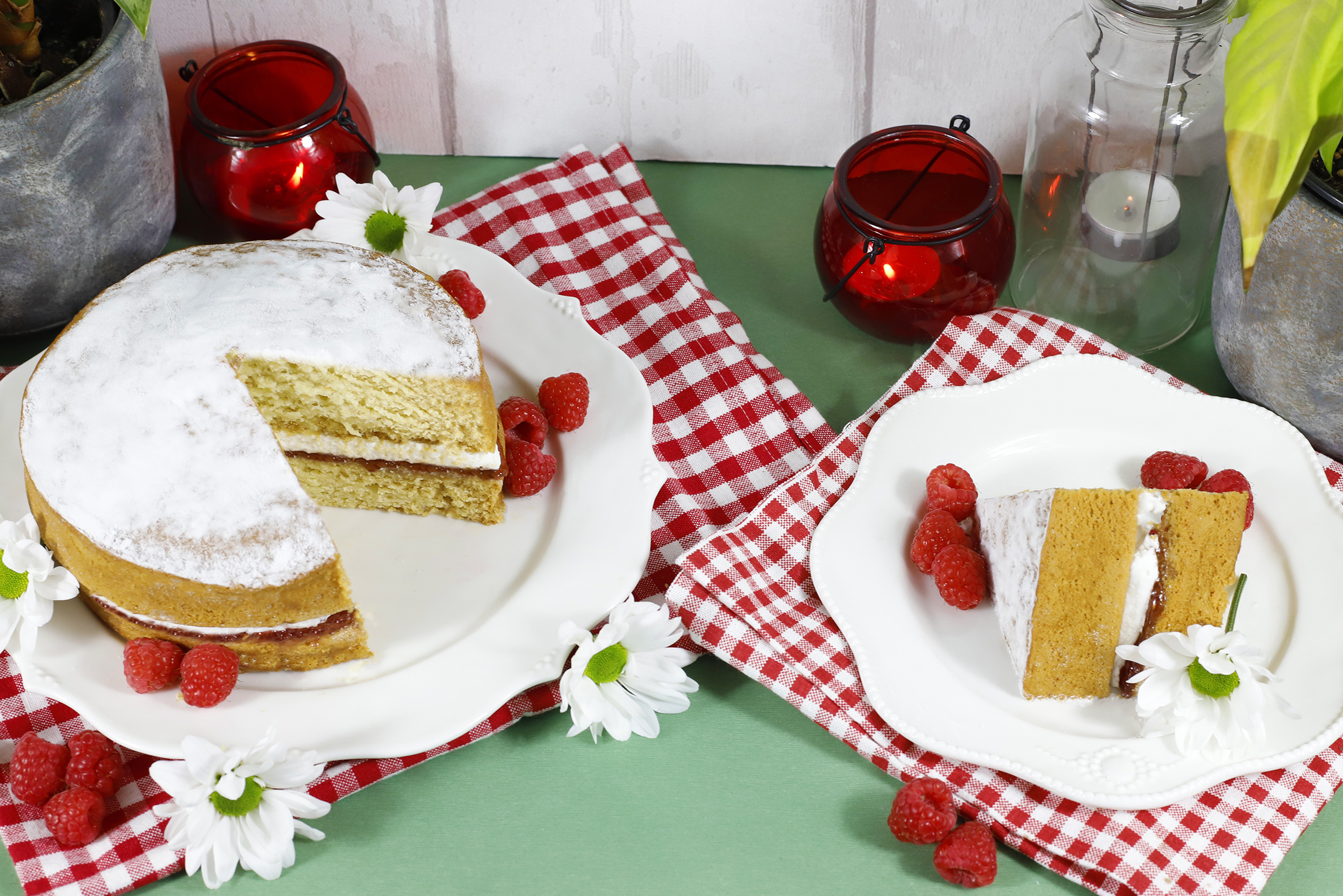 A delicious vegan and dairy free Victoria sponge cake sandwiched together with crushed raspberry jam and vegan vanilla icing. Flour, natural vanilla flavouring and oat milk create this delicious Victoria sponge. The buttercream is made with vegan butter and natural vanilla flavouring that is complemented perfectly with British crushed raspberry jam. Finished off with a dusting of icing sugar.
It would make a brilliant Vegan Victoria Sponge Birthday Cake, or a wonderful vegan celebration cake for any other occasion.
We have had great feedback on our vegan range, and we have a selection of other yummy vegan cake flavours to choose from too! We have a cake for every occasion to make your special occasions a memorable experience to share with your loved ones.
Looking for a vegan treat that's a little bit different? We have vegan brownies too! These chocolate delights are sure to be a hit with the chocoholics in your life. We have two flavours to choose from, our vegan chocolate brownie and our vegan biscoff brownies. We wanted to make sure that everyone was pleased with the taste and texture of our brownies, so we gathered some feedback – read our blog to find out what some of our taste testers thought of our vegan brownies!
Our sponge cakes are packaged in secure and robust packaging. The inner box is wrapped around the cake to securely hold it in place so the sides and top do not get damaged in transit. The box also includes a handy cutting guide! It is then put in a strong cardboard outer box for extra protection so it will arrive to you safely.
Get a Vegan Victoria Sponge Cake delivered straight to your door! We deliver our vegan cakes all over the UK, so no matter where you are, or where you want to get a vegan cake delivered, we will arrange for your cake to get to its destination safely and securely.