Celebration Cake Boxes
All you need for a celebration in one box!
When there's something special coming up, like a birthday, or an anniversary, it's important to let your loved ones know you're thinking of them. You can do this by sending them the perfect gift. Sometimes you don't want to send too many keepsakes, so why not send them something tasty they'll appreciate instead?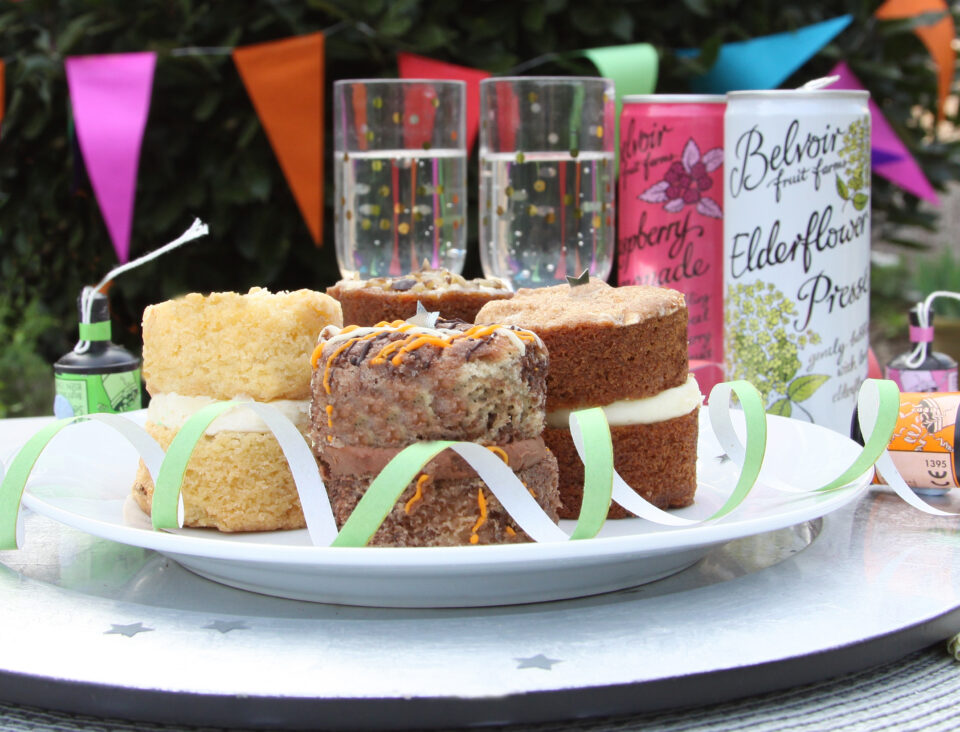 Our Celebration Box is the perfect gift for special occasions and gifting just because! Our celebration packs come with two different drinks options - a mini bottle of Prosecco or two cans of Belvoir sparkling water - raspberry lemonade and elderflower presse. There's a choice of four baby sponge cakes; traditional, quirky, gluten free, or vegan baby sponges. You also get four party poppers, two balloons, two paper party hats, and a personalised greetings card included in the box. They are a great gift to give to your loved ones to enjoy on their special occasions.
Our Cake Celebration Boxes make the perfect gifts for her birthday or a special occasion such as an anniversary or a new baby. They are even great for just saying a simple I miss you or thank you to friends or loved ones. These unique birthday gifts are sure to bring a smile - who wouldn't smile at being sent cake in the post!? These celebration boxes have everything you need to help someone celebrate and so you can show them how much you care.
Here are some reviews of what our customers have to say about our celebration boxes:

Rebecca B – 08/06/2021 - Celebration Box (Prosecco): "The friend this was bought for was thrilled with it."

Janet M – 04/06/2021 - Celebration Box (Prosecco): "Made the perfect 60th birthday present when I wasn't able to be there. Much appreciated."

Sue C – 01/06/2021 - Celebration Box (Prosecco): "Gift for my sister's birthday. She sent me a picture. Looked fabulous."

Frances P – 01/06/2021 - Celebration Box (Prosecco): "I ordered this for my son for his birthday. He lives 200 Miles from me and he was over the mon and said it made him feel he was still my special boy. They sent photos to all the family."

Linda C – 31/05/2021 - Celebration Box (Prosecco): "Send to my daughter instead of a birthday card. She said they were excellent and looked lovely! Loved all the little extras!"

Paula R – 30/05/2021 - Celebration Box (Prosecco): "As above my sister thought taste was wonderful and so lovely to be able to add Prosecco."
We deliver all over the UK, with next day delivery as standard if you order before 2pm. Perhaps you have a son or daughter studying at university away from home, and not able to see them on their birthday. Why not send them a celebration box to let them know you are thinking of them. Simply order your celebration cakes online via our website, and we will delivery your celebration cakes straight to the door.